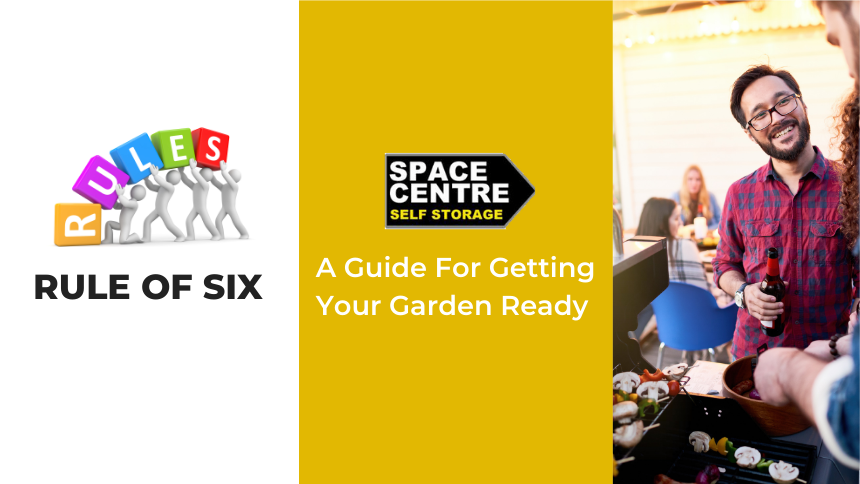 Finally, there is some light in the seemingly dark tunnel that has been the Covid-19 restrictions. The relaxing of some Covid rules means you can now meet outside with two households or a total of six people. If you haven't already taken your outdoor furniture out of the shed, garage or garden storage, now is the time to do it.
Even though the weather is warming up, it's not quite summer yet so you need to plan for the cooler evenings as well. In this article, we share some valuable tips on how to clean your outdoor furniture and a few wonderful ideas to keep warm when socialising outside.
Overview Of The Government's Rule Of Six?
Whilst you can now meet friends and family, or people in your support bubble, up to six people, you are not allowed to meet indoors unless exempt. The rule includes the following:
Meeting in a group of up to 6 from any number of households (children of all ages count towards the limit of 6)
Meeting In a group of any size from up to two households (each household can include an existing support bubble, if eligible)
If you are eligible to form a support bubble, you and your support bubble count as one household towards the limit of 2 households when meeting other people outdoors. An example of this would be that you and your support bubble can meet with another household, even if the group is more than 6 people.
Where Can We Meet Friends And Family?
You can meet in a group of 6 or a larger group of any size from up to 2 households (including their support bubbles) in most outdoor areas. This includes:
private outdoor spaces
parks, beaches, countryside accessible to the public
forests and botanical gardens
the grounds of a heritage site
outdoor sculpture parks
allotments
outdoor sports venues and facilities
public playgrounds
outdoor hospitality venues
outdoor attractions
For more information on the rule of six and how to stay safe, visit the government website. Wherever you meet, it's imperative that you continue to practice social distancing and good handwashing practices.
Garden Storage 101: What To Do First
Anyone who has read some of our earlier blogs may have prepared everything properly before putting things away. If you chose a suitable garden storage option, like a self storage unit, or properly utilised some space in your garage, your outdoor furniture should be good to go. Your mower, hedge trimmer, BBQ, tables and chairs along with all the garden toys may only need a dusting off. For those who didn't, you may need to put in some extra effort cleaning and restoring where needed.
Preparing Wooden Furniture
You may be able to leave good quality wooden furniture in the garden all year round but it will eventually weather out. Cleaning it after a long winter is essential but first remove all the surface dirt, dust and cobwebs. If restoring hardwood furniture with a product like Cuprinol's Garden Furniture Restorer, apply it using an abrasive pad. Leave it for about 15 minutes and then wash off.
If not using a restoring product:
clean the furniture with soapy water
rinse and dry thoroughly
lightly sand down the surface to remove any weathered areas
Apply teak oil or something similar to protect the wood from the elements
Wicker Furniture
Wicker furniture is a popular choice considering how durable it is. However, over time it also shows dirt, dust and sometimes mildew but it is easily washable.
Use a regular garden hose but NEVER a pressure washer
Wash using a gentle scrubbing brush and mild soapy water
Allow the furniture to dry completely in the sun which usually takes 24-36 hours
Aluminium Garden Furniture
Aluminium garden furniture is exceptionally durable and can remain outdoors for extended periods. That said, it may oxidise over time causing all sorts of damage and still needs protection. A top garden storage tip is to keep it in a clean, dry indoor space. If you don't have room for it inside, consider outdoor furniture covers or put it into a self storage unit during the winter months.
To clean aluminium furniture, do the following:
Use a non-abrasive cleaner to remove scuff marks
Wash with soapy water
Rinse off with a hose
Protect the surface with some clear car wax
Wrought-iron And Metal Outdoor Furniture
Wrought-iron garden furniture can also remain outside but they aren't immune to damage, such as rust. The best way to keep them in excellent condition is by using specialist paint. But before applying anything, be sure to
remove any rust spots with steel wool or a wire brush but be gentle
brush off any loose dirt
scrub everything down with soapy water
sand it down slightly and touch up rust spots with an enamel paint
Plastic Garden Furniture Storage And Preparation
Plastic furniture is one of the most popular and durable but whilst they are weather-proof, some discolouration can still occur. We recommend putting it into a garden storage shed, garage or storage unit until you want to use it. To get plastic furniture ready for summer, simply follow these steps:
Wash with hot, soapy water and some bleach if there are stains
Use a sponge instead of something abrasive to avoid scratching the surface
Rinse thoroughly before the furniture dries
Add a protective layer of clear car wax
To ensure everyone's safety, check for split struts as some plastics can become brittle over time
Recommended: 'Definitive Guide To Garden Furniture Preparation'
Ideas For A Warm, Cosy Garden
Whilst it's amazing that we can now meet outside, the weather is not yet warm enough without some additions to the garden. Depending on your property, you could get some patio heaters or build your own fire pit. Nothing says outdoor fun quite like patio heaters and a fire pit where some designs can also double as a BBQ.
If these won't work in your garden, you could simply put out some warm blankets or extra coats. And for those extra chilly evenings, you could give your guests hot water bottles or request that they bring their own. Whatever you decide to put in your garden, make sure you add it to your garden storage list. Here's a closer look at some amazing patio heaters, assembled and DIY fire pits.
Garden Storage With Space Centre
When it comes to outdoor furniture and garden storage, knowing what to do can make all the difference. It's always best to take extra care and prepare as preventing damage is easier (and cheaper) than fixing it or replacing it.
We hope these garden storage and furniture care tips help improve your preparations for outdoor events or family get-togethers. We urge everyone to please stick to the rule of six and follow social distancing and handwashing protocols. By working together, there will be fewer transmissions and hopefully, we won't go into another lockdown.
If you don't have enough garden storage space at home, you can always rent a short-term or long-term storage unit. We have conveniently located facilities in Bristol, Stroud, Gloucester, Cheltenham and Stonehouse with clean, dry and secure units ideal for all your business, household or garden storage needs.