Do you have a spare room that never gets used and has become a place where you store excess junk? Why not repurpose your spare room into something extraordinary with the help of self storage?
Self storage is a convenient and cost-effective solution that allows you to reimagine your space while reducing clutter throughout your home. In this blog post, we will share some exciting options for your spare room and explore how a self storage unit can help keep your renovation more organised.
7 Creative Ways to Transform Your Spare Room
1. Create a Pinterest-worthy guest bedroom
Transform your spare room into a lavish guest bedroom for all of your visitors! By setting up a permanent space, you won't have to worry about the hassle of rearranging furniture or disassembling sofa beds every time someone comes over.
Instead, place all your excess furniture and boxes in self storage to create a cosy, chic space that is ready for guests whenever the need arises. This versatile sanctuary should exude luxury and relaxation, which you can achieve by layering plush bedding and soft pillows to create a hotel-like escape. Don't forget the little chocolate on the pillow!
2. Use self storage to transform the space into a home office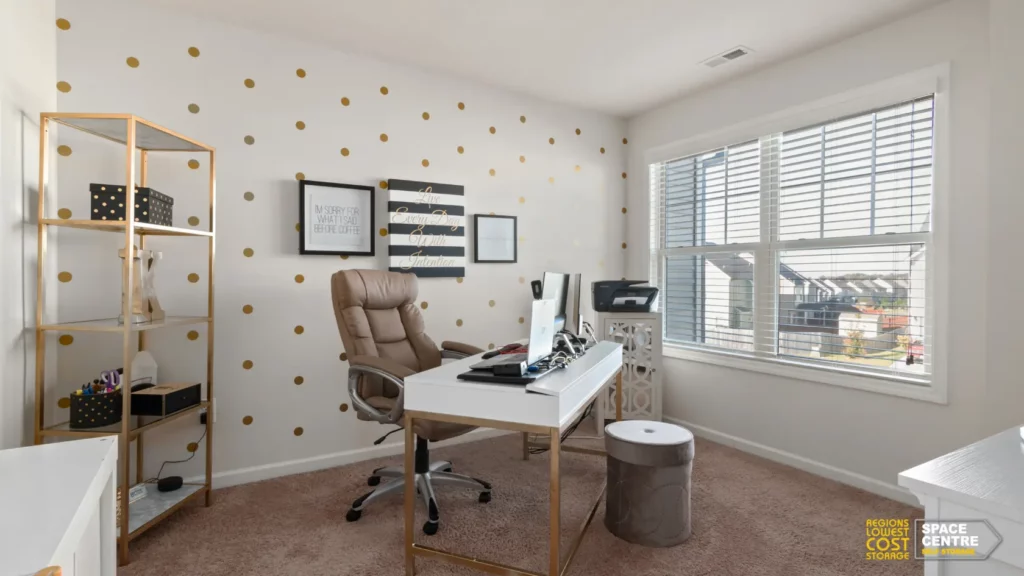 If you've recently started working from home, designating a dedicated office space is an ideal solution to store necessary items such as your computer, printer, bills and paperwork that can become overwhelming if dispersed throughout the house.
An organised office adds functionality to any home and provides a sense of structure for those working remotely. If you have a large amount of paperwork or equipment causing clutter in your home, we recommend renting a self storage unit where you can safely store these items while freeing up more space in your home office.
3. Transform your spare room into a reading nook
For the avid reader, there's a wonderful way to turn your spare room into something magical: craft yourself a personal reading nook. Invest in a comfortable armchair that you can relax in, put up some ambient lighting and make sure there is ample space for bookshelves for your favourite novels.
To create a relaxing reading room, consider self storage for any excess furniture and items that don't fit in the space. This way, you can keep your space tidy and organised without sacrificing valuable books or giving away a beloved armchair.
If you are looking for beautiful, custom-crafted furniture and bookcases for your reading room, we recommend Neville Johnson's collection of library furniture.
4. Create your dream dressing room with the help of self storage
Have you always wanted to have your own space to store your clothing and beauty products? Then transform that space into a dressing room. Keep all your wardrobe favourites, beauty products, and accessories in one organised spot; no more crowded bedrooms!
To keep your new dressing room clutter-free, self storage is a great option to store any clothing items you don't want on display, seasonal pieces that won't fit in the room or even extra furniture you don't have space for.
5. Turn your spare room into a man cave or games room
Transform your extra space into an exciting games area! Invite your friends over to enjoy hours of endless fun with video games, pool, and ping pong (table tennis). You can also add a bar, dartboard or Foose ball table; the possibilities are endless when creating your own entertainment area in the comfort of your own home.
Self storage is essential when it comes to keeping things tidy and organised no matter the purpose of the room. You can store extra furniture or memorabilia that you don't want on display while providing a comfortable environment for entertaining guests.
6. Put all your clutter in self storage and create a home cinema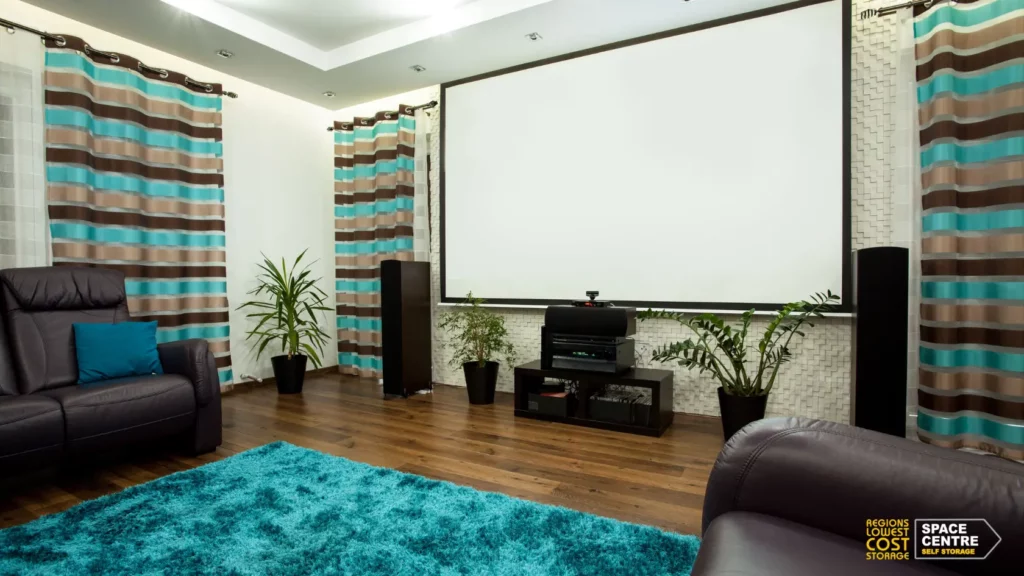 Why not transform your spare room into a movie theatre? Invest in an inviting corner sofa and equip the space with a massive television or projector screen. To make it feel like you're really at the cinema, install a popcorn machine and mini-fridge to store all of your favourite snacks. Now you can be the first one to watch new releases without having to fight over the remote for the living room TV!
If you have loads of old DVDs that you can't bear to part with, self storage is a great way to preserve these items and help create more space in your home cinema.
7. Create a dedicated playroom for your kids
Transform your extra room into an organised play area for your kids! Not only will you be able to tidy up the remainder of your house, but you can also make it personalised and fun, customising it to reflect their unique styles and interests. With this project, you'll have a blast creating something that's both practical and special for them.
Not only will this spare room serve as a personal haven, but you can also repurpose it into an educational area that is the ideal location for studying or home-schooling. Separating learning materials and toys from the rest of your house is a great way to keep your house tidy.
Need decluttering tips to help get you started? Please read our blog, Decluttering Tips For a Proper Clean Out, for all our tips and tricks.
Self Storage with Space Centre
At Space Centre Self Storage, we provide our customers with various storage solutions that come at incredibly competitive prices. We have an extensive selection of unit sizes to choose from, making it easy to find the right fit for your individual needs. Take a look at our size and pricing guide to find the perfect fit for you.
If you need more information about self storage, or if you're trying to find a nearby location, don't hesitate to contact us! Our professional and knowledgeable staff will offer assistance with any questions that may arise.