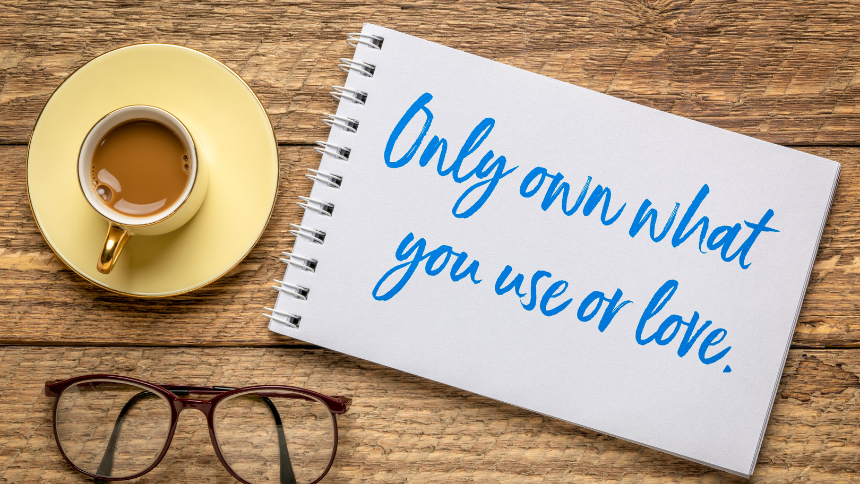 Decluttering Tips To Organise Your Home Like A Pro
Have you put off a good home clear out session? Are you looking for professional decluttering tips?
Just like a clean inbox can help boost your efficiency and productivity, so can a properly organised home. To help you get started, we scoured the web and tapped into our extensive industry experience to bring you some of the simplest (but highly effective) decluttering tips.
"Ninety-nine percent of the items you get rid of will never cross your mind again. And on top of it, you will feel 100 times lighter" says Julia Pinsky of Pinsky Project.
Post Lockdown Home Organisation And Decluttering Tips
We know it's been tough during lockdown as rubbish tips and recycling plants were closed or set by appointment only. And with charity shops also shutting their doors you were left with limited options of finding a home DIY solution or renting an access-only self storage unit.
Thankfully, things have changed as Covid rules are more relaxed and most places are open again which means you can start organising your home properly. Everything starts with recognising when it's time to declutter which is often prompted by an inability to relax when getting home.
If this sounds like you, our guide should provide all the necessary insights starting with putting a plan in place on what, where and how to clear out.
How To Get Started
We recommend starting by creating an action plan and setting specific goals. This applies regardless of how much stuff is lying around or the number of rooms in your house. Identify all the high traffic areas and rate each one based on the level of traffic.
Clear out one room at a time and start with smaller, simpler tasks like clearing out the bedroom cupboards, photographs and books or DVDs. The next step is to set completion dates so you can allocate the right amount of time to declutter certain areas.
From there, clear a space and organise everything by category such as clothes, collectibles, and kids' goodies and then tackle one at a time. This will help keep the task from being too overwhelming and give a clearer idea of what to do with the items from each category.
Keep, Donate or Toss
Don't put anything away until you've properly gone through everything. Be vigilant here and make sure you have definitive yes and no piles before moving on.
If you're struggling to create yes and no piles, ask whether you love the item as it's easy to get distracted by all the stuff. Unless it has sentimental value, it should probably go onto the no pile. One of many practical decluttering tips involves creating additional piles for donation, storage, recycling or binning.
The only way this will work is through a methodical, no-nonsense approach. If you haven't seen or used something in the last 12 months, chances are you never will so it doesn't belong in the yes pile. Take your time to go through everything to see what can go to charity, what could be sold and which items might be useful to put in self storage.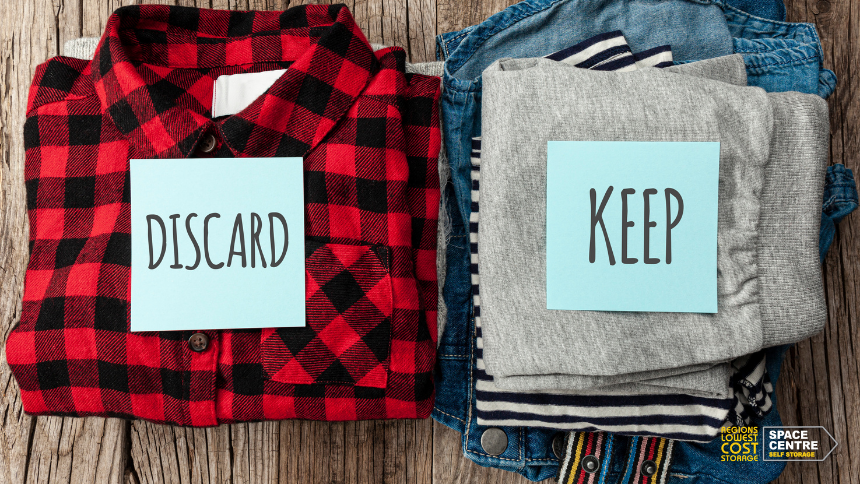 Simple Home Decluttering Tips You'll Love
Decluttering your home is one thing but keeping it organised is another challenge altogether. It's important to find a dedicated space for everything and that includes the entryway, kitchen, bathroom, bedroom and cupboards.
Kitchen Decluttering Tips
Ideally, your kitchen should look clean and clear while limiting countertop accessories to the ones you most often use. Kitchen surfaces are big magnets for clutter from normal household items to mail and paperwork that don't have a designated place.
Relocate what doesn't belong in the kitchen and make sure to assign a permanent home for items that get dumped on the counter. Here are a few ideas to make the most of your cabinet space.
Mount a rack on the back of a cabinet or pantry door
Add a roll-out rack in a lower cupboard to boost cabinet space even more
Wipe down shelves and throw out any expired items
Group together items by types, such as pasta and grains, snacks and sweets
Store items according to usage
Use airtight labelled jars to create a clean, streamlined pantry or kitchen
Recommended: '20 Smart Storage Tricks For Small Kitchens'
How To Declutter The Bedroom And Wardrobe
A bedroom can quickly become messy if your bedside table is covered in books, mail or other junk and an unmade bed. Here are some helpful decluttering tips for your bedroom.
Clear your nightstand and wipe down for a fresh start
Move any unnecessary or misplaced items and only stock your bedside table with essentials
Select a few pretty objects to add style, including things like fresh flowers or a potted plant, scented candles, pretty rocks, a ceramic dish for jewellery or framed photos)
Pull your covers up, fluff a few pillows and make your bed as it sets the tone for the day
Keep everyday wardrobe items visible for easy access
Formal, seasonal, and occasional items in the back of the closet or on a high shelf
Use uniform hangers and arrange hanging items by type, style, and colour
Bathroom Organising And Decluttering Tips
Bathroom storage is often limited, especially in small houses. That means it's important to never overstock your space and only to use standard bathroom storage for everyday essentials. Below are some decluttering tips to help organise your bathroom like a pro.
Take everything out of the medicine cabinet, and clear out drawers and shelves
Relocate seldom-used items to a storage cupboard instead
Put extra towels, first aid kit and medication into labelled bins inside the linen cupboard
Use drawer dividers or shallow bins to keep your toiletries and makeup better organised
Place hooks for hanging bath and hand towels, robes, and even watches or jewellery
Make sure to completely finish a product before buying new ones otherwise your bathroom can become cluttered fast
How To Organise Your Entryway Or Hallway
Your hallway or entry area is the first thing you see when walking through the door after a long, busy day so it's best to keep it neat and tidy. It pays off to create a pretty and functional space and these tips can help:
Create an easy inventory of the items that require a storage place, including bags, backpacks, jackets, dog leashes, shoes, mail, keys and cell phones.
Create a mail station for all those things naturally tends to pile up
Place a pretty ceramic dish at the front for keys, mobile phones, face masks and loose change
Install wall pockets by the door or put a large pretty basket on your hallway table for mail and magazines
Put sturdy hooks against the wall or door for coats, dog leashes, and bags
Invest in shoe shelves, cubbies, or labelled bins or baskets if you are a no-shoe household
Decluttering And Self Storage With Space Centre
Once you've gone through all the stuff in your house and you still can't decide what to with a few items, you could put it in self storage. Whether it's short-term storage or keeping it long-term for the kids or to sell at a later stage, household storage units are ideal for decluttering projects.
If you have loads of stuff to donate, national charities like The British Heart Foundation and Emmaus will collect free of charge. Locally to Space Centre here in Gloucestershire is the Furniture Recycling Project for any unwanted items of furniture.
For all your household needs, whether you're moving or decluttering, Space Centre Self Storage can help. If you don't have enough storage space at home, simply contact us to rent a short-term or long-term storage unit at our conveniently located facilities in Bristol, Stroud, Gloucester, Cheltenham and Stonehouse.