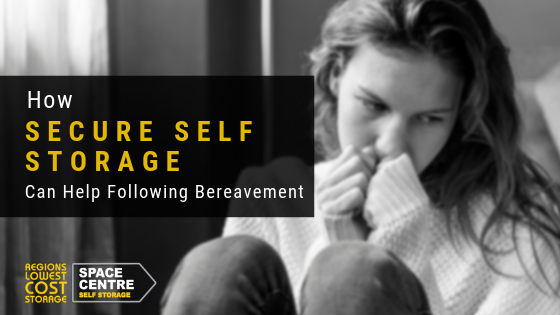 We may not like talking about it but the sad fact is that many people will inherit a home with everything in it following the death of family member. You may be lucky enough to be able to hold on to the house and contents, but for many, distributing the inheritance or paying costs means the house will need to be sold. After a family bereavement, secure storage may not be high priority but what do you do with the contents?
Following a bereavement, there is often outstanding debt, inheritance tax or other bills to pay. Some of the belongings in the house may be valuable and could help financially but others will have sentimental value. Don't add to the traumatic experience by using a house clearance company just yet; opt for secure self storage instead. Whilst selling the house might be challenging, parting with a loved one's belongings can be an emotional experience. So why not do it right?
Dealing With Property Following Bereavement
There are many things to deal with that often take time to resolve such as wills, bank accounts, insurance policies, pensions and what to do with the property. While it is an emotional time, these decisions have to be made which can add to personal distress.
Once everything is in motion regarding the bank and insurance, you will need to consider the property and the belongings. If there is a property, the financial situation may well dictate whether it's sold or kept in the family. If it's rented, you also have to deal with the landlord. Whatever the situation, you must decide what to do with the contents and the personal belongings.
Some possessions may be distributed as the will instructs while the rest is the responsibility of the executors. There are companies that offer to clear everything for you but once they take it, you can't get anything back. Clearing a property can be extremely difficult but also comforting at the same time. You can sort through everything properly which often helps deal with heartache down the line.
Here is some helpful advice about what to do when someone dies and don't forget that you also have to officially notify many people. Each one will require confirmation of certain personal details and to help you along, use this checklist.
How To Deal With Loved One's Belongings
Cleaning out a loved one's property following their passing is a series of chores that are often emotionally, physically and financially draining. What makes the situation worse is not knowing where to start. Do you take out the beds first, toss the pots and pans, crockery or clothing? Not to mention all the valuables or family memorabilia. These decisions are real and unfortunately it is not something we can ignore.
It is important to methodically go through everything and put items into four piles. As you go through the house clearing out the clutter, decide what to throw out, donate/recycle, what items to sell and one pile for consider keeping. Most people have a large pile of "things to consider keeping", but as they continue, the other piles start growing as well.
Remember to keep birth certificates, military records, recent bank statements, medical and pharma bills, stock or bond certificates, annuities and life-insurance policies. There is no denying this can be a lengthy and depressing process, especially items that were sentimental to your parents but not really to you.
The best place to start is a room that has little emotional attachment. This is often the basement, attic or garage where many people store most of their junk. You will feel more accomplished when you can see progress instead of trying to tackle the entire house at once. This method also helps with emotional distress as items in these rooms often have less sentimental value.
The Importance Of Secure Self Storage
When people can't keep the property, secure self storage is considered one of the best solutions. You can safely store everything while you decide what to do with it. A secure self storage unit means you can systematically declutter the house which means a more organised space to work. You can also take things there whenever suits you and sort through all the belongings in your own time. It essentially provides you with adequate time to decide what you should do with everything in the long term.
"This is something we're used to dealing with" says Lucinda Dangerfield, co-director of Space Centre Self Storage. "For those people who have recently experienced a bereavement, secure self storage gives you the opportunity to take a bit more time while considering your next move."
At Space Centre Self Storage, we can advise you on how to store your valuables and how to protect them. We can also help you choose the correct packaging to ensure they remain is excellent condition. While there are costs associated with renting a secure storage unit, it is a small price to pay for complete peace of mind. It ensures that everything has been dealt with in the best possible way and you are less likely to have regrets later on. If you've had to clear a property following bereavement, do you have any advice that will help people during this difficult time?
If you have any questions or concerns about leaving family possessions with us, please post a comment below or give us a call. We have facilities in Bristol, Gloucester and Stroud with friendly and experienced staff who are on hand to give you all the help and advice you need.