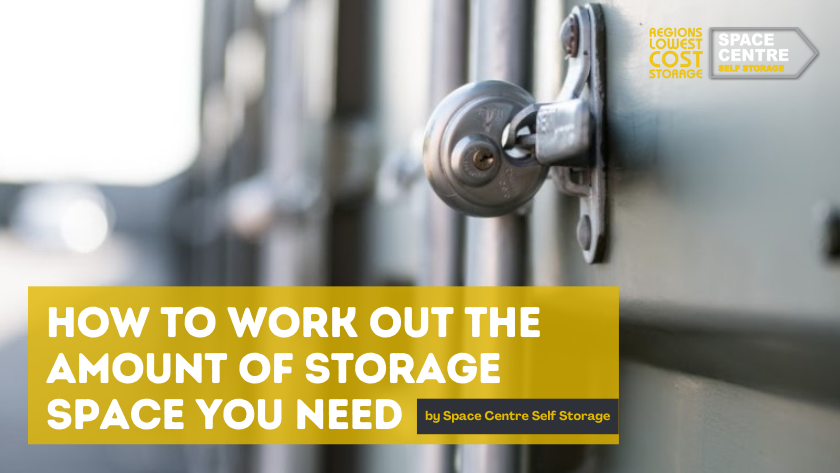 The price difference per year between a small and medium storage unit can be significant even if you use one of the best storage companies in the UK. That makes it even more important to pay close attention to how much storage space you actually need. Before renting a storage unit, whether it's long-term or short-term, make sure you follow this guide to the very end.
How To Determine The Amount Of Storage Space You Need
Regardless of whether you need temporary storage whilst doing home improvement, downsizing or simply decluttering, you need to be organised and plan properly. In this post, we share some practical tips on how to answer the question of "how much storage space do I really need?"
It all starts with debunking the myth around renting a storage unit the size of a house. It's easy to get bogged down when looking at everything around you but at that moment it's all spread out. Once you start organising and packing what you want store, it won't be anywhere near as much. Here are a few important steps to take when figuring out how much storage space is enough.
Make An Inventory List Of Your Belongings
The first step to finding out how much storage space you need is to see how much stuff you have. That means decluttering properly and putting things aside that are destined for self storage. Count all of your boxes and identify larger items such sofas, tables and bookshelves. Remember to write everything down so you can refer to it later and label everything accordingly.
Recommended: 'Decluttering Tips For A Proper Clean Out'
Use All The Home Storage Space
After you've decluttered and made an inventory of every room, check that you've used all the available storage space in your home and garage. The risk of not doing it could result in renting a bigger and more expensive storage unit than what you need. At the same time, don't force things into the spare room or home office just to save space as you also don't want a cluttered house.
Calculate Your Required Storage Space
Now it's time to find the right storage unit size and that means measuring your belongings. When choosing a storage unit, you'll want to have one of two measurements:
Square feet (sq. ft.)
To measure the square footage, multiply the length and width of your belongings. If they make a pile that's 5 x 5 feet, you will need a storage unit of at least 25 square feet.
Cubic feet (cu. ft.)
To measure cubic feet, multiply the length, width and height of your belongings. If the pile measures 5 x 5 x 5 feet, you should opt for a storage unit with at least 75 cubic feet.
This is just one way of measuring your stuff as there's no right or wrong answer. One way of doing this is to put everything into a pile and measure the stack. Another method is to individually measure the length, width and height each item. No matter what you do, the important thing is to get the square or cubic footage.
Choose The Right Storage Unit
Once you measured everything, it's time to figure out whether you need a small, medium or large storage unit. Not all facilities will offer the exact same sizes but at Space Centre Self Storage, here is a breakdown of our Price & Size Guide. To make is easier for you, each unit is in square foot and indicates the equivalent van load, size of storage space required and the cost per week.
10 square foot (3 x 3 ft cubed) – Ideal for student lockers or storing boxes
20 square foot (5 x 4 ft cubed) – Half transit van load
40 square foot (5 x 8 ft cubed) – Full transit van load
80 square foot (8 x 10 ft cubed) – Luton box van load
120 square foot (15 x 8 ft cubed) – 1.5 Luton box van load
160 square foot (20 x 8 ft cubed) – 7.5 Tonne truck contents
200 square foot (25 x 8 ft cubed) – Large removal lorry contents
How To Pack Your Storage Unit
Once you've decided on the right storage unit, it's time to wrap, pack and stack everything. Here are some handy tips on packing things properly.
Use good quality boxes and not old or flimsy ones lying around the garage
Store valuables or breakables in bubble wrap, tissue paper and plastic boxes
Don't overfill boxes and distribute weight evenly to make stacking easier and safer
Label each box so you know what is inside
Leave a walkway to the back of your unit for easy access to everything
Maximise storage space by disassembling beds, desks and tables
Cover all furniture with dust sheets
Mirrors, glass and picture frames should have their corners protected with foam or cardboard
Household Storage Units At Space Centre
If you're busy renovating, moving or decluttering, consider renting a self storage unit. It's one of the best and most affordable ways to keep your home clutter-free and your belongings safe. At Space Centre, we can offer you all the storage space you need with drive-up access, 24-hour CCTV, 7 day access to external units and storage insurance up to the value of £3000.
If you are still unsure about how much self-storage space you need, you are welcome to visit any of our facilities or simply take the virtual tour of our Gloucester and Stroud facilities. Please give us a call or get in touch via LinkedIn, Facebook or Twitter if you need more information. We'd be happy to answer any questions you may have.