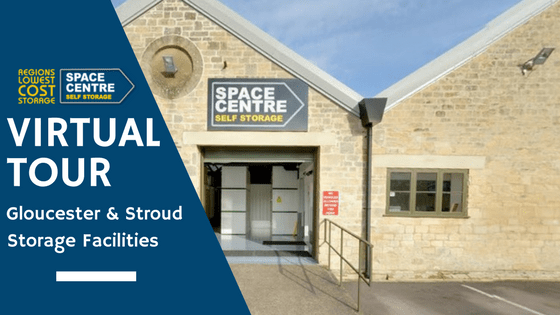 We are always open to those who would like to view our storage units but we know it's not always possible. This is especially the case if you're still in the moving process and too far away for an on-site visit.
You shouldn't miss out just because you can't see it for yourself. Why not take a look at the virtual tour of our premises so you know exactly what you're getting. Whether you're on a mobile device or on your desktop, we'd like to say "Welcome to Space Centre Self Storage!"
Virtual Tour of Space Centre Self Storage Facilities
Starting off with our Gloucester storage facility you'll notice the entrance is in full view of the manned security office. Plus, you can see road access so you have peace of mind knowing you're not driving into some dark alley or back-road dump.
On the outside there are a number of 40 – 200sq foot units ideal for business or home storage with drive-up access. This makes it ideal for big and heavy loads which mean storing your goods is so much easier. Simply drive-up to your unit, open the boot or truck, take a few steps and unpack. Voila!
Stepping inside, you will find units on ground level and also on the first floor. Our storage units are always clean, well-lit and with 24 hour security. You are also the only one with a storage key and it's accessible at any time.
Similar to Gloucester, our Stroud storage facility is centrally located with over 300 secure individual units. The only main difference is all the units are on the ground floor but also with drive-up access. There is 24 hour CCTV with a manned security office overlooking the entrance and you can see where it is in relation to the external units.
Stroud, like all our other Space Centre Self Storage facilities, offers the same quality services such as:
Clean, dry, well ventilated and well-lit storage units
Drive-up access
24 hour security (CCTV and alarms)
No deposit required
No long-term commitments
Free insurance
Flexible to change unit size at any time
Checking all the right boxes
There are a number of important factors to consider when choosing a storage facility. We believe ours check all the right boxes. We've summarised a few of the main points below. This should give you a good indication of our business model and high level of service.
Security – CCTV, individual alarms and on-site security personnel
Access – You can drive-up right to your unit with easy access
Proximity – Multiple facilities, all centrally located to main roads and highways
Cleanliness – We take this as seriously as we do safety so you can rest easy all your items are safe, clean and in good hands
Contract Terms – Always check the fine print and don't just sign on the dotted line. We offer easy, flexible terms with no long term commitment
Budget – Our prices are very competitive and with 20 years' experience, we can often save you 50% compared to other storage providers
If you require more detailed information, take a look at the top tips when choosing a self-storage facility. These are vital in determining which facility best suits your needs.
Please get in touch if you need advice or more information about Space Centre Self Storage. Our friendly staff is always happy to assist you in any way they can.  We will even give you a free quote and help you choose the right size unit for your exact requirements.