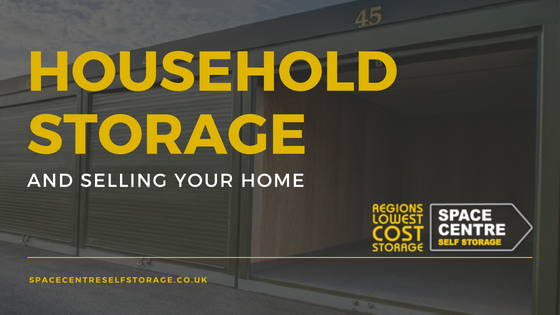 With the uncertainty of Brexit and fluctuating interest rates, people are constantly reviewing their needs to see where they can save money. If you are selling your property, you will need to find a secure place for all your household storage needs. While you could store things with a friend or in the garage, you do run the risk of damage or even theft.
Following our top household storage tips and through effective planning, your move could be much less stressful. Better yet, you might even have fun going through all your belongings and finally clearing out all the unnecessary things. But first, let's take a look at what you should do about selling your house.
Tips When Selling Your Home
Before we even start talking about household storage, you first need to decide on an accurate and reasonable selling price. Look at similar properties that were sold in your area over the last 6-12 months and get a home valuation to see how you compare.
The next step is preparing your house for "staging". This will give potential buyers a taste of what it could be like living there. It is an extremely important part of the selling process as it could help you sell faster and possibly add thousands to the property value.
Where To Find a Good Estate Agent
Would you trust just anyone off the street to fix your car? The same applies to selling your property as you need to find an experienced and reputable estate agent. This could mean the difference between getting more than the asking price (or less) and not selling at all. Talk to your estate agents and ask the right questions to get the most out of your property. Some of the questions include:
When is the ideal time to sell my house?
How do property prices compare in my area?
How many similar properties are generally sold during this time of year?
Could school holidays affect the process of selling my house?
What can we do to ensure that our house is more attractive than those selling at a similar price?
A general rule any good estate agent would agree on is that 'honesty is the best policy'. You stand a much better chance of selling your house if you acknowledge any known issues which are reflected in the asking price.
Clean, Declutter and Finishing Touches
Estate agents can only do so much to sell your house which means many factors depend on you. If the place looks like a dump site, chances are slim that anyone would even consider it. Keep it clean and make your home stands out especially when the photographers turn up. Clean the carpets, sofas, curtains or blinds, oven and windows with special attention to the kitchen and bathrooms. Many estate agents will tell you that a stylish, clean and well-designed bathroom and kitchen adds serious value.
Remember to declutter especially if you have too much stuff visibly lying around the house. Not only will it make your home appear smaller and messier, it can also distract potential buyers. The clutter will take the attention away from all the good qualities and you will lose a sale. Move unnecessary furniture into the attic, basement or garage to make some extra space. Perhaps an even better solution is to contact your local self storage facility. At Space Centre Self Storage, our units are affordable, clean, dry, secure and ideal for all your household storage requirements.
Don't forget about the exterior! A fresh coat of paint means more than you know and a well-kept garden can make a massive difference. Lastly, add some freshness and colour to the interior. Once again, painting is a great idea and also adding modern light fittings, cabinet door handles and strategically placed flowers.
Household Storage Tips
When sorting your furniture, keep in mind the measurements of your new home. Start by planning how everything will fit in each room. In many cases you will likely have to get rid of anything that doesn't fit properly. You don't want a cluttered, unorganised space in your new home which also applies to your self storage unit. For that reason, take a look at these useful tips on how to pack your storage unit.
If anything is too valuable or sentimental to sell or throw away, you should really consider temporary household storage. Our units are clean, dust-free and under 24 hour surveillance leaving your valuables in great hands.
Packing can be a stressful process but doing it right could truly simplify the selling and moving process. Here are a few of our top packing tips:
Never leave packing until the last minute; it always takes longer than you realise.
Start at the top of the house and move down, one room at a time.
Use the right boxes made of corrugated cardboard. You can also use transparent, sealable plastic containers that are durable and easily stackable.
Pack heavy items in small boxes to make transporting easier and to minimise back injuries.
Clearly label each box with details of the contents and the room to which it belongs.
Label boxes that contain breakables and also those that are load-bearing and can be stacked in the van.
Keep all the boxes for each room together as it will save time when you unpack.
Wrap fragile items individually and place in a box lined with several layers of newspaper and a sheet of bubble wrap. We can also provide you with boxes, bubble wrap, padlocks and tape.
Household Storage Units At Space Centre Self Storage
We have units of all sizes at affordable prices in Gloucester, North Bristol and Stroud. The facilities are modern, clean, easily accessible and secure giving you the necessary peace of mind. Many home owners have chosen Space Centre Self Storage and on several occasions we've provided them with additional space when their properties pile up with all their belongings.
We pride ourselves on offering quality storage units that always meet and exceed expectations. Our family run business started in 1995 and we've built a superb reputation on the back of exceptional quality and customer service. For all your household storage requirements, from furniture to books, toys and even confidential paperwork, please get in touch to reserve your storage unit today.