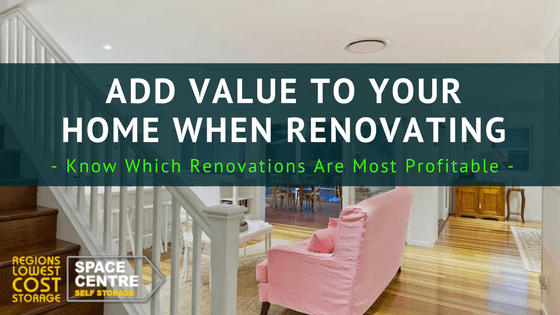 A good home makeover is an exciting prospect but even simple renovating needs thorough planning. Think about how you can add value to your home and what improvements will yield the best return. It doesn't make sense to spend a small fortune on renovating if it's barely adding to the overall value. This is particularly important when you renovate with moving in mind. Don't overspend on unnecessary improvements and remember to weigh up renovating costs against the increase in property value.
Most homeowners try to stay in touch with modern designs and decor in the form of a new bathroom, kitchen, conservatory or a fresh coat of paint. With the increased property prices, high cost of moving and stamp duty on expensive houses, more people are renovating instead of buying. And who can blame them?
Which Renovations Are Most Profitable?
Nothing in life is guaranteed and same goes for maximising returns through renovating. Some areas will have a limit, or ceiling, as to how much the house can be sold for regardless of improvements. That doesn't mean you shouldn't try.
To calculate how much your renovations can boost the value of your property, here is a very handy tool from Towergate Insurance. A few home improvements worthy of mention are as follows:
1. Kitchens and Bathrooms
Potential buyers tend to look at kitchens and bathrooms first so keeping it modern and tasteful is highly recommended. According to the Towergate tool, improving a kitchen adds around 6% to the value of your home while bathrooms provide 5%. So if your home is valued at £500 000, a new kitchen could add £30 000 and a bathroom around £25 000.
2. Loft conversion
Adding an extra bedroom without using existing living space is an impressive value boost of 15%. In some cases you don't even need permission to build although it's always advisable to check.
3. Single Storey Extension
Extending existing floor space will often add value but it depends on size and type of extension. Consider the cost of extending versus increase in value. A single storey extension could add as much as 11%. Even so, if the renovation costs £25 000 and the increase in value is only £15 000, perhaps it's not worth your while. It's a different story if it is your 'forever' home and you really want that extra room.
Storage when Renovating or Moving
There is so much to consider including storage when renovating, protecting your furniture, floors and other valuables. Anything can happen and you need to be prepared. You don't want to replace furniture or other goods that you weren't planning on.
If you've decided to renovate, think about how and where you'll store your goods in the process. What do you do with all the extra furniture or glassware, electronics and clothes? For those who don't have a spare room or a big garage, renting a short-term self storage unit is the best solution.
Protecting Floors and Furniture when Renovating or Moving
Moving furniture isn't the only thing you need to think of. Everything needs to be packed, covered and protected including the floors. You could keep it simple by using bed sheets or plastic sheets but make sure you don't leave any gaps. Paint, dust or dirt could easily find its way in. The sheets need to be thick so nothing soaks through onto the furniture.
As for the floor, there are numerous alternatives but none more effective than carpet protection film. It's like cling-film but for carpets. No need for tapering as it simply sticks to the surface and protects against heavy foot traffic, dust, paint or any debris associated with moving or renovating. The film is easy to remove and leaves no adhesive residue.
Tiles and wooden flooring can pick up scratches and scuff marks very easily especially when left unprotected. Use a heavy duty, temporary floor protector specially made for floors, stairs, walls, doors and even windows. Consider using trapmats outside the entrances to stop dirt from entering the house in the first place.
Do you have a disaster story to share about breakages while moving or renovating? Maybe you'd like to give our readers some additional storage or moving tips for keeping items safe.
If you're looking for short or long term storage when renovating, we have facilities in Stroud, Bristol and Gloucester. Our terms are fully flexible and we don't tie you to a long term contract so you can store for as long as you need.