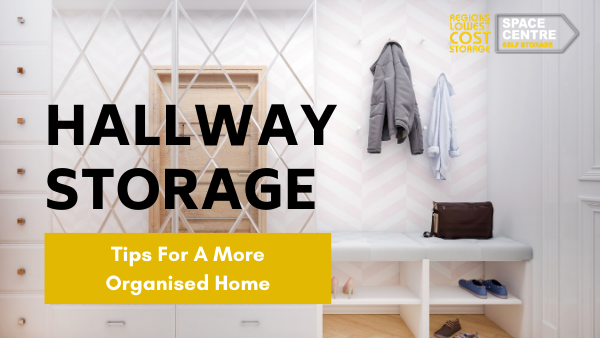 Are you guilty of piling up winter clothes by throwing coats or rain jackets all over the place when you get home? Or, are you the responsible one in your family but struggling to keep things in order? As winter approaches, hallway storage is once again a hot topic as entryways are often littered with shoes, coats, scarves and wellies.
Considering it's the gateway to your home, hallway storage can keep things organised and free from clutter. If you're looking for expert tips on hallway storage and home organising, this article can help strip back unnecessary items, integrate effective storage whilst maximising every bit of available space.
How To Start Organising Your Hallway
It's always easier to implement hallway storage solutions in larger spaces but if it's not, don't overfill the space. You need to plan before you declutter by assessing how space is currently being used and asking yourself these questions:
Which items do I need daily?
Are these every-day items easily accessible?
Is there a place for items that don't go into the house, i.e. umbrellas?
What is currently stored in the hallway (other than clothing or accessories) and can it go somewhere else in the house?
Toss What You No Longer Want Or Need
As you would declutter your home when moving, you should follow the same process. The best way to declutter is to have a plan or you'll end up being overwhelmed by too many things. We can almost guarantee that when this happens, people tend to stuff everything back instead of tossing it.
Get some packing boxes or bin bags and label them accordingly, i.e. toss, recycle, donate or store. It's best to simply get rid of anything you don't use, need or want and only keep the essentials. If there's no space at home for old but important documents and clothing or furniture you'd like to keep, you should consider renting a self storage unit.
Recommended: '13 FAQ About Self Storage'
Simple Hallway Storage Ideas You Should Try
It's not surprising that many people struggle to keep their homes organised especially during winter as it can be tricky. For those with a mudroom, the task is a little easier but if you don't, you have to rely on alternative hallway storage solutions.
Classic Hanging Space Along A Feature Wall
A creative way to brighten up the entryway if you have colourful hats and scarves is to make a feature out of them. Simply put up some hooks to hand your hats and use simple bars for scarves. You can even decorate the wall behind using a modern colour or statement wallpaper. Other smart interior design ideas include using old newspapers or posters from a music festival or event.
Storing Shoes, Boots And Wellies
Some of the best hallway storage ideas for shoes include a shoe storage bench, box or floor-to-ceiling pigeonholes. However, these only work if you have enough space so for those who don't, mats can also work. Have a look at these stunning eco-friendly barrier mats from Interior White.
For a truly organised hallway, only keep the pair of shoes you are currently using in the front. Store all other shoes in clear plastic boxes in a cupboard nearby or wherever you can find space for ease of access.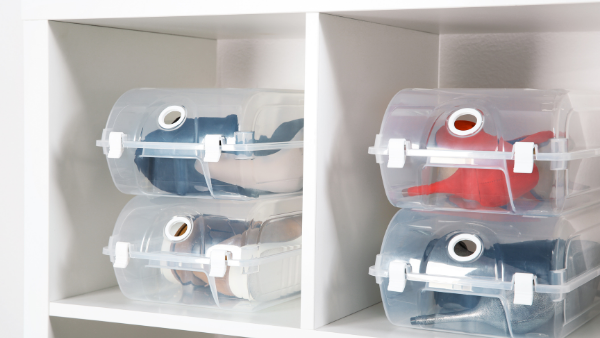 Storage Benches For Accessories
This hallway storage bench doubles as a place for putting on boots and hats whilst providing sufficient space to store various items. This includes waterproof over-trousers, sporting items and equipment. You could also store smaller items, like glove and scarves but you're better off adding storage boxes or bins to divide the space properly.
Umbrella Stands And Coat Racks
Anything that no longer has a purpose in your life whether it's offering aesthetic joy or a practical use belongs in clutter category. With more than 150 days of rain in the UK every year, umbrellas and coats form part of our daily lives but there's no point in keeping five of each. Let go of the old hats, gloves and umbrellas you barely use and only keep one or two.
It's best to keep them in an umbrella stand or if you have fold-up umbrellas, a coat rack is also a good idea. Not only does this make unclutter your hallway but it also uses minimal space so it works beautifully even if you have a small place.
Put Up A 'Catch-All' Bag
A time, space and money-saver is a 'catch-all' bag you can hang near the front. This is perfect to keep bits and bobs in one central place which helps clamp down on clutter. Make sure to put it in a prominent place so anyone passing by can simply put their items inside and go on their merry way.
Under-stairs Storage Tips
Many of you will agree that the space underneath stairs is often hard to manage properly. It pays to spend some time researching and finding solutions to make the most of under-stairs storage, including the following:
Adding hooks to the wall underneath the stairs
Put a rack of storage trays inside
Hire a carpenter to install a built-in cupboard or storage boxes
Create a home office space with a desk for additional storage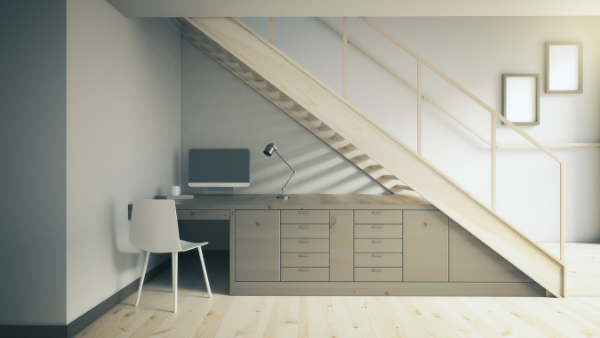 For those with children, things can get even messier so why not fix hooks along the stair line on the outside so they can hang up their bags and coats? Giving them their own special, low-level hallway storage space could encourage them to keep things tidy. Well, that's the theory at least.
Recommended: '20+ Under-stairs Storage Ideas'
Create A Dedicated Space
If you have enough space, a great hallway storage idea is to give every family member their own space. You could incorporate a bench, shoe storage box or pigeonhole, a hook and a basket for all those odds and ends. It can also work in small spaces by simply assigning (and labelling) individual coat hooks for each family member. Take it a step further and line up a row of baskets below each hook.
Make your home an organised space this winter by implementing some of these simple hallway storage and organising ideas. If you don't have enough space at home but can't get rid of things either, contact Space Centre for more information on our wide range of quality, affordable storage units. You can find us in convenient locations in Stroud, Bristol, Gloucester and Stonehouse.