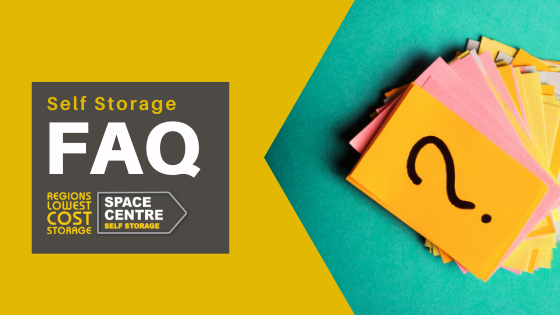 Putting Covid-19 aside for a moment, we'd like to shift the focus to some of the most frequently asked questions relating to self storage.
As people sort through their belongings at home or the office, many may be considering self storage for the first time. Anyone unfamiliar with the process will have several questions that require answers which is exactly what this article can help with.
Answering The Most Common Self Storage FAQ
If you have belongings, goods or documents at home or work starting to make a mess, self storage may be the solution. It promotes decluttering while resulting in a much more organised space. However, there are several important questions many people have asked including the following.
Why should I use self storage?
Self storage has become the first choice for many, whether it's for home or business purposes. The fact that it's safe, convenient, reliable and affordable makes it an even more attractive proposition. People most commonly use self storage when:
moving house and need temporary space for furniture, clothing and other items
doing home renovations and need to keep household possessions safe
relocating abroad and want to store valuables during the move
going on an extended holiday
needing extra space for a hobby or sports equipment
you've run out space at home
Companies also use storage facilities for archiving, storing of confidential documents, seasonal and excess stock, trade supplies and equipment, exhibition storage or just extra space for office furniture.
Recommended: 'Common Reasons People Use Storage Facilities'
How much storage space do I need?
This is one of the most common FAQ as many people struggle to visualise the space they need. It's a good question as it's hard to imagine how the contents of a 3 or 4 bedroomed house can fit into such a small space. Choosing the right storage unit is important as you don't want to pay for space you don't need. Fortunately, our pricing and size guide is super easy to use as it works according to van size as shown in the example below:
For your convenience, we've included links that will take you directly to the specific storage facility. From there, you can request access to the price and size guide.

How do I find a self storage facility near me?
Wherever possible, try to look for a storage facility as close to your home or office as possible. The easiest (and faster) way to find a self storage facility near you is by doing a Google 'near me' search. If you haven't done this before, simply enter "storage units near me" into your search engine and wait for the results to appear. For more information on our facilities in Bristol, Stroud, Gloucester and Stonehouse, please visit the website.
Are the storage units secure and do you have an on-site manager?
Most storage facilities will have an on-site manager where some may feature an on-site apartment. While this will improve security, it's recommended to find out whether your unit has CCTV surveillance.
Is there a difference between indoor and outdoor self storage units?
Outdoor storage units are located on the ground floor of a facility and will often have drive-up access. This makes loading and unloading your belongings from a car or truck super easy. Indoor storage units are typically inside the property which means you have to access the building to get to your unit. Some indoor units may be on the ground floor but at bigger centres, you are often required to use a lift.
Will I have 24-hour access to my self storage unit?
Some self storage centres have 24-hour access but not all of them do. Sometimes you will have to pay a premium for 24-hour access so make sure that the facility you choose has excellent on-site security. At Space Centre Self Storage, we do not charge additional fees for our sites with 24-hour access (Stroud & Bristol).
The price of a storage unit largely depends on how much stuff you want to store, the storage period and the replacement value of your belongings in the unlikely event that something goes wrong. Almost all storage facilities have differently sized storage units and will charge per square foot. Normally, the larger the unit, the cheaper the price per sq. ft.
The price for a storage unit is inclusive of VAT but often the cost of a padlock, storage insurance or a deposit is not included. It's best to enquire in-store or over the phone for a quote and remember to ask about insurance, security deposits, cancellation fees an if you have to sign a long-term contract.
At Space Centre, we don't require a deposit nor do we charge for cancellations and you are not tied to long-term storage.
What about storage insurance?
The goods in your storage unit are ultimately your responsibility and you need the right insurance to protect yourself against loss or damage. We take exceptionally good care of our storage units and make every effort to protect your goods at all costs. Unfortunately, some events are out of our control such as fire or flood damage which is why storage insurance is important.
While most storage facilities will offer insurance, it is usually limited and the same applies at Space Centre Self Storage. We provide free insurance up to the value of £3,000 but if your items exceed that value, you need to take out an additional policy.
In most cases, your normal household contents insurance won't cover goods in storage so it's important to check first before committing to anything. If your goods are worth putting in self storage, you should comprehensively insure them.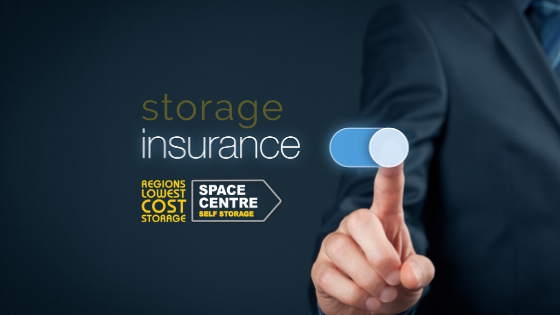 What is the maximum time I can rent a unit for?
Most self storage centres vary in terms of rental periods but like Space Centre, many will allow you to rent a unit for as short or long a term as you need. You might want to go on an extended holiday or moving abroad for one year. If you are ever in doubt, simply ask someone at the facility. Remember to leave the contact details of a close, trusted friend or family member when going abroad just in case.
Can I change my unit size if I need more or less space?
That's a simple but important question as not all facilities do this and you need to make sure to ask the provider before signing anything. In most cases, you should be able to easily move to another size unit at any time but it might depend on your requirements and the availability of the other unit.
What are your operating hours and how often can I access my goods?
While some storage facilities are open 24-7, not all offer the same convenience. You will find that most outdoor storage units have storage access 24 hours while some indoor units won't. It's best to find out the operating hours before committing to anything.
Our facilities are open during normal office hours, mostly 9 am-5 pm with some outdoor units offering access all hours of every day. Here is all you need to know about the operating hours for Gloucester, Bristol, Stroud and Stonehouse.
What can't I keep in self storage?
Whilst many self storage facilities are generally flexible in accepting various types of goods, there are several banned items. Some of these include the following:
Flammables and combustibles (Petrol, oil, propane, gas and certain chemicals)
Animals, plants and perishable foodstuffs
Hazardous and pressurised materials
Contaminants or waste
Illegal goods, explosives, weapons and ammunition
Perfumes and fragrances
Cash and securities, jewellery and other valuables
Recommended: 'Storage Rules And Regulations'
What type of storage units do you provide?
As mentioned earlier, people use self storage for various reasons and at Space Centre, we have units for all applications. This includes household storage units, business storage, exhibition storage, tradesman storage, student storage and vehicle storage among others. We offer flexible short or long term contracts without limiting you to a minimum rental period.
If you are looking for a quality, affordable and reliable business storage facility, Space Centre is open for access 24 hours a day. Our locations in Bristol, Gloucester, Stroud and Stonehouse are fully secured with 24/7 surveillance and storage access. Many are on the ground floor offering you easy drive-up access.