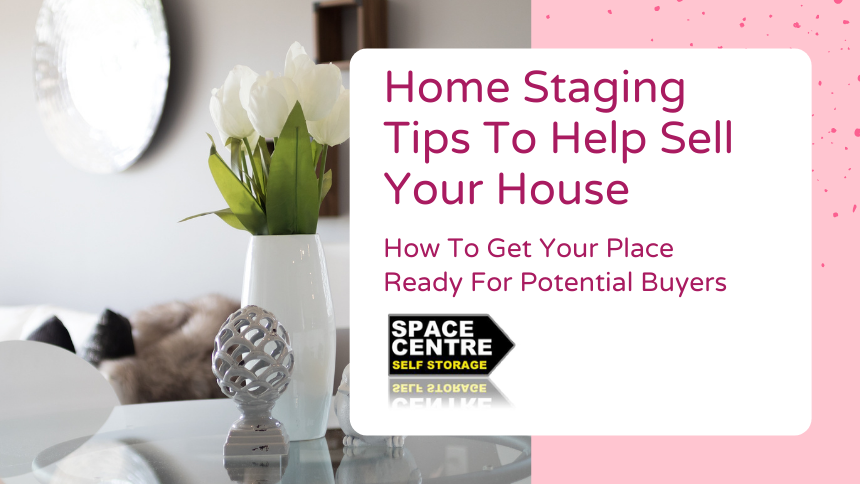 Selling your home is a stressful process as it can be emotional, bewildering and expensive. Whether it's your first or fifth time, moving house is never easy. Real estate agents recommend different ways of getting the most from your property so, in this article, we share some simple but super helpful home staging tips. We also highlight how self storage can simplify the process even further.
Home Staging Tips When Selling
Professional home staging is big business and it's often exorbitantly expensive as today's buyers have unrealistic expectations. For the most part, it comes from watching too many home renovation shows such as HGTV, Grand Designs, Flip or Flop and Dream Home Makeover among others.
Whilst you can hire a company, there are many things you can do yourself. Here are a few home staging tips and tricks to help get your place ready for potential buyers.
Declutter And Tidy Your Home
As always, the process starts by removing clutter from all the living areas such as newspapers, magazines, paperwork, and empty cans. Keep your wardrobes in check so they don't overflow by removing half the clothes and other random items.
Use baskets and storage containers to organise your kitchen and linen cupboards while leaving space in self storage for any overflow. If you run out of space, you can simply rent a short-term self storage unit to safely keep all of these items until you need them again.
Home Staging According To Your Target Audience
Before you do anything, find out who is most likely going to buy your home. Are they single professionals, first-time home buyers, retirees or young families? As a seller, you should be doing as much research as the buyers to really tap into their lifestyle and aspirations.
When home staging, make sure each room has a clear function so don't leave your makeshift home office in the dining room, for example. If you're selling to young professionals, stage your house to look sleek and modern. However, when selling to busy working families, stage it to look more spacious and practical.
If you are selling to older buyers you need to make it appear as homely and comfortable as possible. "A viewer is much more likely to put in an offer if everything is laid out clearly," according to Harry Prynn, a negotiator at the Beaconsfield branch of Knight Frank.
Remove All Your Personal Belongings
One of the most important home staging tips is to help prospective buyers see the space as their own. The fastest way to do this is by presenting them with a blank canvas by removing personal items. The idea is to give your home style and charm but without personal touches that suggest this home belongs to the seller and not the buyer.
Remove any personal photos or framed photos on walls and surfaces
Put away anything hanging on your fridge
Keep clothes stored away and out of sight
Clear bathroom counters of personal items, like toothbrushes and contact solution
Remove anything overtly religious as to not offend someone of a different belief (or none at all)
De-personalising your home does make it seem a little strange to live in but it's extremely useful to help buyers better connect with the property.
Deep Clean Your Home
If you think spring cleaning was bad, wait until you clean knowing your house is going on the market. Every inch must be clean, dust-free and shine like nothing else from the baseboards to the corners of your ceilings. A tidy home shows potential buyers that the current tenants or owners took good care of the property.
Do Some DIY Paint And Repair Work
One of our favourite home staging tips is to tackle any tiny nicks, scratches, holes, and other impurities that might signal neglect. Go room for room and remove any scuffs from walls and keep an eye out for areas that could use a little TLC. At the same time, you might need to paint a few walls too especially where the old paint has chipped.
Be careful choosing a colour though as your favourite shade of blue may clash with the potential buyer. Your best bet is to use neutral colours which will show buyers that they have options. The idea is not only showing potential buyers that you've put effort into maintaining the property but also making the place look nicer.
Rearrange Your Furniture
When selling your home, you want it to be as open as possible allowing more walkable space. This will help buyers navigate the space easier while helping them better visualise their furniture in each room. Moving furniture away from walls is a tried-and-tested interior design trick to make a room appear bigger.
When staging your home, don't forget the vital role self storage can play. It's pointless rearranging furniture if you're only going to squeeze it into the garage or another room. If you treat other rooms like a storage unit it will give your home a crowded and chaotic look. Go through each room and put aside broken or outdated furniture; only keep something that can add value to the viewing experience.
Recommended: 'How To Store Wooden And Fabric Furniture'
Keep It Fresh And Let The Light In When Home Staging
Your home should look bright and welcoming, especially during viewings. Open your curtains or blinds and don't forget to turn on all the lights. Not only will this help make your home seem more spacious but it also means buyers and agents won't struggle to find the light switches. Here are a few simple home staging tips:
Set up the dining room table to look like a special family dinner
Arrange plates, cutlery and napkins on pretty placemats along with a beautiful centrepiece
Use new or freshly washed comforters or duvets in the bedrooms
Add extra pillows and throws to make rooms look more tranquil and cosy
Use fresh white towels add a few plants in the bathroom
Pack away the extra linen or put them in self storage
Sand and varnish wooden finishes
Put away garden tools, hoses and other equipment
Spruce up the outside of your property
Using Self Storage When Home Staging
As we've established, decluttering and organising your home can be challenging as there's so much to consider. The added stress of trying to sell your home makes the situation even more stressful but self storage can help minimise the anxiety associated with packing and moving.
It's a cost-effective and simple way of storing furniture, clothes, toys, documents and kitchen equipment without having to find space at home or asking a friend to keep your things in their garage.
At Space Centre, we offer easy terms and FREE storage insurance up to £3000 using our provider or your own. All of our storage units in Bristol, Stroud, Gloucester and Stonehouse are clean, dry and in secure compounds with alarms, CCTV and smoke detectors.
Visit our website or contact us today if you are looking for an affordable self storage unit to help with your home staging project.