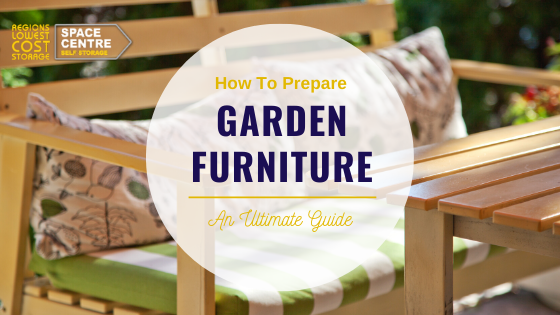 It's that time of year again when we talk about your garden furniture as it's probably a little worse for wear after a long winter in the shed, garage or self storage. The good news is that preparing your garden furniture is not a mammoth task and can be done in one afternoon.
Although COVID-19 is affecting every aspect of our lives, we need to focus on doing more 'normal' things. With a house-bound Easter weekend already behind us and the lockdown not going anywhere, use this time to clean and prepare your garden furniture using this easy-to-follow guide.
Top Tips To Prepare And Clean Wooden Garden Furniture
Transform your garden into the perfect area for your family (and friends once lockdown is over) by doing the following:
Remove excess dirt, algae, lichen, fungi or moss with a scraper or stiff brush
Sand and clean the surface
Use wood preserver, such as Cuprinol, to prevent rot and decay on bare or untreated wood
Surfaces should be kept dry and dirt-free as on-going maintenance during spring and summer
Wood that was previously stained, painted or varnished should be stripped
How Do I Protect And Revive Wooden Garden Furniture?
There are many ways to revive your wooden garden furniture but using a naturally beautiful and hard-wearing finish is always a winner. Another option is to breathe some life into an old garden bench with a colourful new look.
Most people would recommend using a garden furniture restoring product as it does exactly what's intended. Using the right product will give a beautiful, long-lasting colour and protection to all garden wood. Whatever product you use, remember the following:
Only apply once the surface is clean and dry
Apply only in dry conditions, ideally above 5°C, without a forecast of bad weather
Always apply on a test area first to ensure adequate adhesion and appearance
If you are not using a restoring product, first clean the furniture with soapy water. From there, rinse and dry it thoroughly followed by a light sanding of the surface to remove any weathered areas.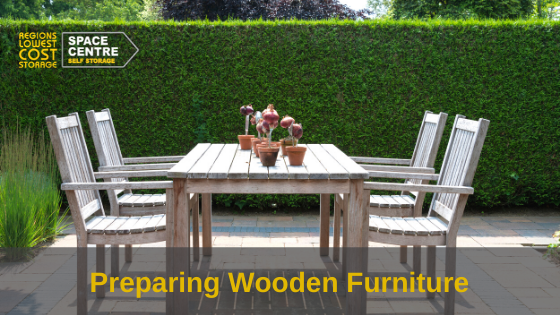 Creative Wooden Furniture Preparation Ideas
You could take your furniture preparation a step further by personalising the chairs using stencils. Before you get started, hose down the furniture to remove most of the dirt. Each chair needs to be as clean as possible to prepare the surface with an orbital sander and use smaller pieces of sandpaper for the hard-to-reach spots.
How to apply and paint the stencil
Lightly sand the surface
Apply each stencil to a chair, making sure it's centred and level
Centre the stencil by marking the middle point of the stencil and the chair with a pencil
Apply a light coat of adhesive on the back and wait for a minute so it can dry a little
Apply the stencil to the chair and use the centre marks as a guide
Tape or glue other pieces of paper to the side of the stencil
Apply light coats of paint to the stencil while moving left to right or vice versa
Start each coat of paint off the edge of the stencil and then moving past it
When you get close to the intended coverage, allow more time to dry between coats
Once there is enough paint on the stencil, peel it off and admire your work of art
Wicker Furniture Care Tips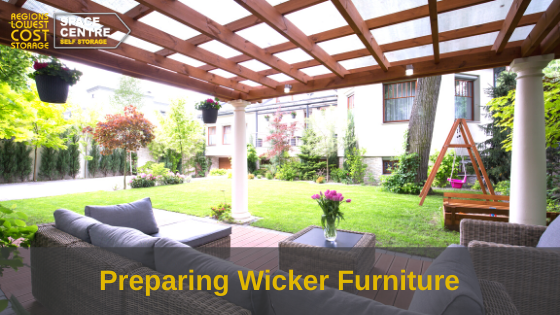 Wicker furniture is a popular choice for many as it looks good in nearly any setting while being quite durable. However, after a while it also shows dirt, dust and even mildew but, fortunately, wicker furniture is completely washable.
A regular garden hose is fine but NEVER use a pressure washer
Use a gentle scrubbing brush and mild soapy water
Leave the furniture to dry in the sun which usually takes 24-36 hours
Preparing Aluminium Garden Furniture
Aluminium garden furniture is one of the most durable and can remain outdoors for extended periods. Over time though, it may oxidise causing all sorts of damage so you need to protect it as well. To clean aluminium furniture, follow these simple steps:
Use a non-abrasive cleaner to remove scuff marks
Wash with soapy water
Rinse off with a hose
Protect the surface with some clear car wax
Wrought-iron Or Metal Garden Furniture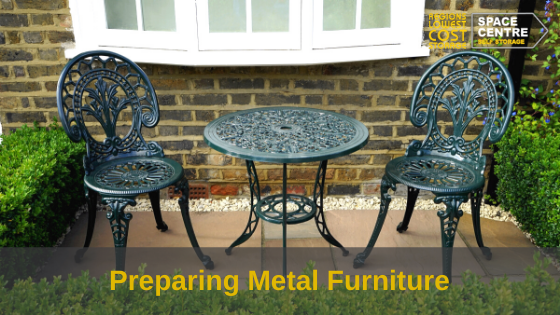 Wrought-iron garden furniture can also remain outside but they are susceptible to rust. The best way to keep them in excellent condition is by using a specialist paint.
Before painting, remove any rust spots with steel wool or a wire brush but be gentle
Brush off any loose dirt
Scrub everything down with soapy water
Sand it down slightly and touch up rust spots with an enamel paint
Related: 'Simple Storage Solutions For Garden Toys'
Final Thoughts
Regardless of the type of garden furniture, it should ideally be kept in a clean, dry indoor space but it's not always possible. If you don't have room for it inside, consider outdoor furniture covers. You can find a large variety of PVC-backed polyester covers at Garden4less to keep your furniture safe from the elements. Most of the covers also have built-in UV-filters to protect against sun bleaching.
When it comes to garden furniture preparation and storage, knowing what to do plays a pivotal role. It's always better to take extra special care of outdoor furniture as preventing damage is easier (and cheaper) than fixing it. If you have run out of space at home, you can also rent a self storage unit short or long-term.
Please call us or visit our website if you need any advice or would like to know more about our storage units.