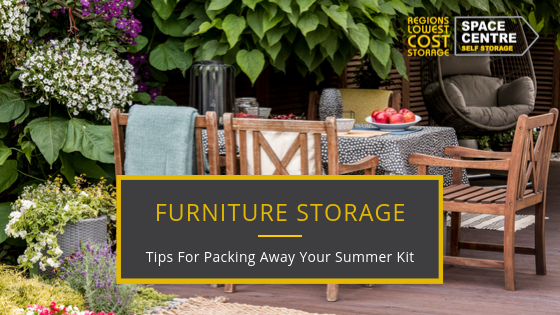 The good weather in the UK is well and truly gone and now is the time to think about furniture storage solutions. Going into autumn and winter means making sure you clean, organise and pack away toys, garden furniture and tools. This will help prevent any damage and save you from buying new items next year.
Keeping everything in good condition for next season requires cleaning, treating and storing. In most cases, it will be the garden shed or garage but you should also consider a self storage unit especially if you added new furniture to your summer collection.
Simple Furniture Storage Tips
If you look after your garden furniture properly, it will last you for years to come. Without proper furniture storage, you run the risk of wear and possible weather damage. Whatever you decide, it's imperative that you prepare everything before putting it in storage. Not cleaning or treating your furniture, tools and equipment could result in expensive repairs or replacements. Here are a few simple tips for furniture storage and care during the winter months.
Related article: 'Garden Storage Guide For Winter'
Cleaning And Protecting Your Garden Furniture
Cold weather, wind and rain often cause metal to rust, wood to split and fading of paint. Keeping your garden furniture, tools and toys in a dry environment will help them last longer and perfect for next summer.
Caring For Wooden Furniture
Wooden garden furniture requires the most maintenance and should be cleaned properly once a year. Remove all the dirt, algae, bird droppings and lichens to extend its lifespan. Even if you're storing your wooden furniture in a shed, garage or storage unit, you should always clean it first. Wash your wooden furniture with warm, soapy water and a brush. Remember to allow the furniture to dry completely before sanding it down.
If you have softwood like pine, you need treat it with a preservative, wood paint or oil for added protection. Coat the furniture with your choice of product using a clean brush. Let the first coat dry completely before adding a second layer. Hardwood furniture like teak, acacia, oak and eucalyptus don't need treatment other than a good clean.
Caring For Wrought Iron And Steel Furniture
Depending on the weather conditions you experience, you should clean iron and steel furniture at least once a year. This gives you the ideal opportunity to see rust spots before they get worse. Wash it using soap and rinse off with clean water. Pay attention to paint or plastic coverings that may have started peeling.
If you notice rust spots, treat them immediately to stop them deteriorating during storage. Sand down the rust using steel wool or a hand sander and treat the areas with a rust preventing paint or coating. Any moving joints should also be oiled.
Care Tips For Aluminium Furniture
Even though aluminium garden furniture won't rust, you still need to look after it during winter. Using a soft-bristled brush, remove any excess dirt or leaves and wash with hot water and soap. Then, rinse with clean water and a useful tip is to apply water and vinegar with a soft cloth to polish the metal. Never use anything abrasive as it will damage the surface. If you need extra protection, finish off with a coat of car wax.
Cleaning And Preparing Plastic Garden Furniture
While plastic furniture is relatively inexpensive, easy to move around and extremely durable, it is not indestructible. Without proper care, it can quickly look grubby and fade over time. Wash with hot water and soap or blast it with a high-pressure washer. Avoid using anything abrasive as it will damage the surface.
You can bleach white plastic furniture that looks stained but remember to protect your hands with gloves. Whatever the colour of your plastic furniture, finish it off with a coat of car wax to bring out the shine and make it look good as new.
How To Care For Rattan Or Wicker Furniture
The increasingly popular rattan or wicker furniture should ideally be stored indoors. If you don't have space, make sure it is cleaned, dried and at least covered. As you can imagine, the woven nature of rattan and wicker does need a little extra TLC.
Vacuum the furniture with the soft brush attachment to remove any dirt and dust from the weaves. Then, wipe with a damp cloth to remove remaining dirt or mildew. For best protection, especially if you have limited room at home, put in a self storage unit until next season.
Garden Furniture Storage Tips
Most garden furniture should be stored inside over winter and many items like folding chairs, sun-loungers and folding tables are collapsible for easy storage. Some furniture is also designed to stack which also helps minimise the space you need.
If your garage or shed has enough room, store clean and dry garden furniture away during the wet season. For those with limited space, store your garden furniture and equipment like BBQs, lawnmowers and other tools in a plastic storage shed or simply rent a self storage unit.
Furniture Storage Ideas For Businesses
If your business uses outside chairs and tables, it goes without saying that you need to store your furniture carefully. Plastic chairs normally stack easily but many wooden ones don't. When leaving your furniture outdoors, each table or stack of chairs should have their own cover. If storing furniture indoors, don't pile everything on top of your table to save space. You don't want to get it out next season and it's covered with scratches, scrapes and damage from the chairs.
Ideally, you need a clean and dry place to keep everything in good condition and the best solution is a business storage unit. Furniture storage is often challenging for a business but a reputable self storage facility is far more cost-effective than renting warehouse space. Check out this article for a few handy tips on how to pack your storage unit.
Conclusion
With short lease agreements and the ability to change the unit size as your requirements dictate, self storage offers exceptional flexibility. This applies to households looking to declutter and save space but also businesses that don't have additional space on-premises. If you need more information about our storage facilities in Bristol, Stroud, Gloucester or Stonehouse, please visit our website. You can also call any of our branches to arrange a site visit. Prices are guaranteed to remain the same for at least 12 months if not longer once you move in.