Making energy saving home improvements is a great way to save money on your energy bills while reducing your carbon footprint. By making some simple upgrades to your home, you can improve energy efficiency and cut costs.
In this post, we'll discuss some of the top ways to save energy at home, how you can get help from the government and how self storage can help if you need to protect your items during an energy saving remodel.
8 Easy Energy Saving Home Improvements
1. Energy-Efficient Windows
Upgrade your home's energy efficiency with double-pane windows. These are designed to minimise heat transfer, keeping warm air in during the colder months and cool air in during the warmer months. Before you begin, measure your existing windows and order replacement windows from a window manufacturer. Installation can be done by a professional or as a DIY project – just make sure to follow all instructions carefully for successful energy saving home improvements.
2. Insulation
Insulation is a smart and effective solution to improve your home's energy efficiency. It can be installed in walls, attics, and crawl spaces, helping to reduce heat transfer and maintain comfortable indoor temperatures throughout the year.
The process of insulating your home involves buying either mineral wool (rock wool), polystyrene bead insulation, cavity foam insulation and fibreglass cavity batts from a reliable home improvement store. These are bought in rolls or batts and need to be installed correctly in your chosen areas. Insulation is a simple yet impactful method that can lead to significant savings on your energy bills.
Warning: An Important Reminder
If you plan to install fibreglass insulation on your own, it is crucial to wear the appropriate Personal Protective Equipment (PPE). This will ensure your safety and prevent any health hazards that may result from handling fibreglass.
The required PPE includes:
A dust mask or respirator to protect your respiratory system
Safety glasses or goggles to safeguard your eyes
Work gloves to protect your hands
Clothing that covers your entire body to avoid skin irritation
Be sure to follow these guidelines when installing fibreglass insulation in your home to ensure a safe and successful installation process.
3. LED Lighting
One of the easiest energy-saving home improvements that you can try is switching to energy-efficient light bulbs. LED bulbs are a great option to reduce your energy costs and improve the energy efficiency of your home. Not only do they use much less energy than traditional incandescent bulbs, but they also have a much longer lifespan.
By swapping your old light bulbs for LED ones, you can save a significant amount of energy and money on your electricity bill. Plus, LED bulbs emit less heat, making them safer and more durable than regular lightbulbs.
4. Draught-proofing
Draughts can significantly reduce the energy efficiency of your home, as they allow warm air to escape during the winter and cool air to escape during the summer. To draught-proof your home, you will need to install weatherstripping around windows and doors, as well as seal any gaps between walls and floors.
For more information on draught-proofing your home, we recommend reading this blog from the Energy Saving Trust: Draught-Proofing: Reducing Home Heat Loss
5. Smart Thermostats
Programmable thermostats are a smart addition to your home that can save you money on your energy bill. They allow you to set the temperature according to your schedule and even adjust it when you're sleeping or away from home. This energy-efficient feature not only reduces your carbon footprint but also saves you money on your electricity bill.
To install a programmable thermostat, simply purchase one from a reliable home improvement store and follow the manufacturer's instructions for installation. It's an easy and straightforward process that will make your home more comfortable without costing you a fortune.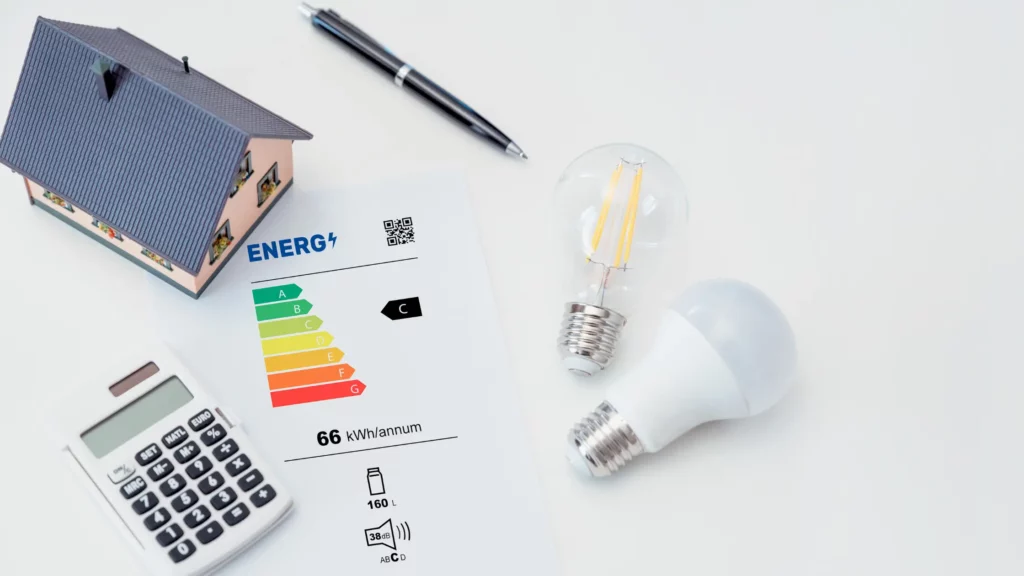 6. Energy-Efficient Appliances
ENERGY STAR appliances are designed to provide the same level of performance as traditional appliances while using less energy. By choosing ENERGY STAR appliances, you can reduce your energy consumption and lower your electricity bills.
To choose and purchase ENERGY STAR appliances, simply research and compare models before making a purchase. This will help you find the best appliance for your needs with the highest energy efficiency rating possible. By investing in ENERGY STAR appliances, you can make an energy saving home improvements that are not only eco-friendly but also saves you money in the long run.
7. The Ultimate Energy Saving Home Improvements: Solar Panels
Installing solar panels on your home is an excellent way to generate renewable energy and save money on your energy bill. Solar panels are typically installed on the roof of your home and convert sunlight into electricity.
To have solar panels installed, you have two options. You can either hire a professional installer or research and follow instructions for a DIY installation. A professional installer can ensure that your panels are correctly installed and safely connected, but it can be more expensive.
On the other hand, a DIY installation can be a cost-effective option if you have the necessary skills and tools. DIY solar panel kits are available online, and easy-to-follow instructions are included.
8. Upgrade Your Central Heating System
If you have an older central heating system, upgrading to a high-efficiency furnace or boiler can be a cost and energy-saving home improvement. Older models typically use more energy and run less efficiently than modern high-efficiency systems.
Investing in a high-efficiency furnace or boiler can significantly reduce your energy usage and, in turn, lower your energy bills. By improving the efficiency of your heating system, you can also lessen your carbon footprint, making it an eco-friendly upgrade for your home.
Need Financial Help for Your Energy Saving Home Improvements?
The UK government offers a program called 'The Green Deal' that helps homeowners make energy saving improvements to their homes and find the best way to finance them. The improvements that could save you the most energy are specific to your home, but some typical examples include insulation (like solid wall, cavity wall, or loft insulation), heating, draught-proofing, double glazing, and renewable energy generation (such as solar panels or heat pumps).
The Green Deal helps you find the best way to pay for your home improvements by offering a loan that you can pay back in installments. This means you can make improvements without having to worry about paying a large upfront cost.
Energy Saving Home Improvements: Where to Store Your Items While You Remodel
When making energy-saving home improvements, you may need to move furniture, appliances, and other household items around or temporarily remove them from your home. This can be a challenge if you're tight on space or don't have a spare room to store these items.
One excellent solution is to use self-storage. Here are some benefits of using self-storage during energy-saving home improvements:
Convenience: Self-storage facilities are convenient and accessible, meaning you can quickly and easily store items temporarily without having to worry about moving them too far.
Security: Most self-storage units are secure and protected with surveillance cameras, alarms, and gated entry, meaning your items will be safe and protected during the renovation process.
Climate control: Many self-storage facilities offer climate-controlled units, keeping your items safe from extreme temperatures and humidity.
Flexibility: Self-storage allows you to rent a unit in various sizes, meaning you can choose a unit based on your specific needs.
Overall, choosing self-storage is an excellent way to store your items during energy-saving home improvements. It provides flexibility and convenience, giving you peace of mind that your items are secure and protected while you focus on improving your home's energy efficiency.
Recommended: Household Storage Solutions For Home Renovations
Why Choose Space Centre?
When you're renovating your home, it can be challenging to find enough space to keep your belongings safe. That's where Space Centre Self Storage comes in. We provide storage options for your remodelling needs, including both short-term and long-term solutions.
With locations in Bristol, Stroud, Gloucester, and Stonehouse, we have a wide range of units available to suit your specific requirements. We offer FREE storage insurance up to £3000 and you are welcome to use our provider or your own.
If you need assistance in finding the right storage unit while you carry out your energy saving home improvements, please contact our team through our website. We are available to answer any questions you may have.