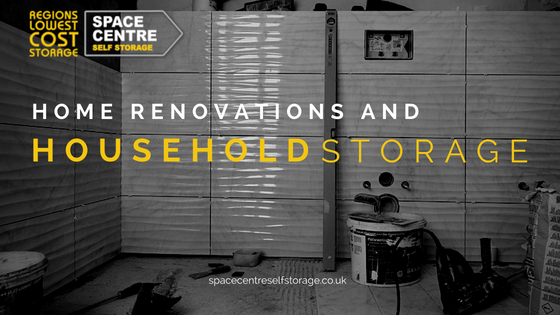 People need good quality household storage solutions for various reasons. It's all about storing personal belongings away from home to clear up additional space and to keep valuables safe. Whether you're moving, renting out your property, decluttering or doing home renovations, secure household storage is essential.
Along with moving house, here at Space Centre Self Storage, home renovations is one of the main reasons people choose short-term household storage during spring and summer. The improved weather conditions during this time of year is why many people get started with their home renovations. In order to save time, money and effort, you must be prepared!
Preparing For Home Renovations
Whether you're getting a new kitchen, bathroom or adding a new room, major home renovations mean being ready for anything. Unfortunately, numerous obstacles often accompany the excitement and enthusiasm. The main culprits include drywall dust in the air, sawdust on the floor and plenty of construction debris lying around. Don't forget the constant foot traffic of builders and everyone involved in the remodeling project.
Unless you want to spend extra money on a professional cleaning service, rather implement some of these proactive steps. You'll thank us later as this is a great way to keep your home environment more organised while renovating.
Dare To Go Bare
Before renovations even begin, remove everything from the room or the designated area. When possible, remove everything including furniture, clothing, decorations and other household goods leaving the area as bare as possible. Not only does this help prevent your goods from dirt or dust during construction, it also helps avoid accidental damage and even theft.
Use Rolling Storage Units
If you're renovating your kitchen, pack essential items into a specified box or area for easy access later. Use lightweight rolling storage carts to easily store and quickly find something you need. This helps you avoid rummaging through dozens of boxes just to find a kettle, cups or plates. Same applies when renovating the bathroom. A rolling storage cart is also ideal for towels, linen and toiletries.
Cover And Protect
If you can't remove furniture for whatever reason, at least cover everything with clean plastic or cotton sheets. This protects furniture from dust and debris, paint spots and also keeps the furniture finish in tip-top condition. It's not just about furniture and movable household goods; you also need to protect your floors. If you have already carpeted areas and you are not replacing it, then covering it will also be vital.
Store Important Stuff Together
Once renovations are underway, it usually seems impossible to find anything. Put your important things together early on in one place, away from the remodeling area. If your entryway is out of bounds during the renovation, find a safe, temporary spot for your cell phones, chargers, keys and other essentials.
Keep Renovation Area Isolated
Isolating the renovation area means you can keep the rest of your house clean. Make plans with the contractor to keep the mess and debris from spreading through the house unnecessarily. This could be fixing plastic sheeting over doors to seal off a room or heavier plastic tarps of flaps for extensive home remodeling.
Make A Path
If you're renovating an interior room far from an entry door, build a path using carpet scraps or heavy canvas tarps. Demarcate an area or pathway the contractors should use to prevent them from bringing in mud and dust. Don't set and forget either. At the end of each day, pick up the carpets or tarps and shake them off. This is a great way to prevent mess spreading throughout the house.
Clean Daily
Find out from the contractor about their daily cleaning schedule or process and ask them to tidy up and sweep every day. This will significantly help reduce the amount of debris and dirt that could end up all over the house. Remember to include areas around the renovation site as well.
Simple Household Storage Solutions
If you have space for everything at home while doing extensions or remodeling, you're one of the lucky ones. Many of us don't have that luxury and short-term household storage becomes an absolute necessity.
Though simple enough to arrange, finding the right facility with the best household storage units can prove challenging. Knowing what questions to ask and what to lookout for is part of it. Some facilities don't offer the same quality units, insurance, security or level of service. Take a look at these Self Storage FAQ's.
Although we can't store your pets, our units are ideal for household storage. Many are on the ground floor with drive-up access making loading and unloading much easier. Whether your home renovations take weeks, months or even years, your belongings remain clean, dry and secure. You can even reduce the size of your unit as time goes by and you're gradually moving things back home.
We have storage facilities in convenient locations in Bristol, Stroud and Gloucester. Get in touch for more information or request a quote and get the peace of mind you deserve!
Buying property to renovate is a different story but here is a great article on a Step-by-Step Planner For Property Renovation.