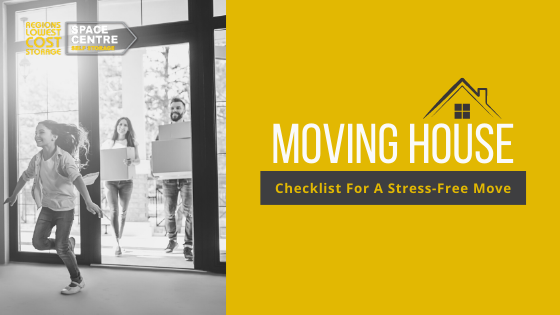 Are you moving house and are you truly prepared for what it takes?
Trying to declutter and organise your belongings for a big move to a new home can be tiring, time-consuming and rather stressful. This moving house checklist should provide you with all the help you need, from packing and moving to self storage tips.
How To Be Organised When Moving House
While you could do most of the work yourself, the heavy lifting and unloading should be done by a professional removal company.
But before we even get to a moving company, there is still so much to do before moving day arrives. Things like informing everyone about where you are staying, where you are moving to and when. Here are a few guidelines on how to do this the right way:
Make a list of everyone who needs to be notified (friends, family, landlord, doctor, school, bank, insurance company)
Notify utility providers and subscription services
Re-register to vote from your new address
Make arrangements at the Post Office for your mail to be redirected
Change the address for your TV Licence
Whatever you do, don't forget to change your address with Inland Revenue. You can find out how to update this information on gov.uk.
Decluttering And Packing Tips
Whilst moving house is not the easiest thing in the world, it does present the perfect opportunity to get rid of all that clutter. Do you really want to move loads of things you no longer need or haven't used in a while?
Use this time to organise all your belongings well before the move, about 2-4 weeks. It helps you minimise your junk, makes moving easier while potentially saving you big on removal costs. A typical way of doing this involves the following:
Go through your home room-by-room
Make a list of everything you are moving
Put all your belongings into four piles – donate, sell, recycle or throw away
Pack one room at a time and be methodical; don't pack things you no longer want or need
Clearly label all the boxes according to rooms to make unpacking on the other side much easier
Don't overfill boxes
Use bubble wrap, paper or foam chips for fragile items
Packing An Essentials Box
You should also consider packing a separate box or two of essential items you may need on moving day. This typically includes a kettle, cups, plates, coffee, keys, snacks, phone chargers, torches and a first aid kit. Make sure to mark the essential boxes and place them to one side so they don't end up in the removals van by accident.
Another helpful tip when moving house is to pack an overnight bag with a change of clothes and toiletries for everyone. If children are starting a new school within a day or two, we recommend adding their new school uniforms in case there's no time to fully unpack.
Recommended: 'Packing Tips Professionals Swear By'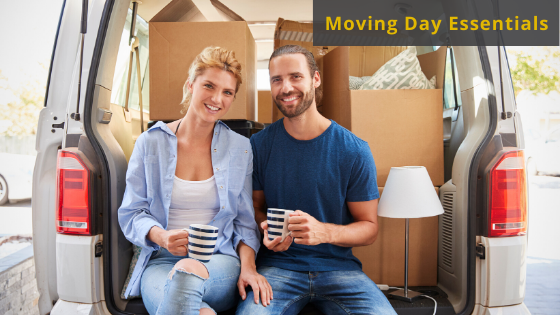 What To Do 3 Days Before Moving House?
At this stage, you should have already started decluttering and packing, especially your overnight bags and box of essentials. Other things to consider doing now include last minute laundry and arranging for a plumber to disconnect the washer as soon as you're ready.
Check that the keys to your new home are available and find out what to do with your old ones. Clearly mark spare keys and put them where the landlord or new owner can easily find it.
In terms of parking the moving van, check with the neighbours and resolve any concerns they may have. The average size of a big removal van is about the same as a double decker bus. Make sure the lorry has enough room to safely manoeuvre in and out of position.
What To Do 2 Days Before Moving?
You can empty, defrost and dry out your fridge and freezer two days before the move or the day before as it all depends on your needs. This is most important if you are putting furniture into self storage or travelling long distances. If you don't do it, the fridge/freezer will defrost in the back of the van and could leak over everything.
When moving shorter distances, you may have been quoted to have your freezer moved with all the contents inside. We highly recommend putting the contents into polythene bags which will make things safer and easier. Go through your kitchen cupboards and throw away anything that has expired and make sure packets, bottles and jars are tightly sealed. More importantly, place all your valuables and confidential documents in a safe place.
What To Do 1 Day Before Moving?
The day before your move shouldn't involve too much packing as most of it should've been done by now, except for a few kitchen and bathroom essentials. Keep the following in mind:
If you haven't already, empty, defrost and dry out your fridge and freezer.
Dismantle any self-assembly furniture that cannot be moved out in one piece
Take down curtains and other fixtures you are not taking with
Disconnect the washer and fit the transit brackets to secure the drum
Put any outside furniture, tools or equipment inside the garage or in a dry place
Make up a box of refreshments for the next day (tea, coffee, sugar, cold drinks and snacks)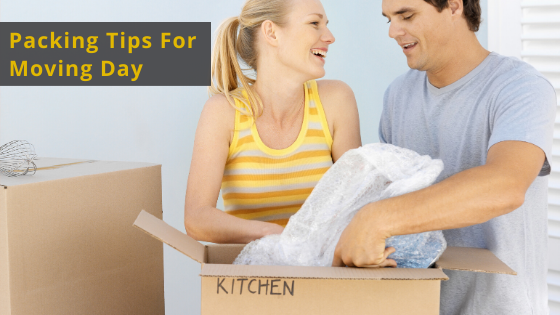 Tips For Moving Day
When the removal team arrives, show them around the house and tell them exactly what to pack and leave behind. If you have emptied a room of everything that has to go, tell him that there is nothing to pack and simply shut the door to avoid confusion.
Once they finish loading the van, walk around the house with the moving team to ensure that nothing has been left behind. Remember to check behind doors, inside cupboards, on the walls, in the garage and garden shed.
Lastly, check all the relevant meters and load up your own with the essential boxes. Take one last good look around for anything you may have forgotten about and check that all the windows and doors are locked before setting off.
Relate: 'Checklist: Top Places To Check Before Moving House'
Moving With Pets
This is one area many people often don't give enough consideration. Just like us, moving house can also stress pets out, especially if it involves a long journey. Here are some helpful tips on taking care of your furry friends:
Speak to your local vet ahead of the move to discuss the best way to deal with it
Make sure you keep a box of pet essentials in the vehicle with water, pet food and treats
Know the details of the vet at your new place so you can contact them should your pet fall ill during the move
Make sure you have a plan for helping your pet settle into their new surroundings
Recommended: 'Guidance And Tips On Moving Pets Within The UK'
Short-term or Long-term Household Storage Units
If there is any delay in moving to your new home, you might need a safe place to keep your belongings between properties. It can be difficult to know for sure how much space you will need but our Price & Size Guide can help with that. You can also talk to the facility manager as they will be able to advise you.
At Space Centre Self Storage, we understand that moving house doesn't always go as planned so we don't tie anyone to long contracts. We're also very flexible whether you need to extend or even cut the rental period short.
We have facilities in Gloucester, Bristol, Stroud and Stonehouse providing a clean, dry, secure and convenient storage space for your valuables. Get in touch with our friendly, professional and trained staff who will assist in any way they can.