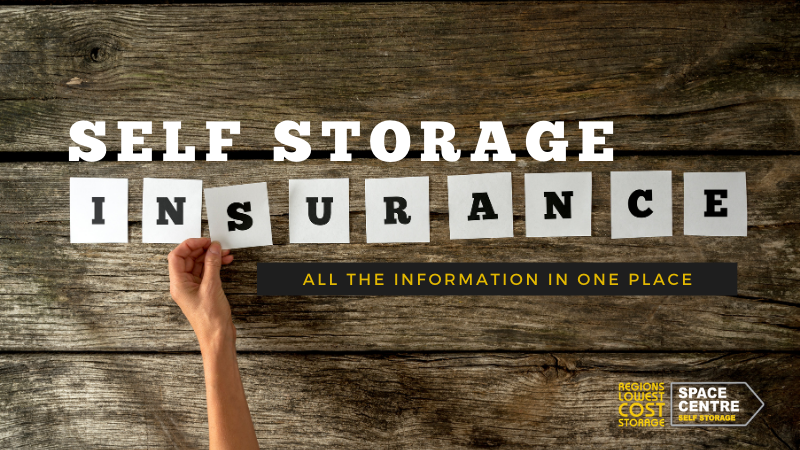 With open space dwindling across the country, the UK has become a nation of self-storers relying on secure facilities to take care of our valuables. However, the process of finding a facility involves more than location as you also need to consider access, security and self storage insurance.
Truth is, we often get asked "Do I Need Self Storage Insurance?" and the short answer is a resounding YES. Whilst storage facilities are a safe haven for your belongings, there are no guarantees as anything can happen, from fire and theft to natural disasters. Just like your car, self storage insurance gives you peace of mind knowing you are covered in case something happens.
Considerations For Self Storage Insurance
According to the trade body Self Storage Association UK, there are more than 1,500 storage facilities in the UK which represents 40% of the European market. With those staggering statistics, self storage insurance should be a no-brainer but is it? It may seem simple enough but there are quite a few aspects to consider.
Is Self Storage Insurance Compulsory?
Insurance in the self storage sector shares the same problems as other industries. Too many people who need insurance don't have it and, those who are paying far too much by their self storage provider. To answer the question, self storage insurance may not be a legal requirement but it is compulsory at most facilities.
Many will insist that you have insurance before you can store anything with them. Remember, the facility's insurance only covers their liability which means they are covered if they are responsible for damaging your goods. There are many other risks involved which we'll cover in the next section.
Does Home Insurance Cover Contents In A Storage Unit?
There's no one correct answer here as home insurance policies differ when it comes to cover for 'items away from home'. Many home insurance policies don't provide storage cover as a standard option so you need to be careful in your search.
If you need to cover anything that is stored away from home, choose a policy that includes it or opt for a standalone policy. Look at the wording and check the contents for words like "cover when moving home", "contents in transit" or "contents temporarily outside your home".
Key Aspects Of Some Insurance Policies
There may be various self storage insurance policies to choose from but it can be a slippery slope if you don't choose wisely. It's important to keep the following in mind:
Some policies include 'house removals' as part of the standard contents cover which protects your goods while in transit
This can also include up to 7 days cover in a temporary storage facility but only if you use a professional, licensed removals company
Some will cover "contents temporarily away from the home" which is great if you need to put your furniture in a temporary storage unit during a move or renovation
Often, some valuable items may be classified as high risk and may not be covered while in storage, including jewellery, money or deeds and documents
What Is (And Isn't) Covered By Self Storage Insurance?
Even though most self storage facilities are secure with sophisticated surveillance and fire suppression systems, there will always be some risk associated when storing any items. The vast majority of self storage insurance policies will provide cover for the following:
Theft
Fire damage
Water damage, e.g. from storms, floods or sprinklers
Vandalism
Subsidence damage
Damage from insects or rodents
While each insurance provider may have different policy conditions, there are some universal exceptions including the following:
No insurance cover for storage units containing dangerous contents e.g. flammable liquids or toxic chemicals
No coverage for storage units with any form of currency whether it's cash, coins, credit cards, cheques, bank drafts, vouchers and lottery tickets among others
Recommended: 'Self Storage Rules And Regulations'
Does Manned Or Unmanned Storage Facilities Make A Difference?
Whether the site is manned or unmanned, you still need storage insurance. As secure as most facilities are with access control, motion sensors, security lights, cameras, smoke detectors and fire suppression systems, nobody can guarantee with certainty that nothing will go wrong.
Whilst security and online technologies are impressive, and facilities do everything in their power to keep things safe, anything can happen. It's in your best interest to seriously consider self storage insurance as it gives you peace of mind while helping you save in the long run.
How Storage Insurance Can Save You Money
As it goes with all types of insurance, you may not think you need it until the worst happens and then it's too late. This is where self storage insurance can help save you tons of money as the price of monthly premiums are far less than replacing or repairing your belongings.
Disasters and accidents can happen with many circumstances beyond anyone's control, even your own. What happens if you destroy your belongings by not packing things properly or spilling stuff all over everything? You'd be surprised how often this happens so, while it might cost you a few quid, it sure is less than restoration or replacement costs.
Does Storage Insurance Cover A Car Or Motorbike?
In most cases, storage insurance alone won't be enough to cover a car or motorbike in a self storage unit. Considering that vehicles are quite expensive, most insurance policies will only cover you up to a certain amount and that doesn't make for good reading. Find out from your insurance provider what you need to do to find the right cover for vehicle storage.
Where Can I Find Affordable Storage Insurance?
When you find the right storage space, the facility may offer you their insurance policy with the option to choose your own. That's exactly what we do here at Space Centre offering easy terms and FREE storage insurance up to £3000. Some storage insurance providers include Surewise, Insurastore and Store-Insure.
All of our storage units in Bristol, Stroud, Gloucester and Stonehouse are clean, dry and in secure compounds with alarms, CCTV and smoke detectors. Visit our website for more information or to book your storage unit today.