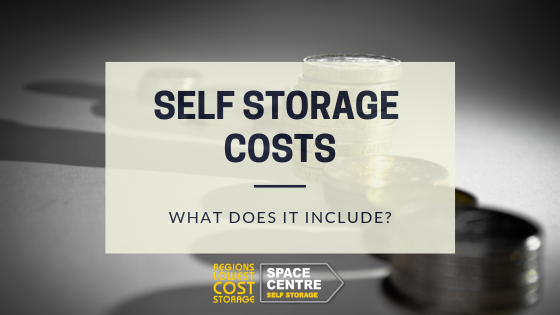 If you're new to self storage, the first thing most people do is search online for the nearest facility and what self storage costs. Besides finding out how much space you need, self storage fees are high up on the list of important questions. Whenever you buy or hire something, cost is often a primary consideration. If it's too expensive, we tend to shop around and when it's cheap, we seem more content to take the plunge.
When we talk about self storage costs, it's about more than just the unit itself. In fact, there are several add-ons many people don't even think about such as insurance, travel costs, access charges and security deposits among others. Pricing is even more important when renting a self storage unit for long periods of time. Be sure to shop around for the best price while taking into consideration a few other requirements.
How To Determine Self Storage Costs
Knowing what type of unit you need and the self storage costs involved are key to avoid disappointment further down the line. Often, cheap storage and a lack of knowledge can lead to other issues in terms of accessibility, insurance or security. Here are some tips that could help you weigh up the cost with what the facility and storage units have to offer.
Self storage location and travel costs
While self storage costs are one thing, paying too much to travel to and from the facility makes no sense. There is no point in renting a cheap storage unit when you're paying a small fortune to get there. It really all comes down to how far you are willing to travel and if sitting in traffic is worth it.
Self storage insurance
In terms of self storage insurance, you need to find out whether or not it's included in the rental price. If it is, ask how much it covers and don't assume that your normal household policy will be enough. The property in your storage unit may only be covered for up to 10% of the coverage in your household policy. This is also known as the coverage limit. For example, if you have a £100,000 limit in your household policy, items in a storage unit would only be covered up to £10,000.
At Space Centre Self Storage we provide insurance FREE of charge up to the value of £3,000 on every storage unit. If you need additional cover, you can use our self storage insurance provider or arrange your own. If you'd like more information on self storage insurance, we recommend reading this article, 'Self Storage Insurance: What You Need To Know'.
Special offers and cheap self storage
While it's clear that price plays an important role, don't be fooled by low prices as special offers may not always be what they appear. Always check the small print and make sure the unit and associated fees are right for you.
In our experience, most people who use self storage for short periods usually stay a little longer than they anticipated. If you go over your special offer term, how much will your self storage costs? As many facilities offer 50% off for a period of time, the costs will often double. If you've taken advantage of an offer for a free or reduced price based on staying for a set period of time, some facilities will charge extra if you leave before the agreed term.
Self storage security deposits
At Space Centre Self Storage, you don't have to pay a security deposit but many providers do. Keep in mind that the general rule is that deposits should be around the same as half a month's rent. Remember to make sure that you verify the amount and the terms for getting your deposit back at the end of your rental period.
Cancellation charges or rental extension fees
It is vitally important to ask if a storage facility charges cancellation fees if you leave before your agreed term. Additionally, find out what their policy is on extending your term or if you need a different size unit. At Space Centre Self Storage, we don't tie clients to long term contracts, we don't charge a fee if you need to change your unit or extend the length of your rental. Before signing any agreements, find out if these fees exist and what they will be should it happen to you.
Self storage costs and quality
We've already mentioned cheap storage and that quality should always take preference. But what about price guarantees? Many facilities don't offer any price guarantees or they limit you to a shorter rental period. Check that the prices won't increase when you store long term. We guarantee that our prices will not change for at least 12 months if not longer after you move.
In terms of paying for what you get, a cheap but poorly maintained storage facility could cost you more long term. If units are dirty, damp, improperly ventilated and without regular pest control checks, your belongings could get damaged. This extends to damp, mildew and even physical damage from rodents. Choosing the wrong storage facility could result in having to replace all of your goods.
Access charges
Many storage providers have similar operating hours to shops and offices, i.e. 8am – 6pm or 9am – 5pm during the week with some variances over the weekend. Even though most facilities don't have access charges during normal hours, what if you can't get there because you work all day? If it is a concern, find out if you can have access outside of their normal hours and if so, what does it cost?
Some providers charge per visit, others will charge an additional weekly/monthly fee. When you've narrowed down a few facilities and have all the information you need, only then can you really start comparing self storage costs. Once you've done that, take a drive and be sure to check them out for yourself.

Space Centre Self Storage have facilities in Bristol, Gloucester and Stroud
and we are happy for you to visit our sites and see the units if you're not sure of what you want. Our friendly, experienced staff are on hand to give you all the help and advice you need.