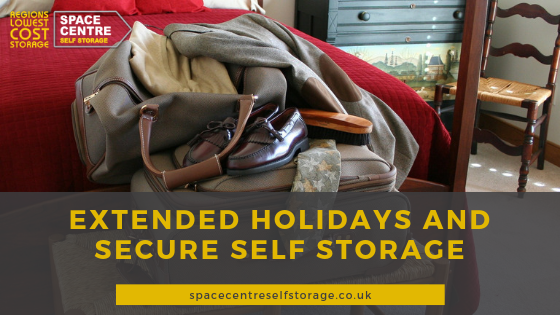 Increasingly, more people are going away for extended holidays but what about all the important belongings? Unless you can ask friends or family to look after your house or check in from time to time, secure self storage may be the best option.
Even if you did have someone to water the plants, feed the cat or turn on the lights, it doesn't guarantee safety. Whether you've planned an extended European adventure or a Caribbean cruise, it's not worth worrying about your belongings. It is more beneficial to put your precious items somewhere that is protected by 24-hour CCTV and security.
Renting a secure self storage unit from a reputable facility is a cost effective solution and it also gives you complete peace of mind. However, there are several other factors to consider such as safeguarding your house while you're away as well as long term storage tips for household content.
Tips For Secure Self Storage When Going Away
As most of you already know, planning an extended holiday can be stressful especially when traveling abroad. Make it easier on yourself by arranging everything early on like bookings, travel insurance and medical certificates. At the same time, it also helps preparing for long term storage.
Determine How Much You Want To Store
Before deciding what to do with all of your stuff, first consider your needs. Are you more concerned about your electronics, confidential documents, furniture or outdoors equipment? How much and what you want to store will ultimately determine the size storage unit you require.
Secure self storage units are available in various sizes to fit your unique circumstance but whichever unit you choose must make sense. Don't go for a tiny unit just to save a few pounds if you want to store big items. Cramming your belongings into a small space could cause damage as you will be unable to pack everything properly.
Not sure how much space you need? Take a look at our price and size guide to ensure that you rent enough space to fit everything comfortably.
Pack Your Items Properly
Packing and storing your belongings properly will help ensure everything is safe and in good condition while you're away. It may seem like a basic tip but the importance of packing well cannot be emphasised enough. Here are a few of the most important packing tips you should need to know:
Use packing paper, bubble wrap and the correct boxes when packing breakables (glassware or antiques)
Don't use any old box that you find in the garage as they often flatten out quickly or collapse under pressure
Fill boxes completely and distribute weight evenly to avoid partly-filled or bulging stacks of cardboard boxes may tip over
Label your boxes clearly so you know what is in every single box
To make the best use of your storage space, items such as beds can be taken apart or folded down
Avoid stacking or leaning furniture against the walls of your secure self storage unit as this may prevent proper ventilation
Cover all furniture with dust sheets and remember to protect table and chair legs with bubble or foam wrap to avoid scratching
Not storing your goods properly, even short term, can result in unnecessary and expensive damage and stress.
Choose A Climate Controlled Storage Unit If Needed
Some of your belongings are climate sensitive and should ideally be stored in a climate-controlled secure self storage unit. These items include electronics or wood furniture as they should not be exposed to extreme temperatures or fluctuations. Although these units often cost a little more, they do provide complete bring peace of mind knowing your valuables are in a safe environment.
Don't Forget Travel And Storage Insurance
Self storage insurance is not something one should ignore or undervalue. It's a necessary expense that needs careful attention just like travel insurance. Add another layer of security and consider storage insurance for the valuable items you wish to store while you're away.
It's important to find out if the facility offers storage insurance and whether it's included in the rental price. If it is, ask how much it covers and contact your insurance provider to find out if you require any additional cover. You need to make sure that your policy covers the belongings stored off-site and within a long term storage unit.
At Space Centre Self Storage we provide insurance FREE of charge up to the value of £3,000 on every storage unit. If you need additional cover, you can use our self storage insurance provider or arrange your own.
Keeping Your Home Safe While You're Away
Home security while you're on holiday is often overlooked and people tend to only think about until just before they leave. While it may depend on where you live and how long you're away for, it is really important and worth doing some planning. Here are a few basic tips from security and travel experts to help you get organised:
Keep some curtains drawn so would-be thieves can't always see into every window
Give a friend or relative a key to pop in now and then and to collect the post. More often than not, piles of post at the front door or mailbox is a clear giveaway
Inform the postman that you're going away so they can return parcels to the post office instead of leaving them at the door or with neighbours
Unless you're going for a jungle look, mow the lawn before you go so it doesn't look too overgrown
Ask your neighbours to keep an eye on the place for anything out of the ordinary and to put the bins out for you
Don't tidy your home too much and leave a few toys lying around to give the appearance that someone is living there
Smart Home Security Solutions
For a few quid, and total peace of mind, you can create a smart home while you're away. For starters, you can get a smart home monitoring kit that you can use from far away. It makes you feel at ease knowing you can check live footage of your home, switch on lights using a smart plug and also be alerted when someone opens the doors.
If you have autotimers for your lights, set them to come on and off at normal times, i.e. on in the evening and off again in the morning. The same applies to televisions as you can set these to automatically switch on at certain times. Use something like the Philips Hue system to schedule various lights in the house to come on and off at different times. This system is linked to sunset so lights come whether sunset is at 4pm in winter or 10pm in summer.
Last, but certainly not the least, why don't you rent your house on Airbnb while you're away? Not only will someone really be there but you're also getting paid while on holiday.
Storing With Space Centre Self Storage?
If you're planning an extended holiday or travelling abroad for work, don't chance fate and leave things in the spare room, garage or shed; rather rent a secure self storage unit. At Space Centre Self Storage, we offer short-term or long-term units at affordable rates with free insurance and no hidden costs.
Follow our weekly blog or join us on Twitter and Facebook for more interesting articles, helpful tips and storage advice. Contact us today for more information about our wide range flexible storage solutions in Bristol, Gloucester, Stroud and soon-to-be Stonehouse.