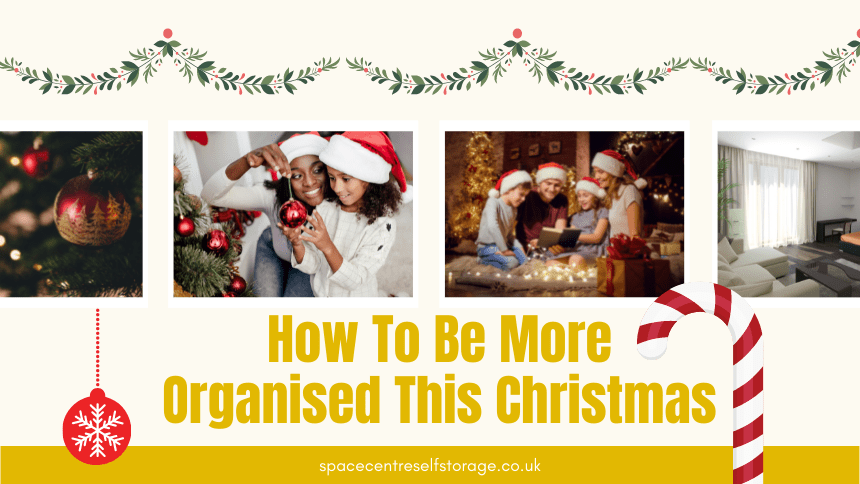 With Christmas just seven weeks away, is your home ready for family and friends visiting for the holidays? We all know last year was a bit of a damp squib as Covid prevented families from getting together. Thankfully, this year is different and if you're planning to make up for it, our Christmas storage and home organising guide can help.
Get Your Home Ready With Easy Christmas Storage Tips
With being so restricted over the past 18 months, many of us have vowed to have a renewed effort to get in touch and stay in touch with friends and family we haven't seen for some time. Is your whole family visiting? Will some of them be staying over?
If you answered YES to either of these questions, it's time to clear out some clutter and make up the spare room for your guests. You may need to move things around in the living room for an inflatable mattress or, better yet, invest in a good quality sofa bed.
But first, you need to declutter your home and we are here to help with some simple, practical Christmas storage and organising tips.
How To Prepare The Spare Room For Christmas Visitors
If you have friends or relatives staying at your place for a while, you need to make sure the spare room is ready. Check for any tripping hazards like toys, bags, trailing wires or cables. Remember to pack away any valuables or other breakables on higher shelves or in lockable cabinets.
When it comes to preparing the guest room that you either use as a home office or for all your junk, it can be quite challenging. Things like old furniture, bags, clothes, boxes and toys need a new spot to make space for your guests. Sort through everything systematically and decide what to keep, sell, donate or put in storage.
Pack everything into boxes and find a good place to store it for a short period. This also applies to other parts of your house as extra furniture could clutter the dining room or entertainment area.
How Christmas Storage Can Help Organise Your Home
If you have space in the garage or loft, you could store extra furniture and other items but it's not ideal. Often, these areas are damp, dusty with bugs and rodents making it their home which could result in damage. A really simple and affordable solution is renting a temporary self storage unit. Here are a few simple tips to make your guests feel right at home:
Make space for their luggage and get a folding rack or a multi-purpose bench
Clear hanging space so guests will feel more at home instead of living out of their suitcases
Put a clock and a toiletry basket with all the essentials in the room
Display fresh towels on the bed or the towel rack
If you have a sofa bed, make sure it still works and is comfortable enough
Add a small bedside lamp if you only have a ceiling light
Provide an extra blanket or a warm throw
Organising Your Kitchen For The Holidays
If you know you're cooking up a storm, the kitchen should be clean and free from clutter. You will probably be bringing out the larger roasting tins, pots and pans or using additional smaller ones. Look in the cupboards and see what you can take out in the short term to make space for the more important equipment.
When it comes to Christmas storage and organising, you need as much preparation space as possible. Clear the surfaces of any additional clutter or add extra workspace by using a kitchen trolley. Look in your cupboards and see what can be removed in the short term to make space for the more essential items.
Consider packing away some of the countertop appliances that are not used daily like toasters and smoothie makers. When putting the essential pots, pans, crockery and cutlery away, try and put them at the right level for getting in and out of cupboards.
Our Top 6 Christmas Storage Tips For An Organised Kitchen
If you're as organised as we are and put goals in place to rearrange the kitchen, make sure you follow through and don't forget about it soon after Christmas. If you are not going to re-organise everything, these simple tips will at least help during the festive season.
Pack your most-used utensils and equipment in an easily accessible place
Use drawer dividers and trays to neatly organise cutlery and utensils
Keep heavy cooking pots close to the cooker and fill them with smaller pots and pans to save space
Use wall hanging rails, wire shelves or door mounted baskets
Store your carrier bags in one spot by either using a storage container or putting them into one bag
Utilise awkward spaces and corner cupboards by using slide-out racks on runners and carousel inserts
Christmas Storage Tips For Presents
It's not only the little ones that get excited about Christmas and presents as most of us love the festive season. If your kids, partner or family members can't help but sneak around looking for presents, here are some Christmas storage ideas for hiding presents of all shapes and sizes.
Use lockable cupboards, drawers or suitcases
Pack gifts high and far back on the shelves and under your clothes or linen
Use the spare room or your home office if you can lock it
Put gifts in a random box in the garage that looks exactly like all the other boxes
Store smaller gifts in a toolbox under the workbench
Hide gifts by mislabelling storage boxes or bins. You can write almost anything on there like "Text Books", "Tax Documents" or "Miscellaneous"
What You Need To Know About Renting A Christmas Storage Unit
The first thing you need to do is find out whether the storage facility offers storage insurance as a standard option or not. At Space Centre Self Storage, we provide FREE storage insurance up to £3000 with no upfront deposit.
If you are hiding expensive presents, you may need special item insurance as some goods could require specific cover in some cases. Check the facility's terms and conditions as not everyone has the same rules. Also, keep your unit in the condition you found it so you can get your deposit back.
If you are in our area and need additional short term Christmas storage, please contact us today. Our facilities in Bristol, Stroud, Gloucester and Stonehouse are clean, dry, secure with friendly, experienced staff who would be happy to assist in any way they can.