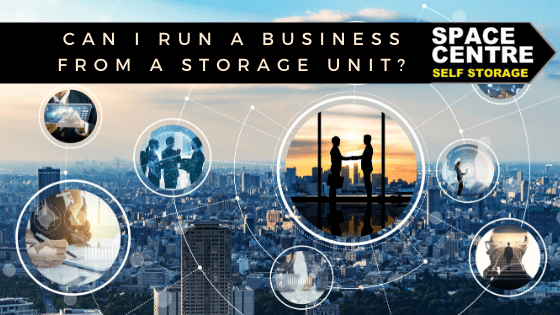 A very common question in the industry is whether or not you can set up an office in a business storage unit. While there are certain instances where you can, it's more common with business storage units at newer facilities in big city centres. Here, they have a dedicated reception area with Wi-Fi and other amenities which, of course, will impact the cost of self storage.
Even if you can't run a business from a storage unit, there are several ways a self storage unit can help. What if you have an existing business and in the process of expanding? Maybe you've hired more staff, have a bigger fleet of vehicles or more products in your portfolio. Space can quickly become a major concern for home businesses or bigger companies and using business storage wisely can help you reap the rewards.
Why Use Self Storage For Business?
At Space Centre, our business storage units are not used as office space but they offer other incredible benefits. Fact is, more small and large companies have turned to business storage in an effort to keep overheads to a minimum. It's no surprise really as the price of self storage is much less than warehousing costs and not to mention utilities and business rates.
For example, businesses can store their equipment, stock or tools at a central location without having a big warehouse with staff and security to worry about. All they really have to pay is administrative bills and minimal business storage expenses.
Self Storage Promotes Security
Many business owners have reported that theft accounts for a large percentage of reported losses. With a business storage unit, there is less stock in a smaller area which leads to better organisation, security, more accurate record-keeping and stock take.
The right storage space will enable a business to function optimally, stay organised and reduce some of the everyday stresses. Not to mention the security and absolute convenience that a business storage unit offers.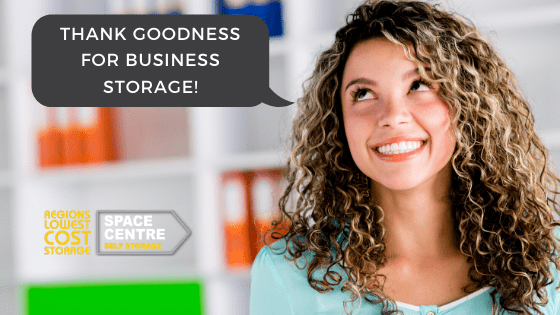 Benefits Of Business Storage Units
A wide variety of individuals and companies use business storage units of all sizes. Whether they're a start-up, home-based business, e-commerce or larger corporations, space can be an issue. So what makes self storage such an appealing solution?
Staying mobile as you can run your business from almost anywhere
It acts as a central, low-cost distribution or holding centre
Reduced logistics cost and you can arrange to collect goods on-demand only
Substantial savings compared to renting bigger premises
Lower overheads so you can spend money on additional staff, training or marketing
Declutter your office or home office space in the process
Easily and safely store paper or important business documents
Business storage offers flexible rates, terms and conditions with a short notice period
Recommended: 'Starting A Business? Self Storage Can Help'
Who Uses Business Storage Units?
Any business that sells physical products needs the best possible business storage solution. They need a clean, dry and safe place to keep all of their stock in excellent condition. Whether it's an established retailer, e-commerce start-up or brick-and-mortar stores looking for more space, business storage can help. Here are some additional business types that can benefit from using self storage as a work or storage space:
E-Commerce businesses
Vintage clothing or furniture sales
Accountants
Hobbyists like crafting
Charities
Fashion designers
Market stallholders
Sports club organisers
Plumbers, electricians and construction companies
Related: 'Do's and Don'ts Of Business Storage'
What Do I Need To Know When Renting A Business Storage Unit?
First things first and that is storage insurance as it is not always provided as a standard option. Here at Space Centre Self Storage, we provide FREE insurance up to £3000 and DO NOT charge an upfront deposit. However, you may need special item insurance as some goods could require specific item insurance in addition to your overall policy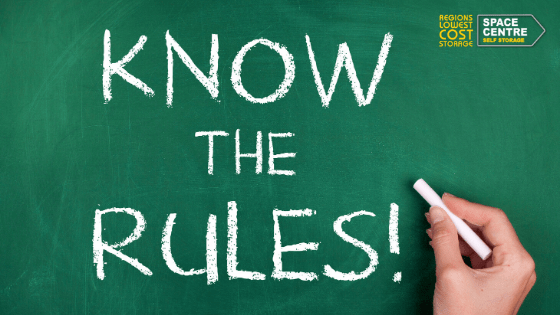 Be sure to check the facility's terms and conditions for vehicle storage as you may need to empty the fuel tanks. You are not allowed to treat the storage site as a workshop for repairs and you will likely be asked to show proof of insurance. Keep your unit in the condition you found it so you can get back your deposit.
Business Storage Example
While we do not have people working directly from a storage unit, there are many who use it as a distribution centre. They use their business storage units for stock delivery, collections and even sales but they need to arrange everything as our staff do not sign for things.
A prime example is a carpet fitter who has a combination lock on his unit where only his delivery guys have the combination. All they do is simply drop his stuff straight into his unit without any issues. We prefer not to have any major industrial type work in our units such as welding but we happily accept businesses who do minor crafting or restoration-type work.
Why Choose Space Centre Self Storage?
At Self Storage Space Centre, we provide you with all the necessary information about the unit to help visualise how much space you may need. For further assistance, check out our Price And Size Guide as we compare our units to van sizes.
All of our units are clean, dry and secure with prices guaranteed for 12 months. There is also no deposit, no hidden costs and no commitment to sign long term contracts. We also don't charge a fee if you need a different unit or when extending your rental period. Our facilities are monitored by 24-hour CCTV while each unit also has a smoke detector so all of your goods are in excellent hands.
We are based in Bristol, Stroud and Gloucester where each facility is conveniently located near major access roads. Get in touch with our friendly, experienced staff for more information and to reserve your storage unit.