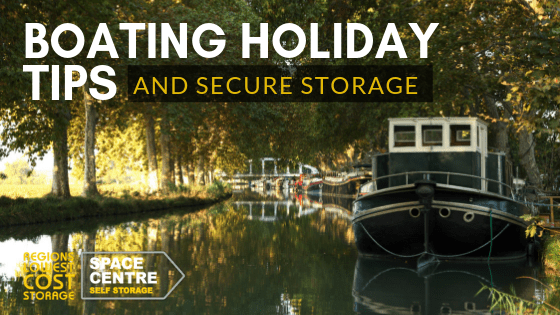 Whether you're thinking of living on a houseboat or going on holiday, you should always keep secure storage in mind. Packing for holiday is pretty simple when you are staying at a hotel or Airbnb but it's more challenging for a boating holiday.
There is only so much storage space but how do you know what to pack? You should only focus on taking the essentials (and a bit more) which is often tricky in itself. So let's have a look at this simple guide for a happy boating holiday and a few secure storage tips.
What To Pack On A Boating Holiday
Having booked a fun boating holiday is the easy part but now it comes down to what you should pack. Regardless of your holiday destination, there is nothing worse than getting there and realising you forgot to pack something.
Food And Beverages
Houseboats are self-catering which means you must take enough food and drinks for the duration of your holiday. Don't pack too much considering the limited storage space but you will also find local pubs, shops and markets along the way. Make a day of it and experience the scenery while shopping for local produce.
Some boating holiday packages may include a grocery service or you could also use a delivery system from major supermarkets. Most houseboats are equipped with a hob, oven, grill, microwave and fridge along with all the necessary cooking utensils and crockery. Always ask what kitchen utensils are available before you pack your entire kitchen.
Here are some ideas of what food and beverage items you should pack:
Bread and butter
Snacks
Drinks and breakfast items (some fridges may be small)
Dried or tinned foods as they are easier to store
Boxed wine instead of bottles
Coffee, tea, sugar, salt, pepper, cooking oil, sauces, foil and cling film
Clothes For A Boating Holiday
In the UK, you will probably have to consider clothes for all types of weather conditions while keeping in mind limited storage space. Make sure you have all the essentials including the following:
wind and waterproof jackets
rubber-soled shoes (non-slip deck shoes)
hats and gloves
warm socks
slippers
jeans, shorts and comfortable trousers
long-sleeved tops
Wet-weather overalls and life jackets are usually provided free of charge but we suggest you ask just in case.
Linen And Toiletries
While most houseboats have sheets, blankets, pillows and duvets, find out first before you bring extras. Nothing stops you from taking your favourite goose feather duvet and contoured pillow but just remember the space limitation. Some houseboats may provide basic toiletries so it's always best to ask. However, just add to the packing list extra loo rolls, soap, shampoo, conditioner, shower gel, toothpaste and toothbrushes.
Electronics And Other Essentials
Some range-topping canal boats have a 240V connection for your electrical appliances like hair-driers and electric shavers while others will have a 12V connection, similar to a cigarette lighter. If you have the right lead and connection, you can use that to charge your mobile phone.
In terms of other essential items, it depends on whether you have children or bringing your pet. If it's a trip for the extended family, here is a list of items you should not forget:
waterways guide
first aid kit
insect repellent
personal medication
flashlights
extra batteries
sunglasses and sun cream
carrier bags or bin liners
extra bottled water
board games and playing cards
CDs or DVDs
air freshener
If your dog is tagging along, remember to bring their bed, food, bowl, collar and lead, towels, old blankets and buoyancy aid.
Items To Avoid On A Houseboat
While narrowboats have some storage, hanging space is often limited so we recommend leaving the big items at home. It's best to use soft bags as hard suitcases take up too much room. A narrowboat is also not a house or hotel which means electrical output is limited so don't bring any domestic appliances. If you are planning an extended holiday, we recommend keeping all the big items at home or in a secure storage unit.
In terms of evening wear or high heel shoes, it is a definite 'NO'. If you are concerned about the dress code for restaurants or pubs along the way, those on the canal welcome casual wear for boaters. Avoid bringing all your bikes as it will take up too much space, however, some boats have dedicated space. Once again, it's better to ask before making any plans.
Related article: 'Top Tips For Storage Solutions On Your Boat'
Secure Storage Tips For A Boating Holiday
Secure storage becomes even more important if you are planning an extended boating holiday as you may need long term storage to keep your valuables safe. If you have valuables at home, you may want to consider leaving them with someone you trust or find a facility near you with long term storage units. Remember to check your home insurance as most become invalid if your property is empty for more than 30 consecutive days.
What About Living On A Houseboat?
Many opt for houseboat living as its mobile, fun and less maintenance to worry about. The biggest decision is what to do with your existing property unless you're selling it to finance your new adventure. If you are not selling, chances are you might want to consider renting it for additional passive income. Whatever you decide to do, just make sure you have the right insurance in place. In this case, you will need landlord insurance and not just a normal household policy.
Whether you're selling or renting, you are in for a serious decluttering exercise. You must decide what is going with you, what you can sell, donate or keep in storage. Many of your homely items won't fit on the boat so you need to plan carefully. If you have valuable items that you don't want on the property, secure storage is always an option.
Be Smart And Use Secure Storage
A secure storage unit can really help but you also don't want to pay for space you don't need. First, make sure you do good clear out and only take things you really need. Secondly, reputable facilities will help you find the best secure storage unit for your requirements. At Space Centre Self Storage, our staff will also provide expert packing and organising tips so you can maximise the available space.
Storage costs and flexibility of rental terms are other factors you should take keep in mind. This becomes essential as many people often keep their secure storage units longer than they initially planned for. Knowing what type of storage unit you need and the associated costs are key to avoid storage mishaps.
Long Term Storage At Space Centre
Renting the right long term storage unit can save in the long run. Imagine paying an extra £20 per week for an entire year? Very few secure storage facilities offer guaranteed prices and some often limit you to a shorter rental period. Always check that the advertised price won't increase when you store long term.
At Space Centre Self Storage, our prices are guaranteed to remain the same for at least 12 months if not longer once you move in. When you are ready to rent a storage unit, get in touch with our facilities in Bristol, Gloucester, Stroud and soon, Stonehouse. To help you get started, check out our Price and Size Guide.