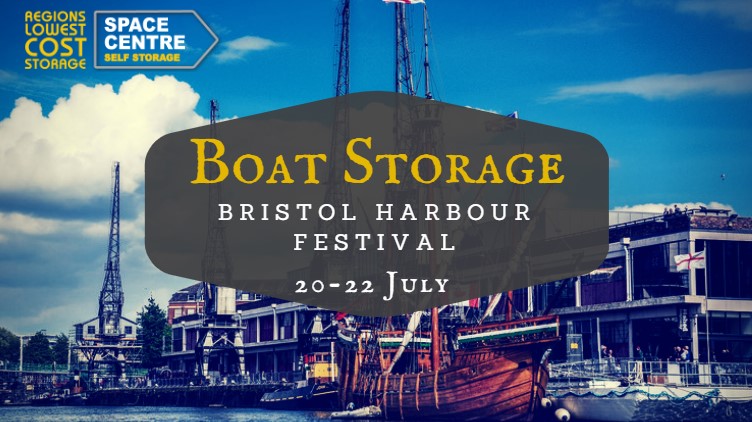 It is that time of year again for the Bristol Harbour Festival kicks off on Friday 20 July. With so much to do and see, it is no surprise that this event is a crowd favourite. Many people will visit and moor for the weekend but the reality of houseboat living is effective boat storage.
Boats offer less space than a house or flat and with restricted storage space, what do you do with all your belongings? Whether you rent a boat for the weekend to cruise the UK waterways or making it a permanent move, you can't take everything with you.
Boat Storage For Rentals and Holidays
Renting a boat for a holiday may sound simple enough but you need to make sure you choose wisely. With space already limited, the last thing you need is a boat too small for your family. Take a good look at the boat and pay particular attention to sleeping quarters, living arrangements and storage space. When you are satisfied with your decision, start packing and get the family on-board.
Renting a boat is one thing, knowing what to pack is a different story altogether. Traveling through the UK means you will undoubtedly experience four seasons in a day so be prepared. Pack a few extra warm clothes, waterproof jackets, gloves and trousers. A good boat storage tip is to use soft bags which can be squashed and stored away when not in use. A definite space saver without being an eyesore.
While many go on boating weekends, others take long holidays or even permanently move onto yachts, sailboats or narrowboats. If you are renting your property while on holiday, remember to update your insurance policy to landlord insurance. At this point, you may also want to consider renting a secure storage unit. You can store anything from furniture, tools, toys, antiques to clothes and paintings. It is much safer than leaving it with someone or risk storing everything in your garage or garden shed to save a pence.
Boat Storage When Living On A Houseboat
If you're on a boating holiday, temporary self storage is all you need but permanent boat residence need careful planning. You can only take so much on a boat so decluttering beforehand is essential but it can be challenging. This is the time for difficult decisions on what to keep, store, sell or throw away. Finding a safe place for your valuables is vital while taking budget, convenience and availability into serious consideration.
Secure storage for boaters is necessary for three major reasons:
Not enough space at home or in the garage
Seasonal boat storage while it is not being used
Planning a boating holiday and you need self-storage for your belongings
Owning a boat is fantastic but a main concern is keeping it safe when not in use. The same applies to all your belongings as you can't take everything with you.
Bigger boats should probably be kept at the marina for convenience but remember that rates can vary substantially. Some marinas allow you to purchase a permanent slip which can be expensive but worth it in the long-term. A secure self storage unit is all you need for smaller boats and all your other belongings.
Boat Storage Ideas
Small space living is not new; sailors and everyone living in offshore homes have developed many clever boat storage ideas. Anyone living in a small flat or tiny house can also benefit from these ideas.
Fabric baskets
Baskets are very useful as they come in all shapes and sizes and they look amazing. Traditional and fabric baskets are ideal for storing toys, throws or blankets. They're also more flexible and can fit into nearly any small space. Whether it's underneath your seating area or the bed, boxes and baskets will help keep things organised and find what you need, when you need it.
Boxes and storage bins
As far as crates or bins go, use wooden ones instead of plastic since they look better and blend in more with the boat interior. You can also paint or varnish wooden bins and crates to match the interior even more or to add some striking colours. These bins are perfect for towels, scarves and handbags.
Use hooks to hang everything
Hooks are widely used in all types of homes and boats should be no different. You can use hooks almost anywhere on a boat and for a wide range of items. The sides and inside of cupboards are very good spots for hanging cups and mugs. Behind doors and against walls are great for caps, hats, flashlights, dog leashes or keys to name a few. Take it a step further and use hanging storage with pockets in the bathroom. Not only does it save loads of space, it looks nice too.
Multi-purpose storage Ottoman
Multi-purpose furniture is incredibly convenient and useful including the storage Ottoman. Instead of using bar stools or single seaters, consider getting a few storage Ottomans as they're decorative and functional. There are some really beautiful designs and while they look pretty, it provides additional seating and hidden storage space.
Cargo Nets
Already used in the trunks of most cars, cargo nets can be adapted and perfected for optimal boat storage. Cargo nets are extremely elastic so compressing bulky items like blankets, duvets and pillows have never been easier. Once packed, they sit flush against the wall, door, ceiling or base of your bed taking up little to no space.
Remember, cargo nets come in different shapes and sizes so you can use them for your small home. This stretchy boat storage solution can really help you maximise your storage space everywhere you go.
The Bristol Harbour Festival 2018
Judging from last year's event, you don't want to miss out on this is one. In addition to some fabulous stalls, there will be live music, performance art and some entertaining maritime events.
Enjoy music from the Ambling Band, Gurt Lush Choir and the Ruby Jazz Band to name a few. If that's not entertainment enough, there will be amazing performances from Circus 250 Caravan, King Edmund Acrobatic Club, Loz Because and Marky Jay among others.
With this 'boatload' of entertainment, what more do you need? How about some maritime events to whet your appetite even more? Join in the fun from Friday to Sunday for the Cardboard Boat Race, the Western Boat Show and the Festival Fleet among others. You can find more information on the 2018 Bristol Harbour Festival right here.
If you need secure storage for your boat or belongings, get in touch with any of our facilities in Bristol, Stroud and Gloucester. Many storage facilities offer short and long-term secure storage. Here at Space Centre Self Storage, we don't tie you to a long-term contract and you are also free to change your unit size as you see fit.