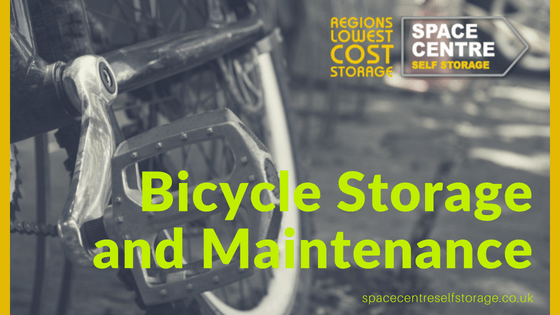 More and more people are cycling and it's no surprise really. It's a fantastic way to see the beautiful countryside and to get the whole family active. There are increasing numbers of safe cycle tracks for families to use making it even easier for younger children to enjoy the outing with their parents. Bicycles are not cheap though so effective bicycle storage is important to keep them safe and in good condition.
Bicycle Storage Tips
Bicycle storage can be challenging especially if you have more than one. Leaving your bike outside is not really an option because you have to think about security and consider weather conditions. Keeping them damage-free and in a safe place may be easier than you think with our top tips for bicycle storage.
Self storage unit
Renting a self storage unit is by far the safest and possibly the easiest way to safely store your bicycle. Whether you take weekend rides or compete in the Tour de France, a self storage unit saves space and provides complete peace of mind. Your house will be clutter-free and your bike safely stored away. Whatever you do, just remember to clean your bicycle before putting it in your storage unit.
Bicycle Rack
If you have some extra space in the garage, you could consider installing a bike rack. You can fix the rack to the garage wall and hang your bike from it saving valuable floor space. Storage racks prevent chips and dents because bikes are out of the way and don't need to be constantly moved.
Bicycle Hoist
Ever wonder what you can do with all that open roof space? Besides hanging a kayak from the ceiling, a bicycle hoist system is another great idea. Attach your bicycle to the hoist and use a pulley system to lift it out of the way. Once again, you save on valuable floor space and your bike is out harm's way.
Wall Mounts
When your budget is tight and storage space is limited, a good solution is a hook style bicycle storage rack. You could simply get an inexpensive steel hook and hang the bicycle by the rim as they're usually very durable. The more expensive option works the same way but it also stabilizes the bike while protecting the wall surface.
Bicycle Cover
The simplest and cheapest bicycle storage option is likely also the most risky. If you don't have room in your house, shed or garage, you'll need to consider outside storage. When this is your only option, at least buy a quality, strong waterproof bicycle cover from a reputable bicycle shop. Remember to keep the bike fully covered when not in use and for heaven's sake, buy a good lock too!
Bicycle Maintenance and Cleaning Tips
Just like any machine or tool, a bicycle will work better and last longer if you look after it properly. There are a few simple maintenance checks you could do to ensure your bike is in good shape. This is especially handy when your bike has been in storage for quite some time. Get in the habit of checking your bike regularly for an enjoyable ride and avoid costly and avoidable repairs.
Clean and oil the chain
Keep the chain clean and lubricated but not too much as it will collect more dirt and make cleaning harder. Using a disposable cloth, bike oil, degreaser and an old toothbrush should remove most of the dirt. To remove tougher gunk from the jockey wheels and chain-rings, use a flat screwdriver. Once everything is clean, slowly turn the cranks backward and at the same time, apply a drop of bike oil on every link.
Drivetrain systems are expensive to replace so save time and money by being proactive. Remember, the more often you clean and lubricate, the less time it takes every time thereafter.
Tyre Pressure
One of the most important maintenance tips is tyre pressure. Rear tyres should have more than the front as it supports most of the rider's weight. Remember to keep tyres inflated even during extended bicycle storage whether it's a few months or a year. Worst case scenario, remove the tyres completely as this way you prevent cracks on the sides.
Important Note: There are two types of valve fittings – Presta is long and thin while Schrader is thicker and slightly shorter. One can usually find the recommended tyre pressure written somewhere on the tyre.
Spokes and Frame
All the spokes should have equal tension and not loose. Pluck each spoke with your finger to ensure that each one sounds as similar as possible. At the same time, look for any cracks or damage to the wheel and bicycle frames. An area that requires particular focus is where the frame joins the head tube.
Nuts, Bolts and Front Wheels
It's important to keep screws, bolts and nuts tight but not too tight. Some newer bike parts have the maximum torque limit clearly labelled and you can buy tools that apply only a specified amount of torque. When you buy a new bike, ask the bike shop for spare nuts and bolts. They should provide them free of charge as it is genuinely inexpensive.
Your front wheel should be tightly fitted and the quick release lever secure in the closed position. If you don't have a quick release wheel, check that the nuts on both sides of the wheel are secure. Your front wheel stem should not move independently so make sure that your handlebar clamp bolts are tight. The best way to perform this check is to stand in front of the bike, hold the front wheel between your knees and twist the handlebars.
Don't let bicycle storage be another obstacle in your journey to a clutter-free life. Give us a call to find out your storage options in Bristol, Stroud and Gloucester. Our units are dry, clean and protected with CCTV and we offer free insurance up to £3000.