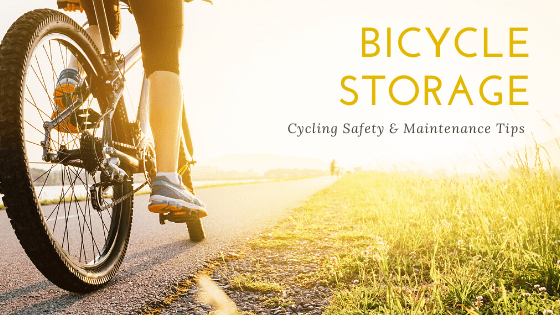 During the Covid-19 lockdown, more people were cycling to get out of the house and for fitness reasons. Whether this has become a routine since then or you simply enjoy a casual ride, understanding cycling safety, maintenance and proper bicycle storage are vital. For that very reason, we've put together a little guide for you and your family. We look at how to stay safe on the road, the sort of safety equipment you need, how to maintain your bike and, of course, bicycle storage.
Bicycle Storage And Maintenance
Leaving your bicycle outside is not always an option nor is it ideal as you need to consider security and weather conditions. Keeping bicycles damage-free and in a safe place may be easier than you think thanks to some of the simplest (and most creative) bicycle storage ideas.
Bicycle Storage Racks
If finding an answer to your bicycle storage problems is impossible, you should look at a bike rack. You can simply fix it to the wall of your garage and hang your bike from it using a hook or chain. This will help save on floor space and prevent damage as you no longer need to keep moving your bike out of the way.
Bicycle Hoist
What about all the roof space? There is a way to utilise more of it and that involves a bicycle hoist. This system will allow you to attach your cycle to the hoist and by using the pulley system, lift it out of the way. Now, you've saved space and kept your bike out of harm's way.
Wall Mounts For Easy Bicycle Storage
When you have limited space in a small corner or an exposed stud wall or rafter, you should consider a hook-style bicycle storage rack. You can use inexpensive steel hooks or more complex systems that stabilize the bike while protecting the wall surface. Use hooks to easily and quickly hang your bike by a single wheel as rim finishes are usually extremely durable.
Bicycle Covers
If you don't have the necessary space in your house, shed or garage, maybe the best option is a good strong, waterproof bicycle cover. This will keep the bike fully covered when not in use but remember to also buy a good lock for added security!
Bicycles And Self Storage Units
Whether you're a serious cyclist training for events or a casual rider, you can use a small storage unit if you have limited space. This way, you will avoid cluttering your home and will have a ready-made space to wash, maintain and store your bicycle after a weekend mudding up through the woods.
Maintenance And Preparation Tips For Bicycle Storage
Just like any machine, tool or vehicle, your bicycle will work better and last longer if it's well looked after. Here are a few simple maintenance and preparation checks:
Keep the chain clean and lubricated but not too much as it will collect more dirt and make cleaning harder
Using a disposable cloth, bike oil, degreaser and an old toothbrush should remove most of the dirt
Keep tyres inflated even during extended storage periods
Rear tyres should have more than the front as it supports most of the rider's weight
All the spokes should have equal tension and not loose
Look for any cracks or damage to the wheel and bicycle frames
Keep screws, bolts and nuts tight but not too tight
The front wheel should be tightly fitted and the quick release lever in the closed position
Related: 'Bicycle Maintenance and Cleaning Tips'
The Importance Of Cycling Safety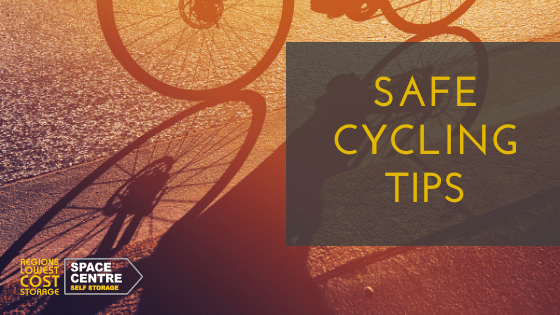 Anyone looking to stay active and fit during the lockdown while saving on petrol should consider cycling. However, there are several road rules and basic cycling safety guidelines to keep in mind, especially considering there is some risk.
If we teach our kids cycling safety and the responsibility to follow road rules, they will become more confident. This may result in more parents allowing their kids to cycle to school and other places. Besides fitness and socialising, fewer cars on the road, in general, is a win in our book.
While cycling is fun and beneficial to your health, knowing the associated dangers could help save lives as you'll know what to look out for and how to behave on the road. Here's a look at some cycling accident statistics from 2016 courtesy of the Royal Society for the Prevention of Accidents (ROSPA).
Cycling Laws And Riding Tips
While most of the road laws in this article are aimed at UK cyclists, the safety information can be applied to cyclists around the world. Let's start with what all cyclists must have on their bicycle, regardless of age or experience:
front and rear lights which are lit, clean, and in working order between sunset and sunrise
white light on the front and a red light on the back
red rear reflectors and four amber pedal reflectors, one at the front and rear of each pedal
you could use a yellow pedal reflector of British Standard BS 6102-2 or an equivalent European Commission (EC) standard
Remember, having the right type and number of reflectors, even on your wheel spokes, will make you far more visible to motorists, especially in the dark.
Cycling Rules 101
Like driving a car, there are many rules cyclists need to adhere to. While some may seem ridiculous or unnecessary, they're all in place to keep you as safe as possible. We'll look at cycling while intoxicated, red traffic lights and advanced stop lines.
You may not operate (or even push) a bicycle on the road and may result in a fine of up to £1000
This can go up to £2500 for careless cycling as the amount depends on how dangerously you were cycling
If inebriated and you ride your bicycle in a dangerous, reckless manner, you can be charged with "furious cycling". This means a two-year prison sentence especially if you injured someone
Cycling On Pavement, Stop Lines And Red Lights
Even though the legislation doesn't officially refer to pavements, a bicycle is considered a 'carriage' which means – "any footpath or causeway by the side of any road made or set apart for the use or accommodation of foot passengers".
Cycling on the pavement is a chargeable offence but it may not be held against you in the following scenario. "If road conditions make it unsafe for you to cycle alongside motorized vehicles, and you are showing utmost consideration for others on the pavement."
In terms of an ASL (advanced stop line), cyclists may position themselves ahead of traffic but must remain behind the ASL. They must not cross the ASL during a red light or ride through an amber light unless they are too close where stopping would otherwise cause a collision. For ease of reference, here is a downloadable PDF of the 'Mandatory Rules And Advice'.
Cycling Gear And Clothing
Among the most important rules about cycling is wearing reflective clothing and a safety helmet. Always keep your clothing cycle-friendly as something could get snagged in the chain or wheels. Don't carry a heavy rucksack as it can easily put you off balance.
When choosing cycling gear, use items that are not only safer but also makes travelling easier. For example, wearing thermals and waterproof clothing in adverse weather conditions will keep you warm and dry. Winter gloves can also prevent your hands from becoming too cold, especially when cycling longer routes.
You don't need to buy expensive gear and clothing fit for the Tour de France which is something many beginners do. Remember, cycling makes you hot and sweaty so make sure your clothing allows for some airflow.
Final Thoughts
While accidents and injuries are possible, truth is, many cyclists travel daily without any problems. If cyclists took some time to learn more about road safety, their journeys will be far more enjoyable and less stressful.
If you're looking for a quality, affordable and reliable facility, Space Centre Self Storage is open for access 24 hours a day. Our storage facilities are located in Bristol, Stroud, Gloucester and Stonehouse with several on the ground floor offering drive-up access.
Get in touch with our friendly, professional and trained staff who will assist in any way they can and read our weekly blog for all the latest industry news and updates.