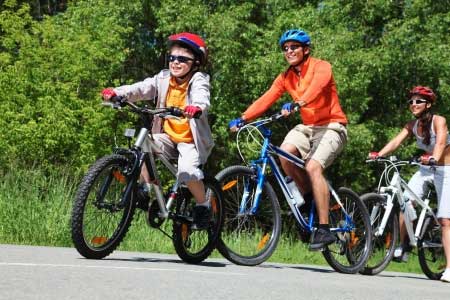 Does your bicycle take up too much storage space? Maybe you've got a whole family of bicycles.
Are you finding it increasingly difficult to justify a place in your garage for your beloved two wheelers?
Maybe your shed is overflowing with garden tools and junk and your internal hallway is too narrow to house a bicycle?
If you recognise any one of these issues or find yourself putting distance between yourself and the purchase of a bike, due to the fear of creating even more space issues at home, it might be wise to look at the FIVE bicycle storage ideas below.

Bicycle rack
If you are finding it difficult to find an answer to your bicycle storage problems, why not consider a bike rack. You can fix the rack to the wall of your garage and hang your bike from it. That way you save on floor space. Storage racks not only save you space, but by preventing knock overs and having to keep moving your bike out of the way they save it from getting bumped, chipped, or dented.
Bicycle Hoist
We all look up and wonder how we can utilise that wasted roof space. A bicycle ceiling hoist system will allow you to do just that. Attach your cycle to the hoist, use the pulley system to lift it out of the way and you've reclaimed your floor space. In addition, your bike is out of harms way.
Wall Mounts
When all you have is a tight corner, or exposed stud wall or rafter; the best solution is probably a hook style storage rack. Ranging from inexpensive steel hooks to more complex systems that stabilize the bicycle and protect the wall surface. Hooks usually store a bike by hanging it by a single wheel, this is a great way to hang a bicycle as rim finishes are usually very durable.
Bicycle cover
If you don't have room in your house, shed or garage to house your bike, you'll need to consider outside storage. Buy a good strong waterproof bicycle cover and keep the bike fully covered when it's not in use. However, if you are considering outside storage, make sure you buy a good lock too!
Self storage unit
Whether you're a serious cyclist who needs to store your bikes over winter or a casual rider with no space, you could consider renting a small unit. This way, you will avoid further clutter at home and will have a ready made space to wash down and house your bicycle after a weekend spin through the woods. If you're storing long term you might find this checklist from About Sports useful.
Bicycle storage can be a bit of a nightmare, especially if you've got more than one to house and want to keep them free from damage. Where do you keep your bicycle(s)? Let us know if you have any thoughts on how you can store bicycles without creating any more clutter.
Image Copyright: / 123RF Stock Photo