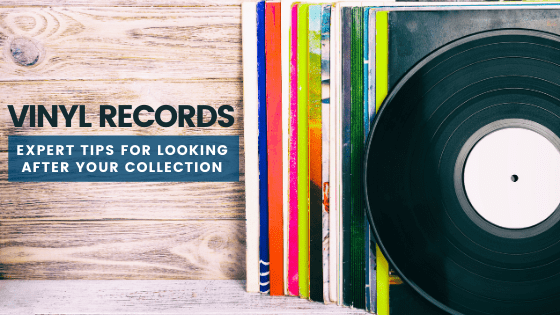 Do you have a vinyl collection but don't know how to take proper care of it? Considering they are making a comeback, storing vinyl records correctly may just be the single most important thing you can do to keep those memories alive and pass them onto the next generation.
As with most things, there's a right and wrong way of storing things and vinyl records are no different. In this article, we will share some valuable tips on how to store and what not to do.
Today, there are more and more albums available as many people have revisited their old vinyl collection during their lockdown clear out. From under the bed storage to the spare room, garage or loft, storing vinyl records properly will help avoid scratches or warping.
The Do's And Don'ts When Storing Vinyl Records
Vinyl records are the most stable physical sound recording format even with all the digital tools available today. And unlike cassette tapes and CDs, vinyls can last 100 years when stored in a controlled environment.
However, there are several variables to keep in mind including dust, heat and pressure. Whether you're a collector or just keeping it for your family, these vinyl record storage, cleaning and maintenance tips will help.
Clean Vinyl Records Before Storing Them
Always use the right tools for the job so avoid cleaning your vinyl records with a shirt as it can leave scuff marks and scratches. Collectors recommend using a special carbon-fibre, anti-static record cleaning brush which you can buy online or at a local music store. To remove dust and dirt, simply hold the brush on the record while spinning it slowly and voila!
If you need a more thorough cleaning, get a vinyl-cleaning solution. Spray it onto the record whilst avoiding the record label, and wipe with a microfiber cloth in a circular motion. You should do this at least every six months to ensure your records continue looking like new.
The Importance Of Storing Vinyl Records In Their Album Jackets
There's no better way of storing vinyl records than in their jackets or covers. The only time a vinyl record should be out of its jacket is when you put it in the record player or being cleaned. To ensure your record remains in showroom condition, always put it away as soon as you are done listening to it. If you leave it on the turntable longer than necessary, dust and dirt can accumulate which can impact sound quality.
Always Store Vinyl Records Upright
Wonder why vinyl records are kept in crates? Well, as with many books, vinyl records should be stored in an upright position to ensure longevity. You'll quickly notice when they have been stored at a slant for a long time as they tend to warp due to the uneven pressure placed on them. Crate dividers are brilliant at keeping your records stay upright with very little to no risk of slanting.
You should never stack your record collection on top of one another as it could permanently damage them whether they're in their jackets or not. The excess weight will lead to warping, scuff marks and even a high possibility of cracking. By not storing them upright, you could damage the artwork on the album jacket.
Know How To Play Your Vinyl Records
When picking up your record, make sure you touch the very edge and not the surface. If you touch the record surface, you inadvertently transfer oils from your fingers which can greatly affect the quality of the record over time.
The one downside to vinyl records is that it's not easy (or recommended) to find a certain song by hand. When placing the needle down on a random spot, there's a good chance of putting it into the wrong groove and that can damage the record. It's best to be patient and play the album from the beginning and wait for your song.
Essential Tips For Storing Vinyl Records
It may not be practical for everyone but storing vinyl records in the loft or garage is not ideal. However, by following some of these basic storage tips you can ensure that your collection stays in good condition.
Avoid any place susceptible to water damage
Avoid extreme temperatures and places with fluctuations of more than 19°C (35°F) within 24 hours
Store in a place with sufficient air circulation so avoid storing vinyl records in sealed containers
Don't drop a record into its sleeve as this can split the cover or cause scratches and abrasions
Consider a good shelving system with built-in square shelves or inserts that can hold baskets or boxes
If you don't have the right conditions to safely store your vinyl records, you should consider a small self storage locker or unit.
Recommended: 'Beginner's Guide To Storing Collectables And Memorabilia'
Why Choose Space Centre Self Storage?
Whether space at home is an issue or you prefer an off-site secure location for storing vinyl records, self storage is an affordable option. If you're looking for short or long term storage solutions, contact Space Centre Self Storage. The units are in secure compounds with alarms, CCTV and smoke detectors. We also provide you with your own high-quality padlock so only you have access to your unit.
We offer FREE storage insurance up to £3000 without any upfront deposit and you can use our provider or your own. All of our units are purpose-built for renovation storage, household storage, business storage, student storage and even vehicle storage. You can find us in Bristol, Stroud, Gloucester and Stonehouse with a large selection of units in all sizes.