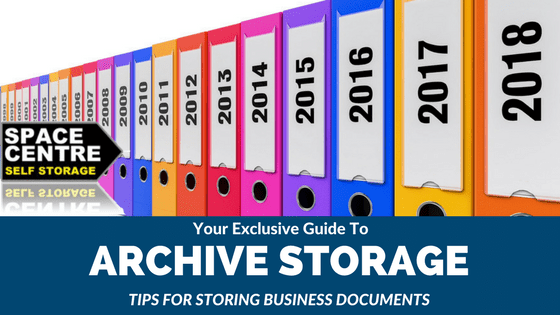 With 2017 coming to an end, it's another year worth of paperwork to be stored. Most businesses know that documents should generally be stored for at least 7 years but where do you find the space? Many companies simply don't have extra storage space to archive physical copies of everything in the office. Another filing cabinet just won't cut it and who is ultimately responsible for archiving everything in-house?
Effective archive storage is essential for keeping documents in order, safe and easily accessible – and we don't mean storing everything in the loft either. Some companies choose digital storage which saves loads of space but you still need room to store the original records. To help you make archive storage as seamless as possible, we've compiled a few of our own hints and tips. But first, let's take a look at the different types of documents and how long to store each one.
Documents For Archive Storage
If you're struggling to keep head above water with all your documents, it may be time for an improved archive storage solution.
Documents To Discard Within A Year
Credit card bills and bank statements can be shredded after checking and paying what you owe. The exception to the rule is when the credit card bill has a warranty. Make sure to attach it to the warranty and file away for safekeeping until the time has elapsed. Bank statements also need to be kept with tax documents if you are taking a deduction.
Receipts can immediately be shredded unless required for tax or warranty purposes. Insurance policies can be shredded as soon as you receive your renewal. Same applies to monthly and quarterly investment statements.
Seven Year Document Storage
The only documents you really need to keep for 7 years are tax records. Keep copies of your tax returns with supporting documents like statements and receipts. Store records in boxes or envelopes clearly marking the tax year. This makes it super easy to find when you are asked to provide the necessary information. For more details on archive storage for tax documents, businesses should visit the HMRC website.
Health And Safety Records
All businesses must keep accident records to record any injury at work. The only exception is those with less than five employees. Companies that require health surveillance checks (where employees are exposed to noise, vibration, fumes etc.), such records need to be kept for 40 years. If you're in this type of industry then you need to think long and hard how and where to store these records.
The Health and Safety Executive (HSE) can provide you with more information on the records you need to comply with the health and safety laws.
Archive Storage For Life
These are your most valuable records and should be stored for a lifetime. Included in this list are birth certificates, marriage license, divorce papers, military discharge, social security and death documents. Other associated items are life insurance policies, benefit schemes and estate planning.
When storing paper documents, remember to consider outside factors such as light, temperature and humidity as these directly affect paper. Warm, moist air can cause mould spores where light damages paper causing ink to fade and accelerated browning of paper.
Top Tips For Effective Archive Storage
Even in today's digital age, many businesses and government agencies have tons of paper documents taking up valuable space. Although some store records on-premises or even at home, off-site document storage is a much more effective, organised and affordable solution. Many businesses have found that renting a self storage unit makes all the difference.
Here are a few hints and tips when storing business documents in self storage:
Store the important documents that you need easy access to at the front of your storage unit. This way you will avoid spending hours trying to find the right box.
Make sure your storage unit and items are dry. Mould grows quickly and can cause serious damage.
Store your documents and other valuables on wooden pallets to keep them elevated. In the event of a flood or burst water pipe, your documents will be above the water line. Elevated storage also means better air circulation to help them dry should they get wet.
Only provide access to your unit for essential personnel as many business documents are confidential. Space Centre Self Storage locations are in secure compounds and each unit is alarmed with CCTV and smoke detectors. We also provide your own high-quality padlock so only you have access to your unit.
Label all your boxes clearly to avoid having to dig around looking for that one elusive document.
Organise your boxes by year and type of record. Trust us, you'll be happy you followed this one.
Choose a storage facility in a convenient location. Ideally somewhere close to the office so you can easily access your documents and records when needed. Our facilities are conveniently located near major access roads in Stroud, Bristol and Gloucester.
Last but not least, choose a storage unit that is right for you. Space Centre Self Storage offers many different sizes and you can follow our Storage Size / Price Guide to determine the space you need and the cost.
At Space Centre Self Storage you can store documents in our secure, damp-free units. Contact us today if you would like to free up office space and ensure that your paper documents or hard drives are kept in the best possible conditions.