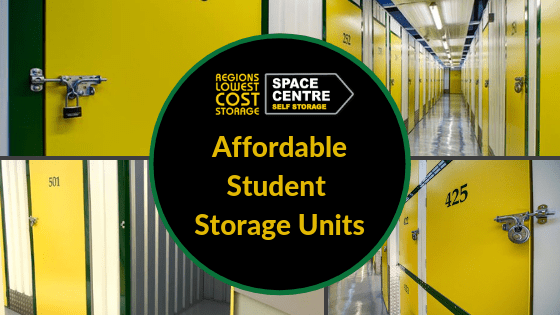 Most universities in the UK are winding down in May with many students going back home for the summer. This time of year signals a mass exodus of students all over the country looking for safe and affordable student storage solutions.
As many students will confirm, summer plans are often somewhat unpredictable in many different ways. Some may get part-time jobs while others will spend their summer with the family which also means taking all of their stuff. The question is, what to do with all your belongings?
Many students live in accommodation which is much smaller than their family home and that means less space. One incredibly practical (and affordable) solution to the problem is student storage lockers at local storage facilities. It really is such an easy way to minimise clutter while keeping everything safe, dry and in excellent condition.
Reasons Why People Choose Student Storage
Whatever the summer plan may be, all students need a safe place to keep everything of value over the coming weeks. Many who are going back could be reluctant to leave their furniture and belongings in an empty house. And while some students will go home for the summer, others might spend a few weeks travelling abroad. Those in their final year will more than likely spend their summer looking into full-time employment.
While there are several reasons why student storage is a popular solution, we've highlighted the top four below:
Internships
Studying abroad
Going home for the summer
Small flats and/or student accommodation
It's often not worth the effort to lug everything around if you're staying elsewhere for a short amount of time. The hassle of packing everything and transporting it back and forth is not ideal. Fact is, you could actually save money by renting a cheap student storage unit nearby. On top of that, most facilities allow short-term rentals so you can rent a unit until school starts again.
How Student Storage Saves You Money
At Space Centre Self Storage, we understand first-hand the importance of budgeting, especially for students. That is why we decided to provide students with better and more affordable storage options which will help with the budget. This is how student storage can help you save money:
Storage units help maximise space
Terms are often negotiable depending on the storage facility
Most facilities have a price and size guide to help you find the right unit for your needs
With the right storage provider, you'll only pay for the space you need
Storage helps you declutter which means renting a smaller unit for even less
Find another student to split the unit and the cost
Keeping things in student storage will negate the costs of shipping or transporting all your things every time you go on break
If you don't want to bring everything home for the summer but also have reservations about leaving things where they are, you should really consider temporary storage. The best short-term or long-term option is a small student storage unit at a facility close to your university or college.
Easy Tips For Packing Your Unit
Storing what you don't need now is honestly the simplest and cheapest solution. Think about it, do you really need all your winter clothes, bedding and every book on your shelf? Maybe there are a few subjects you don't need the books for over the summer which can add up to a lot of space.
If you are renting a student storage unit, here are a few tips and tricks for properly packing your valuables so they remain good as new.
Before putting your books into self storage, make sure that they are clean. Dust, food residue and other dirt can easily result in permanent damage
Choose the right container or storage box to keep your valuables clean, dry and dust-free. If you are using old cardboard boxes, just make sure they're clean and that you can properly seal it
Lay books flat or stand them upright with the edges of the paper facing upward to prevent warping and bending
Don't use boxes that were used to store food as odours and food residue often attract insects and rodents
Wrap valuables in bubble wrap or soft towels
Related: 'How Do I Choose The Right Storage Unit?'
Why Choose Space Centre Self Storage?
Since 1995, Space Centre Self Storage facilities have provided affordable, reliable and quality storage units. We offer a wide range of sizes, internal or external, with rental contracts covering short and longer stays.
In addition, Space Centre Self Storage offers quality services:
Clean, dry, well ventilated and well-lit storage units
Drive-up access
24-hour security (CCTV and alarms)
No deposit required
No long-term commitments
Free insurance
Flexible to change unit size at any time
Lucinda Dangerfield, director of Space Centre Self Storage says; "We have more and more students using our secure storage units. They are comfortable in the knowledge that they can leave their belongings with us and pick them up whenever they want. For a lot of students, it is far more convenient to do that.
If you are at university in Bristol or Gloucestershire and need a safe place to store your things, please get in touch. Our friendly, professional and experienced staff can provide additional packing tips and how much space you'll need. They are open to answer any questions you may have. Our drive-up units also make it super easy to load and unload your belongings.