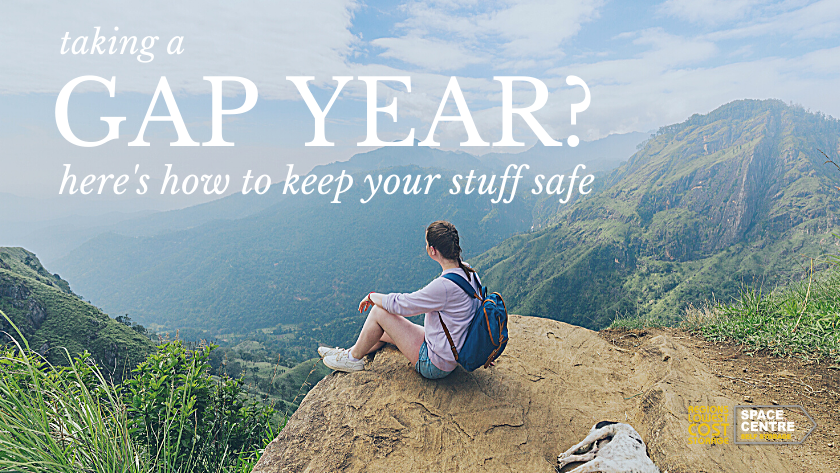 Despite the challenges of Covid-19, many students who have graduated don't want to go straight into work. There is still a big desire to travel before settling down for good but what do you do with their belongings? As parents, we know how quickly things can accumulate when kids are at University so you might be looking for alternatives. A simple solution is renting a student storage unit or student storage locker especially if you are planning on downsizing.
What Is A Gap Year?
A simple definition of a gap year is essentially taking time off to do whatever you want. Although it's common practice for students, you don't need to be at University or about to become one. Adults of all ages can take a gap year which some may refer to as a sabbatical. Whatever you want to call it, keeping your things safe whilst travelling is a concern but student storage can help.
Eliminate Travel Stress With Student Storage
A gap year means being away for an extended period leaving your belongings behind which can be potentially dangerous. You can't take everything home either, especially considering many students are at Uni far away from home.
Whilst you might be able to leave a few things with friends, it can inconvenience them and put unnecessary pressure on your friendship. The simplest, safest, most cost-effective and convenient solution is getting a student storage unit and here is why.
Security is guaranteed as storage facilities are under 24-hour surveillance
There are no limits on duration of storage contract
Affordable storage prices
Flexible and easily accessible for items of all sizes and types
Takes the pressure off families and friends for cluttering their space
Packing Tips For Student Storage Units
The first box to check is working out what you need to store. To avoid clutter and wasting time packing things you don't need, consider donating unwanted or unused items to charity or selling it at an auction for some extra spending money.
The next step is using the right packing materials and packing everything properly. By using the right storage containers and labelling everything clearly, you can not only avoid damage but also confusion upon your return. You will need packing boxes, packing tape and bubble wrap for delicate items.
Recommended: 'Top Tips For Packing A Storage Unit'
How To Pack A Storage Unit
Make sure you pack related items together and label them appropriately, especially fragile goods
Don't stack boxes too high as it might topple over causing damage and injury
Check with your storage provider that the storage unit is damp free to ensure nothing is damaged by moisture
Make sure you pack goods properly in secure boxes or plastic containers
Make an inventory list of everything inside the unit
Leave a space down the middle for easy access to everything
Check with your self-storage centre manager that your unit is damp free. You don't want to return to damaged work files and damp clothes
What Can't I Keep In A Storage Unit?
Although a self storage unit is the best option for a gap year, there are some items you are not allowed to store. Here are a few things you should omit from your packing list as they are often prohibited by most storage providers.
Animals and pets such as fish and dogs
Illegal or stolen items
Highly inflammable items such as gas cylinders
Plants and food that may attract pests
Unlicensed items that require licenses from the authorities
Foods that need refrigeration
Student Storage At Space Centre
Whatever the reason for taking a gap year and wherever you go, students will likely need some form of storage to keep their belongings whilst travelling. Why not get a student storage unit from Space Centre? If you attend University or College in the Bristol or Gloucestershire areas, get in touch with us at www.spacecentreselfstorage.co.uk.
Our friendly and experienced staff are here to help with all of your questions and requirements. We even offer FREE storage insurance up to £3000. You can use your own or storage insurance providers such as Surewise, Insurastore and Store-Insure. For added peace of mind, our student storage units are clean, dry and in secure compounds with alarms, CCTV and smoke detectors.