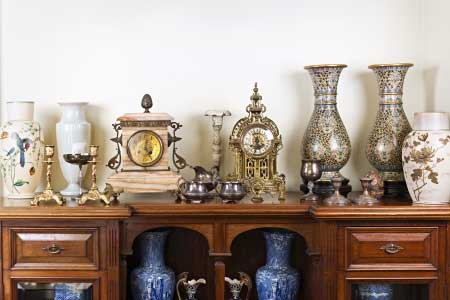 Antiques, collectables and artefacts are becoming more and more popular. Many families will hoard them, others will display them and some will collect and sell them on to supplement their income.
Collectors and sellers alike can purchase antiques from a variety of places these days. Ebay is an excellent site to make a start, while car boot and garage sales always seem to throw up the odd gem. You will be surprised how many people will put collectable antiques on a table without ever knowing their value.
However, as a buyer, always remember this. If you are pursuing a bargain at a boot sale, the best deals will be struck by mid morning, so get to your destination as early as possible to avoid disappointment. If it's a garage or porch sale, you might want to pass by the day before, to see what's about. Remember, the seller is keen to sell, so if you're polite and genuinely interested, you could land yourself a bargain.
Six hot items in the antiques market
Antique silver is always popular, but make sure you familiarise yourself with the hallmarking system. It can mean the difference between buying something special and being landed with a fake. The hallmark will tell you the standard of silver used, the origin of the silver, the date the silver was made and the maker of the silver too. There are some online sites like this one, 925-1000, that will give you some tips about hallmarks.
Antique ceramics and porcelain. Chinese and English porcelain are highly collectable and if you can land yourself a full set of Royal Doulton, Wedgwood, Royal Worcester or Spode, you might make yourself some cash.
Clocks and watches. Bracket clocks, grandfather clocks, wall and mantle clocks are all popular as are old watches that are still in decent working orders. Look out for the popular clock and watch makers like Seth Thomas, Junghens, Sligh and Rolex.
Antique furniture. You might need some room – maybe a self storage unit at your local self storage centre – but antique furniture is hugely collectable. Beds, bookcases, chairs, desks and dressers attract collectors from all over the world. However, if you have something to sell, think about getting it valued before you cast it to one side or put it on ebay.
Books and toys. Do you still have that James Bond car with the box and special agent papers? If so, it could be worth some serious cash. Always remember, items like this are worth much more in their original wrapping or boxes. Likewise, if you have an old collection of books – maybe the Rev Awdry's Thomas the Tank Engine series – a full set, in good condition, will be worth a great deal more than the odd book.
As mentioned earlier, if you are a collector and or a seller of antiques and you need space to store your items, why not contact your local self storage centre. It's cheap way of storing your collectables whilst you decide on your next move.
If you've got antiques or collectables to store you may find these previous posts useful.
Top tips for storing antiques
Storing memorabilia
Image copyright:Copyright: elenathewise / 123RF Stock Photo