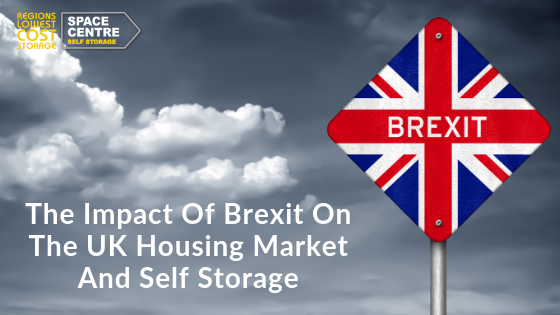 It's already been a year since our last post on Brexit and not much has changed. There is still a sense of uncertainty around how it will affect the housing market and self storage as well. There's no denying that some sellers have been waiting with bated breath with hopes of a higher post-Brexit price. Other buyers have been reluctant to purchase due to fears that the prices may drop in the event of a no-deal.
While many people solely blame Brexit, there may be more to it than that. There has been a cause of concern about the UK housing market since the 2008 crash and we haven't seen a noticeable increase in transactions since. With Boris Johnson replacing Theresa May as Prime Minister, could we see a shift in momentum or is it too soon to tell?
UK Property Price Conundrum
Brexit may be partly to blame for the decreased transactions but it is also resultant of new taxes and the significant increase in overall stamp duty, particularly for foreign investors or buyers. Other factors to take into consideration are economic conditions and personal finances. The affordability of property remains very low especially in London as the average house price is a staggering £619,000. That is nearly three times what you'd expect to pay in the East Midlands.
House prices in London exceed average earnings by 13 times and by seven in England and Wales. It is certainly not surprising that the number of young people owning a home in England has dropped considerably. The majority of them would more than likely have to rent for their entire lives. This can be attributed to issues surrounding supply and demand as housebuilding efforts have lagged behind the government's own benchmarks.
UK House Price Index as of 17 July 2019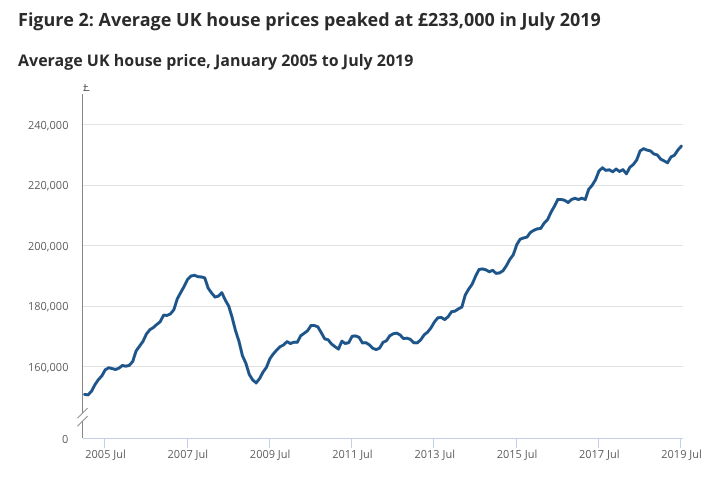 No-deal Brexit And The Impact On UK Housing
The Royal Institute of Chartered Surveyors (RICS) regularly asks surveyors about current trends to determine the market activity. A recent report, after parliament rejected Theresa May's Brexit deal on 12 March, suggests that "prolonged Brexit uncertainty will likely cause further damage to the UK housing market".

Last month the Office for Budget Responsibility stated that a no-deal Brexit would lead to house prices dropping by nearly 10% by mid-2021. Even back in September 2018, Mark Carney, the Bank of England governor said that a no-deal Brexit could tumble property values by up to a third.
What some people may fail to realise is that even if MPs continue to vote against leaving the EU without a deal, the result is not legally binding. If the UK and EU do not come to an agreement, a no-deal Brexit remains the default position.
How Does Brexit Affect Self Storage?
While Brexit will undoubtedly affect the UK housing market, it also extends to self storage as they are closely linked. Considering that it has become increasingly difficult to secure mortgages and the looming threat of higher unemployment rates with the Brexit deadline, many people are opting for cheaper real estate.
Self storage can help UK residents save hundreds, if not thousands, of pounds. It's all about practicality in order to survive the potential economic crises of a no-deal Brexit. Downsizing is a great example of a practical approach that UK residents can take to avoid dipping too much into their savings to survive.
Those who do not own property know that rent takes up a considerable amount of your monthly expenses. With rising property prices and rent, many people choose to live in smaller homes or flats with lower rent. Another way to save is moving to a smaller city or town, away from major centres.
How Can Self Storage Help?
Even with all the undeniable benefits of self storage, many are still not convinced as the stress of moving often overshadows everything. In fact, numerous studies have shown that 28% of people would rather pay more than move into a new place. It's unfortunate that they feel this way as self storage facilities are especially there to help simplify the moving process.
Self Storage And Downsizing
The biggest problem many people face when downsizing is having too much stuff. Fact is, our stuff takes up most of the space inside our homes and most of it we don't even need. Some may be valuable collector's items or have sentimental value which is where self storage comes into play.
Not only is it more affordable to keep things safe and out of the way but it's also a practical solution. If you are moving to a smaller house or flat, you can store all your valuables for a few quid and only take what you really need. This way you can maximise the limited space of your smaller property while saving on rent.
Take The Stress Out Of Moving Day
Besides renting a storage unit to save space when moving into a smaller place, you can also use it to keep things safe until you move. Considering that furniture and other items could get damaged during renovations or moving, keeping your valuables in storage until moving day can greatly simplify the process. This helps you save time and effort packing the rest of your items while keeping everything out of harm's way.
Interesting read: 'Things To Consider When Moving Home'
Decluttering And Self Storage
Moving is a great way to declutter your home and identify things you no longer need. People can rent a self storage unit to store everything until they know what to do with all their belongings. Individuals and business people travelling abroad for extended periods of time can also use temporary or short-term storage units. The same applies to business people visiting the UK as they can keep their things safe while travelling across the country. They will save on travel costs and effort as they won't have so much stuff with them.
Related article: 'What Does Self Storage Costs Include?'
Help Prepare For The Worst
Considering that the price of imported goods could increase, many UK Residents are already stockpiling certain items. While preparing for the worst is not a bad thing, it is probably more applicable to companies importing large amounts of raw materials or products. Much of the UK's raw materials come from outside the country and if they leave the EU, many predict that prices will increase dramatically.
Conclusion
While Brexit certainly brings uncertainty, people should just remain calm and not fall victim to public hysteria. If you are planning to buy property, for example, don't be overly concerned with house prices and rather focus on whether the property is affordable and if you'd be happy living there for the medium to long-term.
There may be various factors to consider when selling your home but worrying about moving day should not be one of them. If you require additional information on any of our storage facilities in Bristol, Stroud, Gloucester or Stonehouse, please visit our website.