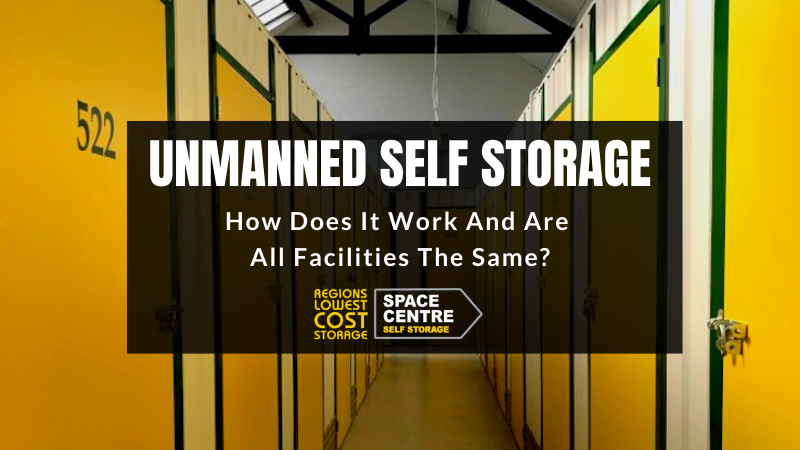 If you think back to a few years ago, unmanned self storage facilities weren't really on the radar. However, with technology advancing at a rapid pace and the industry demands shifting, including Covid-19, things have changed.
Only a few companies tried their hand at operating without an onsite manager as the idea of running a 30,000+ square foot facility was unheard of. Today, unmanned self storage facilities are more common but don't let the name fool you as it doesn't necessarily mean everything is automated. To be fair, nearly all sites are unmanned on some level so what does it all entail?
What Is An Unmanned Self Storage Facility?
Unmanned facilities are also referred to as unstaffed storage or unattended self storage. This type of business model involves self storage companies operating their premises with the help of technology and no permanent on-site staff.
Whilst these facilities may look similar from the outside, there are unique challenges and legal requirements behind the scenes; not to mention building a custom IT-system specifically aimed at the business model.
Unattended self storage locations do require a greater investment in technical infrastructure and, of course, solid connectivity. This automated or unmanned trend is certainly growing but the self storage industry still has mixed feelings about it. Here are some misconceptions about unstaffed self storage which you might find particularly interesting.
Benefits Of Unmanned Storage Facilities
One of the biggest benefits is the convenience factor as tenants can rent, open, and request to move out of a storage unit from a smartphone. Unmanned storage facilities often have much lower overheads as there are no permanent staff or amenities such as bathrooms, kitchens or offices. Some of the major advantages of unstaffed storage facilities include the following:
Facility managers can effectively work from anywhere as they don't have to be onsite all the time
Bookings, reservations, payment, and non-payment issues can be done online
Manually lock someone out of their unit if they haven't made payment
Potential for higher security thanks to the new age of 'Smart Entry systems' (electronic locks on unit doors make them virtually tamper-proof)
Tenants can access gates, entry doors, and lifts using a Bluetooth enabled device
Remote check-ins via the website where they receive a text message with a personal PIN
Technology And Self Storage
When you look at the primary differences between traditional storage facilities and automated or unmanned locations, it comes down to technical sophistication. Whilst the traditional model takes advantage of a personal touch from an experienced and friendly manager, unmanned facilities rely on technology to best serve customers during and after office hours.
Unmanned self storage facilities have self-serve functionality where customers can do nearly anything online. Good connectivity allows management tasks to take place remotely and often in real-time. Where staff would usually walk tenants to their unit and physically remove the lock, technology has made it possible do it remotely which has been tremendously beneficial during the Covid-19 pandemic.
Even though the word 'unmanned' is descriptive, not all are fully automated or gated as some premises combine the best of both, like Space Centre Self Storage.
Are All Unmanned Self Storage Facilities 'Unstaffed'?
The term "unmanned" may be misleading for some as there are facilities that offer a combination of both. Many storage locations are "semi-staffed" with someone on the premises whether its admin staff, a manager or security guard. They are typically on-site during office hours with some also offering after-hours access and customer service combined with online bookings, queries and payments.
Space Centre Self Storage prefers a combination of technology, automation and a personal, human touch. All of our facilities are manned during core office hours to provide customers with real-life assistance and advice. We offer tenants the best of both worlds as they can have unmanned access for a small fee if needed. Our sites are also gated so access is completely secure via key fobs to open gates.
Recommended: 'Self Storage Rules And Regulations'
What About 24-Hour Access, Security And Customer Service?
Whether the site is manned or unstaffed, location plays a major part as a favourable area doesn't mean there are no criminals about. Most storage facilities have some form of access control with a combination of motion sensors, security lights and cameras but we know that many people feel safer with the addition of a gated entrance and security personnel.
Whilst security and online technologies are impressive, no system can provide the same level of safety or customer service that a trained person can. Many people still prefer interacting with real people on the premises instead of a machine, website or mobile app.
Some companies that store with us who need access during or after hours prefer a "hybrid storage facility" with staff and elements of self-service. At Space Centre, customers get exactly that; experienced staff on-site and after-hours access without having to make a call and wait for assistance.
Final Thoughts
Whilst many unmanned self storage facilities provide 24-hour access without any human interaction, it's not the first choice for everyone. There's no denying that fully automated or unmanned self storage facilities are becoming increasingly popular but many people still prefer dealing with people rather than computers and self-service kiosks.
There certainly are pros and cons to unmanned self storage facilities but there is no right or wrong answer as it depends greatly on your requirements. Our storage facilities in Bristol, Stroud, Gloucester and Stonehouse offer aspects of self-service, after-hours access and manned offices for added peace of mind.
All of our storage units are clean, dry and in secure compounds with alarms, CCTV and smoke detectors. Visit our website for more information or to book your storage unit today.