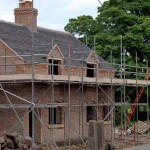 If you're a budding developer, the most common strategy is to buy a property cheap, renovate it and sell it on for profit. It sounds easy. However, to see a project through to completion can be a daunting prospect. Here are some top tips for renovating your house.
What should I look out for?
At the outset, ensure you're not buying a property that will haemorrhage money. Remember that in older properties, there are hidden problems. You should be prepared for anything, right down to half the wall staying on the wallpaper when stripping and large holes behind the panelling. Don't be afraid to make umpteen visits with every type of tradesman in order to know what you're letting yourself in for.
Ask the experts
Roofers, electricians and specialists in timber and damp proofing will charge nothing or very little to provide estimates. They will be more beneficial to you than a surveyor in the initial stages.
How much work is involved?
The workload will depend upon the individual property. However, the key is to not take on a job that might prove too much for you. To ensure that your experience is memorable and not forgettable, try renovating up a dated property rather than a wreck. A new kitchen, bathroom, central heating, carpets and re-decoration will transform something dark and decrepit into a 'des res'. You can always leave the architects, specialists and planning department to another time when confidence and funds are more plentiful.
Funding
The phrase most heard when doing up a wreck is: "It cost a lot more than I thought it would." Set yourself a budget and build in some contingency funding – 15 per cent of the total cost is a good guideline. You could start your renovation with a small cash fund and once you've re-decorated and laid the carpets, the overall improvement should allow a small re-mortgage. This can be used for a new kitchen and reinstating period features such as fireplaces.
Managing the project
You can do this yourself, but most people will prefer a project manager who will liaise with the builder and ensure work is carried out to a specification. Make sure you get all the quotes well in advance. This will enable you to calculate all your expenditure. You should never expect the scheduled timescales because the buying and the restoring may not always go as planned. If you do have concerns along the way, seek as much advice as possible, especially from people who've done it before.
Employing tradesmen
Once you've decided exactly what work you want to undertake, it's time to ask for quotations. The Joint Contracts Tribunal (JCT) is an independent body that has produced a standard contract for use between you and the builder. It is a robust legal document confirming the precise arrangements for the work to be done: the price, the payment terms, working hours, insurance and guarantees and how to resolve disputes if they arise. Always remember that your builder will be spending a great deal of time in your home and therefore should be someone with whom you feel comfortable.
If you are considering moving out of your existing property to renovate a new property with a view to moving in yourselves, you might need storage space for your belongings. If you are looking for storage space contact us at Space Centre Self Storage
Why not leave a comment or tell us of your experience of renovating properties. Post your tips in the comments box.