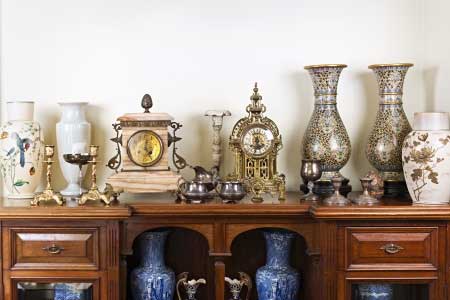 Many people collect items over the years, either for sentimental reasons or because they are of high monetary value. The latter are often set aside as an investment for the future, either to be sold or to be passed on to the next generation. These may include pieces of art, furniture, jewellery, ornaments and records.
If you're thinking of starting a collection either as a hobby or an investment, what are the top items to collect?
Toy collections
Rare and limited edition toys are also popular with collectors. According to LV=, 36% of Brits own collectible toys, ranging from train sets to Star Wars figurines. If carefully kept, particularly in the original packaging, these items are likely to substantially increase in value over the years. However, if the items or even the packaging is damaged, the value can plummet. The rarer the item the more likely it is to fetch a high price, but even relatively low-value items may eventually gain value if they are sought-after and kept in the right conditions.
Choosing the right antiques
Many people choose to collect antiques because they can prove extremely lucrative. For example, an Altrincham-based couple bought a Cortendorf figurine on eBay for £19.95 that is worth as much as £800. They also purchased a bronze figure sculpted by Josef Lorenzl for £7,500 that is worth more than £10,000.
If you're thinking about getting into the antiques business, it's worth considering the following:
Buying from an established dealer, who is ideally a member of the British Antique Dealers' Association (Bada) or the Association of Art & Antiques Dealers (Lapada). Resist the temptation to buy anything if you have a suspicion that it might be fake.
Looking for original, unrestored furniture with provenance as these items can be excellent investment items.
Buying pre-war glass items, for example Lalique glassware, that are in excellent condition.
Sticking to well-known jewellery designers such as Tiffany and Cartier.
Avoiding items that have been restored, particularly if they have not been restored by an expert.
Factoring in auction costs, whether you're selling on eBay or at Bonhams.
Insuring high-value items or collections as your home insurance policy may not cover them.
How to store valuable items at home
If you are determined to store your precious items at home so that you can enjoy them in the meantime, it's important that you take the following precautions. Ensure that they are kept away from direct sunlight, which can cause items to fade, and use LED lights if collectibles are kept in cabinets as these are less likely to affect the colour. Avoid hanging items on walls that are susceptible to damp or over a radiator or fireplace. Make sure they can't be knocked over and are well out of reach of small children and pets. You might find the posts here useful reading.
Where possible, use bubble wrap or plastic sleeves if you are storing items out of sight and make sure they are stacked the right way up. Avoid overfilling boxes; instead, use packaging to fill any gaps. Wrap furniture in blankets and, if you need to dissemble any items, store screws and fixtures in a bag close to the item or even inside it. Use new, sturdy boxes for storage and make sure that any shelving used is sturdy and the right size for the items you are storing.
Consider self-storage
If you have accumulated a number of high-value items, it's important that they are stored carefully to prevent damage. While many people opt to keep them in a garage, shed or loft, it is worth remembering that changes in temperature and problems with damp could affect your precious items and decrease their value. If you live in a flood-risk area, keeping goods in a shed or garage could also prove problematic.
This is why so many people are choosing to use self-storage options for their prized possessions. Offering damp-free, temperature-regulated conditions, self-storage is a low-cost way to ensure that valuable items maintain their value year after year. This also frees up space in your home, garage or outbuildings, allowing you to store less valuable items without cluttering up your home.
If you are based in the Stroud, Gloucester or Bristol area and are looking for somewhere to store your valuable items, get in touch today.