Trying to squeeze all of your possessions into a tight space can be overwhelming and frustrating. From clothing, footwear, books, kitchen items and beyond – it might feel like you're out of storage space! But don't worry; here are 10 brilliant ways to maximise the space potential in any home, no matter the size. 
With these expert home storage tips, you'll be able to declutter your living area while still having easy access to everything you need. So get ready – we're about to show off the best ideas for creating more room without breaking the bank or sacrificing style!
Decluttering and Organising: The First Step to Creating More Storage Space
Decluttering your home can be a daunting task, but it doesn't have to be. By following a simple method of creating piles for keep, sell, donate, and toss, you can effectively declutter your home and create more storage space.
Step 1: Create a Plan of Action
Before you start decluttering, it's important to create a plan of action. Start by choosing a room to tackle first. This will help you stay focused and make the task feel less overwhelming. Once you've chosen a room, make a list of everything that needs to be done in that room. This may include going through drawers, closets, and other storage spaces.
Step 2: Divide your items into 4 piles
As you go through each area, create four piles: keep, sell, donate, and toss. When deciding what to keep, ask yourself if the item is something you use regularly, if it has sentimental value, or if it serves a specific purpose. If your answer is yes, then it's worth keeping the item. But if your answer is no, then you may want to think about selling, donating, or throwing away the item.
You can donate items by taking them to your nearest British Heart Foundation charity shop. Alternatively, if you have furniture or appliances to donate, you can arrange for them to be collected for free and at a time convenient for you.
Step 3: Throw Away Items Responsibly
Items that are no longer useful or in good condition should be tossed responsibly. This may include recycling or properly disposing of items such as electronics, batteries, and hazardous materials.
Step 4: Repeat the Process in Each Room
Once you've completed decluttering one room, move on to the next room and repeat the process. Remember to stay focused and take breaks when needed to avoid feeling overwhelmed.
By following these easy-to-follow steps, you can effectively declutter your home and create more storage space. Remember to take your time and stay organised throughout the process. With a little patience and determination, you can turn your cluttered home into a clean and organised space.
Home Storage Tips: 10 Ways to Boost Storage Space in Your Home
Now that you have done a thorough decluttering of your home, you may still be left with smaller items that are creating clutter or don't have a designated storage spot. In this case, we have compiled a list of clever home storage tips to increase your storage space while still keeping your home neat and tidy.
1. Purchase a Storage Bed
Storage beds are a great way to store extra blankets and linens. This type of bed typically has drawers built into the frame that can accommodate large items such as pillows, duvets, and comforters. You can also have a custom bed frame built according to your specifications, which will match the aesthetic of your home and ensure that your mattress perfectly fits on top.
2. Create More Storage Space with a Mudroom Bench
A mudroom bench is an excellent way to add extra storage space to your home. This type of bench typically has cubbies or drawers underneath for easy storage of items such as shoes, gumboots and other grubby items. You could also choose one that goes further up the wall and features a top shelf and hooks, providing the perfect spot to store coats, hats and umbrellas.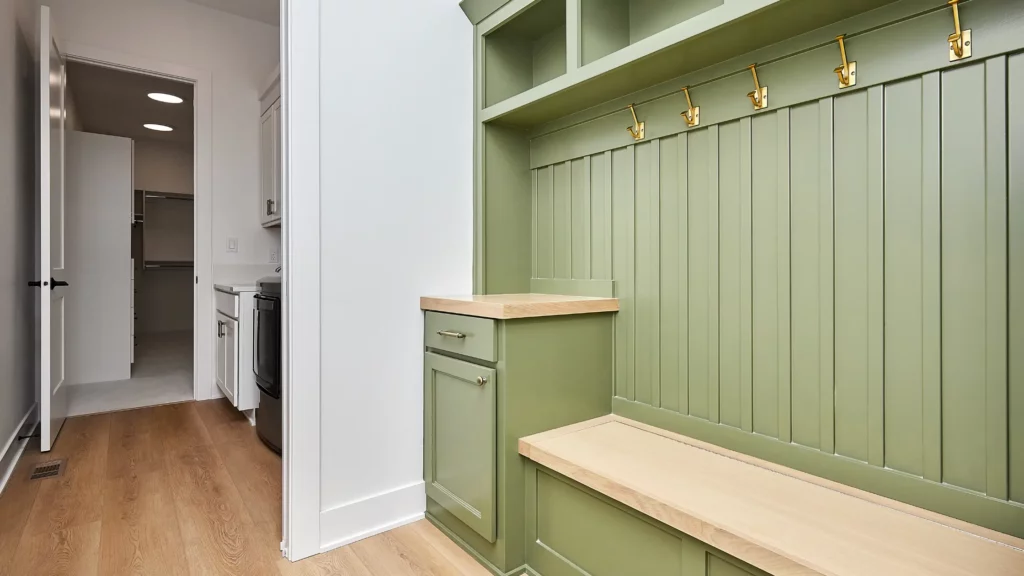 3. Add a Statement Storage Chest
Statement storage chests are a stylish way to store extra items in your living room or bedroom. These chests are usually made from wood and provide a deep storage space under the lid for you to store items you would prefer to keep out of sight. The varnished lid can be used as a side table, and you can add items such as statement books or candles on top to add to the aesthetic.
4. Knee-Wall Dresser
By recessing a chest of drawers into the knee wall of an upstairs bedroom, you can convert unused space into a valuable storage area. This will give you a full-size, eight-drawer chest without taking up any floor space.
5. Storage Ottoman
The ottoman can serve multiple purposes, like being used as extra seating, a footrest, or even a coffee table with the addition of a tray on top. Storage ottomans have storage space under the lid, making them the ideal place to store books or blankets.
You can also customise the upholstery according to your home decor and needs. For instance, you can choose stain-resistant material if you have pets or kids or suede if you prefer a more luxurious feel. Additionally, you can select the height and style of the legs to match your existing furniture.
6. Install a Bath Towel Keeper for Added Storage Space in the Bathroom
Adding this type of shelving to your bathroom is an excellent way to increase storage space. These usually come with a shelf with hooks underneath. You can hang bath towels and hand towels in use below the shelf and then add folded clean towels on the shelf above.
7. Kid's Toy Chest
This type of chest is perfect for children's toys and can be placed in their bedroom or playroom. Toy chests come in all sizes, so you can choose the one that suits your needs best. They also come with easy-to-use lids, handles on the sides and are usually made out of wood to ensure they last
8. Wall Mounted Pot Rack
Mounted pot racks are perfect for kitchen storage and can be mounted on the wall or ceiling to save space. It can hold a range of pots, pans and other kitchen items. It also gives you an easy way to access them when needed. Additionally, it will help keep your kitchen counters and drawers free from clutter.
9. Adjustable Wall-Mounted Shelves
Wall-mounted shelving made from metal standards, adjustable brackets, and ready-made shelves is an effortless way to create ample and convenient storage. This type of system is quick and easy to install and perfect for various rooms in your home, including a kid's room, home office, laundry room, walk-in closet, pantry, or any other room.
10. Increase Storage Space at Home with a Self Storage Unit
If you are looking for extra storage space, self storage units offer a secure and convenient way to store your things. Self storage is an affordable solution as well, so you can keep items safe without breaking the bank. With 24-hour CCTV surveillance, pest control systems, and other safety features in place, you can feel confident knowing your items are safe and secure.
Self Storage with Space Centre
Self Storage at Space Centre is the ideal option for those who need extra space to store seasonal items, furniture, or other belongings that may not fit inside their house. No matter what your storage needs are, self storage is a great solution to help you increase the storage space in your home.
To learn about our storage units and prices, please visit our website and select the facility that is closest to you. Our locations include Gloucester, Stroud, Bristol, and Stonehouse.