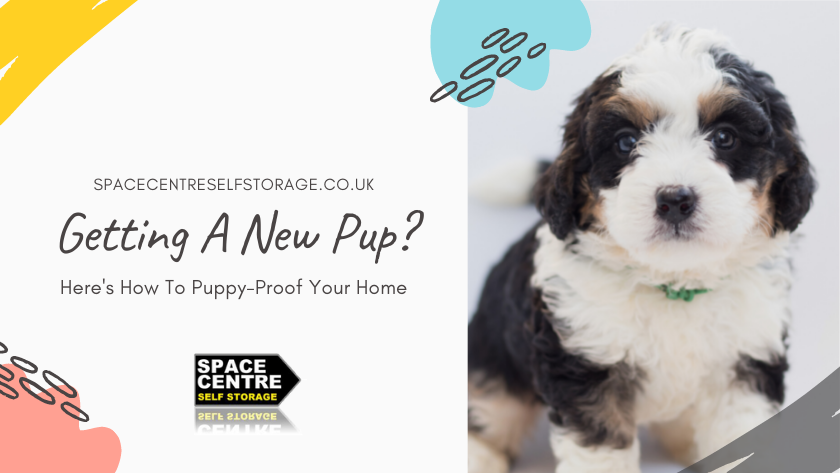 No matter how bad your day was, a puppy can change your mood in a heartbeat with their unconditional love and cuteness overload. However, that elation can quickly turn into frustration when getting home to a chewed up sofa or wires and puppy messes on the carpet. In this article, we share some valuable puppy-proofing tips and how short term self storage can help.
Is Your Home Puppy-Ready?
Before you focus on getting your place ready, the first thing you should do is make sure your puppy feels comfortable when they enter your home. Do you have enough toys, blankets, treats and the right type of food for them? What about a basket or crate?
And of course, don't forget cleaning equipment, newspaper or puppy training mats. As cute as puppies may be, they are effectively babies and won't automatically know to do their business outside. It's almost guaranteed that they will mess inside and that means having to clean up more than you realise.
How To Make Your Home Safe For A Puppy
Once you have everything you need to make them feel at home, it's time to put in place some safety measures. Pets are masters at finding the one spot in a home where they can very easily get into trouble. Puppies don't know what is safe and what is not so it's your responsibility to teach them the difference and prevent them from being exposed to harmful things.
For those living in a flat, it's important to keep your pup in a designated area as there may be certain rules to adhere to. In some instances, there may also be restrictions on the number of animals you are allowed so it's best to find out all the details first.
Whether you live in a bungalow, end-of-terrace or a flat, this handy guide can help you properly prepare your home for a puppy.
Puppy Preparation Tips And Short Term Self Storage
There are several key things you should do when puppy-proofing your home and it all starts by making a list of obvious dangers in your home. One way to do this is by getting down on all fours to see the world from their perspective. You'd be surprised what is within reach of a nosy puppy.
Pay close attention to things that dangle, such as wires, cables or curtains. Another consideration is low coffee tables or side tables, especially if there are delicate or breakable items as these are vulnerable to wagging tails and playful paws. Move anything edible, including fruit, nuts and houseplants higher as many of these can be toxic.
How To Puppy Proof Furniture
One way to protect your furniture is to put what you are not using into short term self storage. This will ensure your sofas and chairs are in a clean, dry and secure place until your pup is trained. Short term self storage is a popular option as it's super convenient and affordable but what about the furniture that stays at home?
For added peace of mind, protect your furniture using throws, blankets or old sheets to cover the fabric. This provides extra protection against accidental damage from sharp nails or teeth, stains from dirty paws and loose fur.
Of course, you can also train them to stay off the furniture but that is easier said than done. Puppy training is challenging and requires patience, perseverance and lots of repetition. If you have antique furniture whether it's a sofa, rocking chair or coffee table, consider putting them in one of our short term self storage units.
Set Clear Boundaries
Even the best of us have fallen victim to those puppy-dog eyes but it's important to set clear boundaries in and around your home. Try to keep some rooms off-limits, especially if you are storing cleaning chemicals or household waste.
Considering the dangers stairs pose for people, imagine what it means for dogs. If possible, keep staircases dog-free to minimise the risk of injuries from falling. A great way to cordon off the area is by using stair gates that attach to any door and can be fitted with no lasting damage to your doorways.
Keep Toxic Houseplants Out Of Reach
You may not know this but many common houseplants are potentially dangerous for dogs and especially puppies. This includes lilies, aloe vera, ivy, dieffenbachia, caladium, pothos and cyclamen. We recommend keeping all your houseplants out of the pup's reach or make sure they don't pose a threat.
Keep Your Rubbish Bins Clean And Closed
Rubbish bins are a buffet or fascinating smells to a curious little puppy so keep them covered and secured. When puppies are left alone, they could easily consume something toxic or swallow an object that causes internal obstruction. Even their head can get caught in a plastic bag which puts them at a greater risk of suffocating.
Give Them Their Own Space
Whether it's a crate, a doggy basket or a comfy spot on the sofa, your pup deserves a "safe space". Puppies often look for a place they can retreat to and be contained in if you're not at home. Crates may not be everyone's cup of tea unless they have to but it certainly does make life so much easier. A crate is particularly handy when travelling, taking them to the dog groomer or when they have to stay at the vet for a short while.
Garden Safety Tips For Puppies
If you have a garden, make sure it's enclosed and check for any holes, openings or weaknesses. Remember, puppies love exploring and if they see an opening, they will try their best to squeeze through. If there's no fence, make sure you never leave your dog unattended and keep them on a lead as far as possible. Remove any rodent traps or insect bait stations that the pup can access indoors and outdoors as these are often deadly to any pet.
Other Tips To Help Your Puppy Settle In And Keep The Safe
Puppies like to stay busy so make sure you entertain your dog indoors with toys such as Kongs. These are not only boredom busters but also great for doggy training and mental stimulation.
In addition to a Kong, get a variety of chew toys as your puppy will go through a seemingly never-ending teething stage. Besides that, chew toys will also keep prevent them from chewing on other items, such as furniture or table legs, skirting boards and shoes.
As far as possible, keep your toilet lid closed especially if your puppy is tall enough to put its face into the bowl. Nobody wants puppy kisses when they've been drinking from the toilet, not to mention the hygiene aspect of it all.
Need A Short Term Self Storage Unit?
Getting a puppy might actually help organise things better. When you go through everything you don't want your pup to chew or damage in any way, you'll automatically start seeing things you may not need or want anymore. This is the perfect opportunity to declutter and get your house in order.
Short term self storage units are perfect for storing furniture, sporting equipment, documents, toys or clothing. At Space Centre, we offer long term and short term self storage units at secure compounds with alarms, CCTV and smoke detectors for added peace of mind.
With us, you don't have to pay a deposit and we don't charge extra for changing to a different sized unit (if it's available). Please give us a call or get in touch via the website for more information and check out our Price And Size Guide.