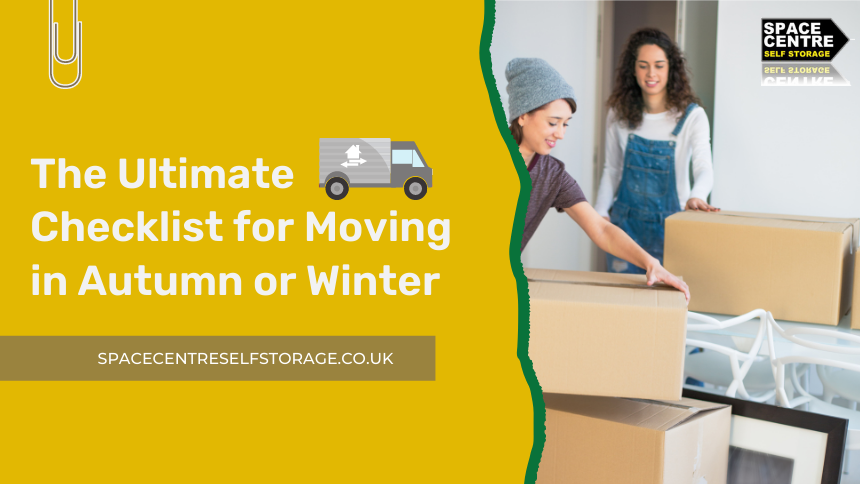 As winter starts closing in with longer nights and colder weather, moving house can be challenging. The good news is that if you are better prepared and follow our guide, the process should go a lot smoother. If you need some advice on how to move in winter, this checklist can help.
Moving House Checklist For Autumn/Winter
Regardless of where you are going, knowing how to prepare for moving house in autumn or winter can help ensure everything goes according to plan. Moving home during the cold and wet UK weather presents several challenges but here are a few things to plan for.
Why You Should Start Early
In the UK, winter means the sun sets as early as 4.30 pm so you should start the day as early as possible. Packing the car or van in the dark or rain is not ideal so it's important to prepare for anything. Make sure you have sufficient lighting and that includes outside fixtures that can light up pathways or the driveway. Still, things can go wrong and if that happens, keep spare bulbs and torches handy. You should also start planning your decluttering and packing routine as early as you can to avoid rushing at the end.
Decluttering And Packing Early When Moving House
Moving house may be stressful but it also provides you with an opportunity to organise your belongings. By going through your things you will find items you forgot you had and probably will never use again. When decluttering and packing up your house, do so one room at a time so you don't get overwhelmed.
It's easy to lose track of things when planning a move, so go through everything carefully. Make sure you throw out things you are not going to keep as the fewer boxes you have, the easier the move will be. This means being firm when deciding which pile to put items into. We use the 5-pile system: sell, donate, recycle, bin or household storage.
Recommended: Top Packing Tips Even Professionals Rely On
Packing Tips And Protecting Furniture
When looking for moving boxes, make sure they are specially designed for removals. While practical, supermarket packing boxes or those from old appliances are not as durable as many people think. They are more likely to break if they get damp or wet which is always possible when moving house in autumn or winter.
When it's raining or snowing, cover anything that could get damaged. Use plastic sheets, blankets or protective coverings and use extra tape as it may come unstuck when things get wet. A tape gun is a great investment as it makes sealing boxes so much easier. If you are moving big items like a piano or artwork, make sure you talk to the movers and be organised as you don't want them exposed to the elements for longer than necessary.
Be Prepared For All Types Of Weather When Moving House
As good as it may be to plan ahead and use the most experienced removal company, sometimes the weather won't play along. If it delays your move, contact your removal company and work with them to make sure everything goes as smoothly as possible.
If cancelling and rescheduling is the best course of action, we recommend doing just that. The last thing you want is to put yourself, the movers and your belongings at greater risk. Here are some tips on how to prepare for all weather conditions:
Prepare For Icy Road Conditions
If you are moving house yourself, make sure you plan for potentially icy conditions on the road. Do some basic winter car checks including the oil, battery, tyres, windscreen wipers and anti-freeze. Don't forget to keep a torch and shovel in the car just in case and get some breakdown cover. Leave extra time in case you need to change your route.
Make Sure The Heating Is On
Switch the heating on as soon as you arrive at your new home and make sure all radiators are turned on. Make a final check of your gas and electricity meters before leaving the old property so you have an accurate reading for the council.
Finding A Moving Company You Can Trust
The festive season is one of the busiest times of the year for removals companies as it coincides with school holidays. This extra demand means removal companies are often over-booked so you should give them as much notice as possible. We recommend that you only work with reputable moving companies in the UK and one of the best places to find them is which.co.uk. An experienced, reputable removals company will have the necessary experience to handle nearly anything that comes their way.
Related: House Insurance For Goods In Transit
What An Essentials Box Should Include When Moving House In Winter
Always pack an essentials box with the weather in mind, especially in autumn and winter. Keep it out of the way and far from any other packing boxes so movers won't pack it by mistake along with everything else. Here are some of the most important items to include in your essentials box:
Related: Tips When Moving With Pets
Moving House With Space Centre Self Storage
Many people rely on household storage to keep their belongings clean, dry and safe until they need them again. It is the easiest and safest way to store washing machines, tumble dryers, dishwashers, beds and other furniture. We offer FREE storage insurance up to £3000 without any upfront deposit and you can use our provider or your own.
As self storage experts, we can provide you with essential advice, moving boxes and packing materials. We are here to help make your move as smooth as possible so contact us today. Our friendly, professional and trained staff are ready to assist in any way they can. You can find our conveniently located storage facilities in Bristol, Stroud, Cheltenham/Gloucester and Stonehouse.