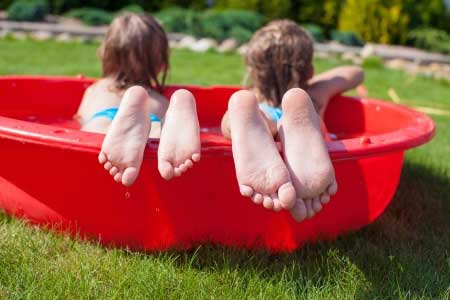 Goodbye winter, hello spring and summer. It's that time of year, again, when we all start dusting down the barbeque, retrieving the garden furniture and swapping our winter woollies and jeans for a T-shirt and shorts. And of course, for those planning some time away, it's time to search the loft for your beach towels, bikinis, trunks and beach toys.
If all goes well, for the next three or four months, you can soak up the sunshine and spend every available moment, either in the back garden or on the beach. Summer is here!
Before you start lazing in the garden or booking your two weeks on the Algarve, don't forget that you will need some summer storage. The appearance of your barbeque and furniture will create some much needed space in the shed or garage. You will also need plenty of summer storage space elsewhere to get the not-so-fun things out of the way.
FIVE tips on how summer storage can make your summer even more enjoyable.
Winter clothes
Most families enjoy a winter walk and have a cupboard brimming over with walking boots, winter trousers, heavy jackets, gloves, scarves and back-packs. If so, you will almost certainly want to get them out of the way during the summer months. Pack them in a case, along with any ski garments you might have, and find a suitable summer storage space. You can use your loft for this or if you do have a small self storage unit, you can use this. But make sure you cover your clothes before storing them. It will give them that bit of extra protection. There are some good tips in this article.
Trailers
What about the trailer that came in so useful during the spring to cart away all those fallen leaves, branches, twigs and mess that accumulates over the winter months? A small self storage unit is ideal for this. However, if you do decide on going down this route, make sure you prepare your trailer for a summer in storage. Remove any dirt or mess that could eat into the bodywork and clean any excess mud from the wheels. Also, get a cover to protect it. Self storage units are normally damp free and secure, but you can never be too careful.
General de-cluttering
A change of season is always the best time to undertake a spot of de-cluttering. No doubt the kids have brought home their schoolwork, projects, pictures and winter games equipment and just dropped them in the nearest available space. Why not put aside a day or two to sort out each room and either store in your outhouse, shed, garage or self storage unit. Any items which will be surplus to requirements over the summer are best out of the way. Remember, if your child is a cricketer, they will need extra space in their room to store the bat, pads, gloves and helmet.
General summer storage space
Many people use summer as an opportunity to make renovations to their home. If that's you, don't forget, you'll undoubtedly need to clear up space and move your belongings elsewhere while you work on your roof, lawn, garage or outbuildings. Storing your items in a storage unit while you make your home improvements will ensure they are kept out of the way and not damaged or tainted while you hammer and paint your way around your home.
Swimming pool and trampoline
If you have some spare cash and fancy your first above ground swimming pool or an adult-size trampoline, don't worry too much about where you might put it come autumn time. Remember, a safe, damp free self storage unit is ideal for something like this. No long-term contracts, just a specified area to keep your belongings, with peace of mind too. More importantly, having additional space means less clutter at home.
If you've been down the self storage route to help house your winter belongings during the summer months, let us know about your experience and whether or not you have any additional tips.
If you are in the North Bristol or Gloucestershire areas of south west England, and need some advice why not contact us at Space Centre Self Storage ?

If all goes well, for the next three or four months, you can lap up the sunshine and improved temperatures and spend every available moment, either in the back garden or on the beach. Summer is here!