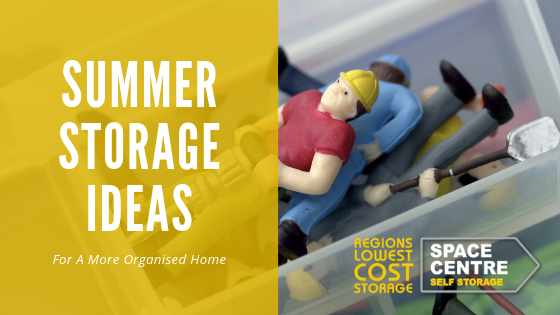 Summer is almost in full swing and that means spending more time outdoors with family and friends. But before you can enjoy all the activities, you should look into summer storage ideas for garden toys, splash pools, garden equipment or furniture.
The warmer weather is ideal to spend some time decluttering your garage or garden shed to make more space. Rather be organised now than leave everything last minute whether you want to store excess summer things or prepare for winter. If you are like many other families with too much stuff, you can always opt for a self storage unit.
Summer Storage Ideas
Before you start making plans to relax in the sun, you need to come up with smart summer storage ideas. With your barbeque and garden furniture out of the way, you will have more space in the shed or garage but don't forget that you'll need to pack everything back at the end of summer.
Organising And Storing Winter Clothes
Apart from toys, winter clothes often take up the most space which is just unnecessary. The moment summer hits, you should ideally pack away most of the winter boots, winter trousers, jackets, scarves and gloves. Pack everything in a clean suitcase or find another suitable summer storage spot.
For those with a loft or spare room, storing winter clothes is a little easier but if you don't, you could rent a small self storage unit. Whatever you decide to do, make sure that you wash your clothes and cover it before storing them. There are some really amazing tips in this article.
Summer Storage Solutions For Toys
While it's important to keep garden toys dry and protected during winter, the problem is with the constant packing and unpacking. It's usually manageable but when all the toys come out at once, putting everything back is challenging. Many parents will agree that toys often take over the backyard, garage, garden shed and the house. Luckily, there are many creative summer storage ideas for toys that you should seriously consider. We've highlighted a few of our favourites below.
Weather-proof Outdoor Toy Bins
These bins refer to plastic buckets or tubs with or without lids but if you're storing it outside, make sure the lids seal properly. If you're using large buckets leave it outside, drill holes in the bottom so any excess water can drain out keeping toys dry and in good condition. You can even buy large toy storage bins online as they have great capacity and wheels for easy handling.
Storage Boxes or Containers
This refers to stackable recycling boxes or containers with a tilted front design for easy access even while stacked. Considering they are weatherproof, these are ideal for storing small outdoor toys and sporting equipment. Some of these boxes have a see-through panel in the front making it easy to find what you are looking for. If you're not using clear ones, remember to label every box using a permanent marker. Be specific about the content and write in big letters so everyone can easily identify what's inside.
Multi-Purposed DIY Rolling Storage Cart
This rolling storage cart is ideal for storing all kinds of things from balls, rackets, gloves and pool noodles to skateboards and more. You can actually build one yourself and here is a simple guide on how to do it.
Rolling Garbage Bin
This is without a doubt one of our favourite summer storage ideas. If you buy one for the specific purpose, it's inexpensive, durable, practical and perfect for balls and other outdoor toys.
Outdoor Bench With Built-in Storage
If you haven't done this yet, it's about time you did purely because it serves two main purposes – extra seating and hidden storage. While some have drawers underneath, others are designed with a lift-up seat for easy access. Even though it is ideal for storing garden toys, you can also use it for cushions, tools and other accessories.
Swimming Pool and Trampoline
If you have a paddling pool or an adult-size trampoline, finding a safe storage spot could be challenging. Perhaps you have a big enough garage but not everyone has that luxury. To keep it truly safe, dry and in good condition for next season, rent a small self storage unit. It's safe, dry and damp-free which is ideal for storing these types of items. It not only offers complete peace of mind knowing your belongings are safe but it also saves space at home.
Conclusion
These summer storage ideas will help you declutter while keeping everything in good condition throughout the seasons. Storing things properly means there will be fewer items to replace next year which is often an expensive exercise. This also refers to storing and taking care of garden furniture to extend their lifespan.
Please get in touch if you need more information about our storage units and prices. Our friendly, professional and experienced staff are happy to answer any questions you may have. Check out our price and size guide to help you find the right storage unit for your requirements.