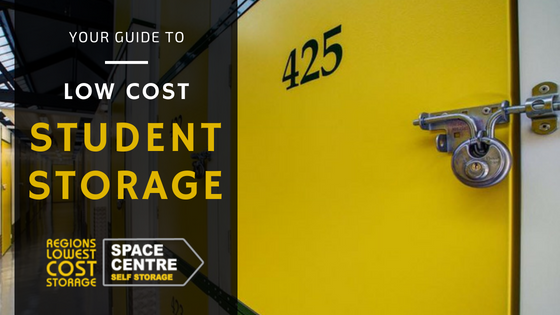 It's nearly that time of year again when university students start winding down. June signals the mass exodus of students from campus and accommodation looking for safe student storage options. For those forced to leave due to landlord agreements, where will you store your belongings for the summer?
Your clothes, laptop and other valuables will go home with you but what about everything else? Do you really want to bring home car loads of pots, pans, dishes, your DVD player and television? The biggest downside is that you'll have to load it all up and take it back again in 12 weeks. Right about now you should really think about renting a student storage locker close to university.
Temporary Student Storage Lockers
Many students live in accommodation much smaller than their family home which means less space. To solve the problem, many have turned to student storage lockers at local storage facilities. It's a great way to keep the clutter to a minimum and keeping everything safe.
Few students live in their accommodation all-year and most will go on holiday or make trips home to see family. Using student storage can be useful for several reasons especially if you don't stay in the accommodation throughout the year. Leaving your things in accommodation when you go on holiday can be risky as you don't know who will have access to your stuff. This is especially the case when living in shared accommodation and your housemates regularly invite friends around.
In addition, temporary student storage is a great way to pack away items you are not taking home but could get in the way of your housemates. This could be electronics or sporting equipment like bikes or kayaks. It's always a challenge to pack and carry everything back-and-forth between home and university. A storage locker is a more convenient and affordable way to store anything you don't need and want to keep safe.
Self Storage Tips For Student Lockers
If you don't have space for everything at home, a student storage locker really is the ideal solution. That said, there are a few things to keep in mind if you're leaving things in storage long-term.
Make sure the appropriate weekly or monthly payments are set up
Pack all your belongings properly. Items need to be clean and dry before they go into your storage locker to prevent mould.
Don't overfill boxes as it could result in unnecessary breakages
You have the only key so if you're not going to be home for a while, consider leaving it with someone or keep it somewhere safe to make sure it doesn't go missing
Make sure the storage facility has the contact details for someone else to contact in an emergency. Life happens and if something goes wrong and the facility can't get hold of you, you risk losing your belongings.
How To Properly Pack Your Belongings
Let's look at a few tips and tricks to pack your valuables when renting a unit for all your student storage needs.
Clean your books properly. Make sure they are clean as dust, food residue and other dirt can result in permanent and expensive damage
Choose the right container or storage box. If you're using old cardboard boxes, make sure that they are clean, dry and properly sealed. Clear plastic storage boxes with airtight lids are ideal.
Lay books flat or stand them upright with the edges of the paper facing upward to prevent warping and bending
Avoid boxes previously used to store food as odours and food residue can attract insects and rodents
Wrap valuables in bubble wrap or soft towels
If you are at university in Bristol or Gloucestershire and need a safe place to store your things, get in touch. We can advise you about packing and how much space you'll need as well as answer any questions you may have. Self storage truly gives you peace of mind knowing everything is safe, dry and out of the way. Our drive-up units also make it super easy to load and unload.
Consider renting a self storage unit at Space Centre Self Storage. We guarantee our prices for 12 months and you don't pay extra for moving to a smaller or larger storage unit. We have storage facilities in convenient locations in Bristol, Stroud and Gloucester.