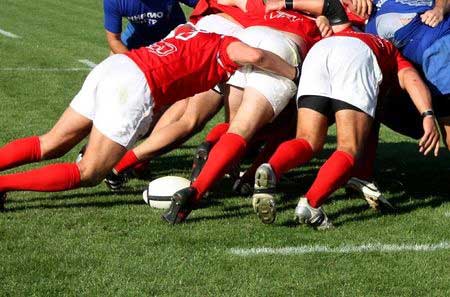 For many business owners in London, Cardiff, Manchester, Leeds, Leicester, Gloucester and Exeter, rugby's 'Greatest Show on Earth' will almost certainly mean extra business.
As the predicted hoardes of fans, from all over the world, arrive in 'Blighty', ready to sample the local cuisine and take home a piece of British memorabilia, it means an increased supply of stock is required to meet the greater demands.
The chosen rugby grounds, who will play host to at least one game, will have already ordered the official Rugby World Cup merchandise. Of course, some will need extra storage space during the build up and the duration of the tournament.
Likewise, city centre shops will need to find extra space too. After all, with adequate stock and good organisation it's an ideal time to make hay.
Do you have a business that could prosper throughout the Rugby World Cup? Have you begun planning, ordering and organising where your stock will go? Would hiring storage units help you?
Here are 5 tips to help make Rugby World Cup 2015 a busy and prosperous time for your business
1 ORDER IN ADVANCE
If you want to make the most of the Rugby World Cup, plan early. Order your stock and make sure of your delivery date. Give yourself time for late delivery. There would be nothing worse than receiving stock half way through the competition when many supporters have either already bought or gone home!
2 SELF STORAGE UNITS
Having ordered your stock, it's very likely that you will need extra storage space. Hats, scarves, shirts, bags, coats, replica kit, all takes up room and your on site storage cupboards might already be overflowing with stuff.
Storage units can be valuable in terms of how much stock you can realistically order. Why not find suitable self storage units in the locality and make sure that your goods are stored in readiness? Preparation is nine tenths of the law when it comes to selling.
If you go down the route of a self storage unit or storage units, remember that storing your goods is an art form. DON'T just throw things in to the unit and hope for the best. Label them, stack them properly and make life easy for yourself when it comes to transferring the goods from your storage units to the shop.
3 WHAT THE FANS WANT
Remember, fans are not just coming for the rugby. Many, especially from the southern hemisphere, will be on two or three week tours and will take in the sights and sample the local cuisine. If you are wondering whether or not your business fits the bill, for the fans, take a look at the Visit England RWC 2015 video below.
You can find more information from the Visit England RWC 2015 website here.
4 MARKET STALL
Like all of us, rugby fans will be on the lookout for a bargain. Seize the opportunity and look into the cost of a market stall. Supporters enjoy browsing and will almost certainly buy, if the price is right. Once again, plan early, don't leave anything to the last minute. Don't be tempted to just set up stall without applying for the appropriate licenses etc. – it will only cost you in the long term.
5 OFFICIAL MERCHANDISE
Make sure the goods you order are official. Look into how you can purchase the official merchandise. It's a fact that rugby supporters are happy to pay for official merchandise rather than go home with a copy!
Have you already started to plan for the Rugby World Cup 2015? Maybe you're a retailer or hospitality business that has experienced a big event like this in the past. What's your advice to others about preparing and making the most of this opportunity?
If you are a business based in Bristol or Gloucestershire and are busy planning your storage requirements for the Rugby World Cup, get in touch. We'll be happy to help and advise you.
Image
Copyright: / 123RF Stock Photo