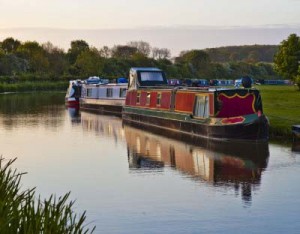 Do you own a narrow boat and feel that storage space is becoming an issue? Are you planning a narrow boat holiday and need some storage solutions before you start messing about on the river?
Holidaying on a boat sounds idyllic; ambling along the canal with the sun on your face and a glass of something cool in your hand. But the realities of storage space on a boat can sometimes come as a bit of a shock!
Whether you are holidaying on a boat short term or have decided to take the plunge and live on a house boat there are ways you can utilise every inch of room to make life a little easier.
Here are 10 leading tips for storage solutions on a narrow boat.
1. Hang it up
If you are short of cupboard space in the kitchen of your canal boat, you could always fix a few hooks on the wall and or the side of your cupboards to hang up your pots and pans.
2. Seek out dead space
Where your corner cupboards meet, there is, invariably, enough room to squeeze in a small drawer. It could be big enough to use as a cutlery or documents drawer. Remember, there will always be plenty of dead space in each of your rooms. You could put shelving right up to the ceiling for example.
3. Baskets and boxes
You can purchase some attractive rustic looking baskets and boxes which could be used to store your condiments, bathroom belongings or cutlery. This will save you cupboard or drawer space. Baskets are always easy on the eye.
4. Raise the bed
Have you ever thought how much wasted space you have beneath your bed. If you raised the actual framework of the bed, it would create enough space to house large boxes or plastic storage boxes. These could be used for anything you like including shoes, clothes, towels or coats.
5. De-clutter
When you have some free time, take a walk around your boat and see what you do and more importantly DON'T need. If you de-clutter, you will create more space. Remember, narrow boats are not for people who hoard!!
6. Use your head
Sit down and think about ways of saving space. You could easily cut down on the numbers of knives, forks, spoons, plates, dishes and glasses. Why have a full dinner set when you are unlikely to use more than two or three at any one time.
7. Floor to ceiling shelves
We all know how important shelves are when it comes to storage. Why not find an area where you can install a floor to ceiling shelf? You could use it to store glasses, condiments, maps and maybe your kitchen and bathroom goods. There is no rule stating you have to store kitchen goods in the kitchen or bathroom bits and bobs in the bathroom.
8. Vacuum pack storage bags
Will reduce the amount of space needed to put away clothing and soft furnishings. The bags are made of clear plastic, making it is easy to see what's inside.
9. Take a Kindle rather than books
If you are a lover of reading, instead of having lots of books consider taking these books to a charity shop and swapping to a Kindle or other eReader .
10. Roof boxes
Many people use roof boxes on the top of the boat to store items. However, remember, care needs to be taken with the height of the roof boxes so that they are not going to affect going through a tunnel!
If you are looking to buy a narrow boat or already have one in mind, why not pitch up at the Inland Waterways Association Waterways pageant at Saul Junction this weekend on August 23-25. You can take a look around various narrow boats and maybe get a few storage ideas of your own.
You can also find more information on the Saul Junction event here on the Inland Waterways Association site
If you have decided to take a long trip or move permanently onto a boat and need advice about storing things that you can't take with you but can't bear to lose either, get in touch. We'll be happy to talk through the options available to you, whether that's with us here in North Bristol, Stroud and Gloucester or in your own part of the world. Don't forget, where your more permanent long term mooring is sited may impact where you want to store your goods.