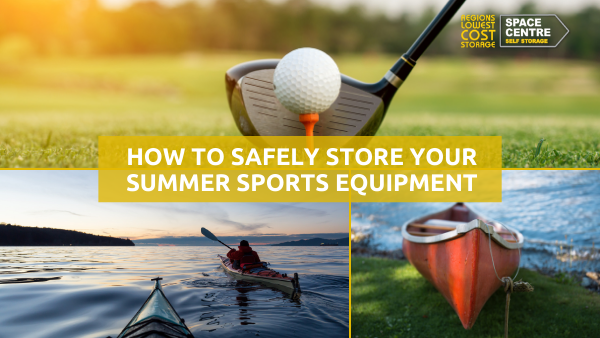 If you're like us and love the outdoors whether it's cycling, golfing, canoeing, kayaking or paddleboarding, winter is never a welcome sight. However, it is inevitable and with that comes the responsibility of safely storing sports equipment. Considering most of it is rather expensive, these sports equipment storage tips will help keep everything in excellent condition for next season.
Sports Equipment Storage For Winter
With summer sporting gear and equipment taking up too much space, what are your plans for keeping it as good as new? The worst thing you can do is dump everything in the cupboard, garage or storage shed as it could cause premature wear and tear. Besides, you don't want next season to be all about repairing or replacing a damaged canoe, flat bicycle tyres or rodents living in your golf bag.
With winter around the corner, it's best to follow these sports equipment storage ideas that will help turn your home into a more organised space without all that unnecessary clutter. From storing golf clubs, canoes and kayaks to bicycle storage and maintenance tips, we've got you covered.
How To Prepare Your Bicycle For Storage
With summer in the rearview mirror, finding a suitable short-term storage solution for your bicycle is essential. Whether you're assembling a bicycle storage shed or using your garage, there are certain things you need to consider. Did you know that maintaining and servicing your bike is as important as storing it correctly? Here are a few important steps to take before putting it in storage
Keep your tyres inflated otherwise it could cause lasting damage if left flat
Clean and oil the chain
Spokes should not be loose and have equal tension
Keep screws, nuts and bolts tight but not too tight
Wipe the frame to remove dirt and mud making sure it's dry before putting it away
Inspect the frame for signs of structural damage, especially near the weld spots or on the bottom bracket
Wipe down saddle, tyres and handgrips
Inspect brake pads and wheels for wear or damage
Bicycle Storage Tips From The Pro's
It's best to store your bicycle suspended from the ceiling or the wall. If possible, avoid storing your bike with the wheels on a bare concrete floor for extended periods. Set up horizontal wall mounts which are ideal for bicycles but also garden tools including rakes, brooms and shovels.
Don't store your bike in damp locations for longer than a week as corrosion could damage parts, especially the chain
Heat and sun can also degrade the plastic and rubber parts which could result in fading colours
If you have any sort of electrical device on your bike, cold temperatures can reduce the battery life
Repeated freezing and thawing can loosen and even crack bike parts
Cover your bike even when it's stored inside as small insects and spider webs can stick to the bicycle chain and other oiled components
Recommended: 'Creative Bicycle Storage Ideas'
How To Prepare Golf Clubs For Storage
If you're an avid golfer, you need to store your golf clubs the right way so they remain in pristine condition. It may be tempting to put it in the cupboard after a few holes but if you consider the cost of golf clubs today, you're better off taking good care of them. Here are a few simple tips that can help as an effective part of the wider sports equipment storage guide.
Before storing your clubs for winter (and after every game), make sure each club is clean. Use a cloth dipped in warm water to clean the grips and club heads
Carefully wipe them down to remove grease, dirt, dust and grime
Use a thick towel to thoroughly dry the club to avoid rust from forming over time
How Should I Store My Golf Clubs?
Always keep your golf bag in a dry, climate-controlled environment and avoid rooms with poor insulation or any form of damp environment. For added protection, put a rain cover over the golf bag as it can help keep it free from moisture, dust and bugs.
If you are not going to play golf at all during winter, your first step should be to remove it from the boot. The humidity factor plays a big role as rust can form which will make your clubs unsalvageable. You should only store your golf clubs in the garage if you don't have a moisture or humidity problem.
The best place to store your golf clubs for extended periods is inside your home or a quality self storage unit. Wherever you store it, make sure you keep it upright as this will prevent the clubs from getting damaged, dinged and tangled.
Preparing Kayaks And Canoes For Storage
Canoes and kayaks have similar preparation and storage requirements as improper care can easily lead to expensive damage. Both need special care and attention when putting into storage as some are made from fibreglass, plastic and epoxy-coated wood. Keep in mind these tips for protecting your canoe or kayak.
If your kayak or canoe has a wood trim, make sure to loosen the screws in gunwales. This will help prevent any unwanted cracks during winter storage
Remove all hatch and neoprene covers while leaving the hatches open
Use a cockpit cover on a kayak as it will keep animals safely out
If there is a float tank plug, be sure to remove it
Remove all salt before storing, especially if you use your kayak in saltwater
Always clean and do maintenance first as small repairs can save you loads of time when summer comes around again
How To Store Kayaks
Remember, your kayak will fare much better if there's no pressure on the bottom part of the hull. If you store it on a hard surface for long periods, it can begin to warp or dent. Instead, store your kayak upside down with the cockpit resting on the ground or its side.
You can also keep your kayak safe by storing it against the wall using L-hooks. Just make sure they are positioned to offer the best support and weight distribution. If possible, keep your kayak in a garage, shed or self storage unit.
When there's no other option but to store it outside, remove snow during the winter to prevent damage from excessive pressure. Make sure you cover and protect with a thick and durable tarp and tie it down. This will help protect it whilst allowing for some airflow.
How To Store Canoes
Avid canoers will know the importance of trying to store canoes indoors but it's not always possible. If that is the case, at least keep it in a shaded location and cover it properly. Extreme cold can also damage wood gunwales and deck plates so maintaining all the wooden pieces on your canoe is essential.
Most canoe hulls will deform or bend over time if exposed to uneven weight distribution so make sure you spread out the weight over its entire length when in storage. As with kayaks, never store your canoe upside down as it is too harsh on the gunwales. Avoid laying a canoe on its side for long periods as it can also lead to damage.
Sports Equipment Storage At Space Centre
Sports equipment can last for many years when you look after it properly. Things like golf clubs can be passed onto the next generation of superstars in your family as well as cricket and tennis among others. The most likely and popular sports equipment storage option is renting a self storage unit. These are ideal for seasonal sporting equipment as they are relatively inexpensive and far more practical than home storage.
At Space Centre, we have 24-hour security under lock and key and only you have a key to your unit. You only need a small to medium unit as that should provide more than enough space for safely storing seasonal sporting equipment. We have storage facilities in Stroud, Bristol, Gloucester and Stonehouse so please get in touch if you need help with self storage in these areas.