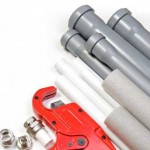 It's the classic question. "I'm a sole trader but don't have anywhere to store my tools." A natural concern for gardeners, plumbers, self-employed builders or plasterers who are looking to solve the problem of storing tools in a safe environment. After all, due to the escalating costs involved, there are very few sole traders who have an official premises. Your garage might already be brimming over with your personal belongings and the shed is hardly the most secure of buildings. Then there's the car or van. Well, we all know the risk you take by leaving tools in a parked vehicle outside or near your house.
So, what's the answer? Should you take the risk and paste a sign on the back of your van, suggesting there are no tools inside or maybe squeeze your spades, forks, wheelbarrows and ladders into the garage and pay the price for driving your car a little too close to them in the morning. There is no need for any of that if you consider self storage.
Storing tools in a self storage unit not only frees up space at home, but provides you with safety, security and accessibility. Furthermore, there is no commitment, no high rent or rates to pay and a flexibility to start and stop the storage whenever required to fit around jobs and how much work you have at any given time.
Of course, self storage companies will decline your request to store anything highly flammable or explosive (for insurance purposes), so that means no gas canisters or cans of fuel. However, lawnmowers can be stored provided they are drained of petrol.
Space Centre Self Storage has opened its doors to many sole traders and small businesses since the company opened the first of its four centres, in the North Bristol and Gloucestershire areas. Co-director Lucinda Dangerfield said; "Self storage is ideal for those sole traders and small businesses who want to keep their tools and or equipment safe and dry.
There is constant access to the units which are all monitored by our CCTV system and we find that the trader is happy to have somewhere, at the end of the day or week, to store those tools that, otherwise, would cause clutter about the house or garage."
"We also have a couple of customers who have installed their own shelving to make the space inside the unit more efficient."
"We have window cleaners, plasterers, decorators and landscape gardening companies, all of whom use our self storage because they don't have the space at home (or don't want the mess). What's more, they want to keep the higher value items somewhere safe.
They usually choose our external storage units as they can park their vehicle directly outside the door, load up and go.
Storage is a cheaper more flexible option than having a commercial premises and we do smaller units starting from just 10 sqft ideal for tool storage or gardening equipment."
If you are a sole trader and use a storage unit or have any tips for our readers on the way to store their tools or equipment, why not share them in the comment box below.
If you have a question about storing your trade tools or equipment contact us.