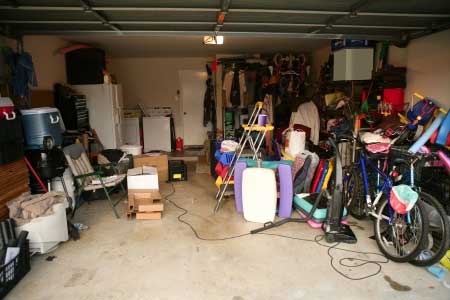 If your garage has become overcrowded and space is at a premium, why not de-clutter and look for some handy garage storage solutions.
With a little effort and a lot of organisation, you can not only clear your garage but you can sort out suitable storage options.
Do this job properly and you'll have space for all your tools, gardening equipment, bikes, sports gear and maybe even your car too!
Remember, your garage is not a dumping ground and like any other room in your house, will benefit from a little care and attention.
Here are SIX useful tips to help with your garage storage.
1. DE-CLUTTER
First and foremost, it's important to de-clutter your garage and throw out what you don't need. You will probably have plenty of old boxes, shoes and the like which are simply cluttering up your garage. Be ruthless! Don't store unwanted items for the sake of it. You might even earn some money out of those unwanted goods. Instead of throwing them in to the boot of your car and transporting them to the local refuse site, why not pop one or two items on ebay or take them down to your local car boot sale.
2. SHELVING
Shelving is key to utilising your garage space. Treat yourself to some suitable shelving which can be used to store your paint pots, tools, petrol cans, or anything else that would otherwise clutter your floor. Make sure you position the shelves at the right height and not too close to the door. There's nothing worse than banging your head on the corner of a wooden shelf!
3. HOOKS
Are you a keen cyclist? Do the children have bikes that are taking up valuable space on your garage floor? If so, why not consider a number of hanging hooks. Hanging a bicycle from an S-hook in your garage is an easy way to save space. Three walls, three bikes out of the way. However, if you decide on hooks as one of your garage storage solutions, make sure you attach them properly to a strong rafter or stud. There are some great tips and handy DIY solutions in this Wonderful Engineering article: 40 Awesome Ideas to Organise Your Garage
4. PEG BOARDS and RUBBISH BINS
If you have a number of garden tools, like rakes, spades, forks etc. you would be well advised to use a peg board. A pegboard has small holes, allowing you to select specific areas for each hook or basket, which ensures you have ample room on for each item. This will allow you to remove clutter from your garage while organizing it. If you do have enough floor space, you could store all of your garden tools in one sturdy rubbish bin. Large bins can also come in useful for storing sporting equipment like, skateboards, balls, bats and gloves.
5. ORGANISATION
Organisation is nine tenths of the law when it comes to saving space. Use clear plastic containers to store small items like screws or nails. Clear containers also make it easier to see what's what. Making an inventory is also useful, especially if you've got lots stored. It might seem a little OTT, but a list of what is stored and where you've stored it, will certainly help with locating specific items at a later date.
5. SELF STORAGE UNIT
If, having de-cluttered and followed the previous tips, you still have issues of over-crowding and a subsequent lack of space in your garage, why not look at the possibility of a small storage unit at your local self storage centre. Units can be hired for the short, medium or long term and come in useful for storing seasonal goods, bikes and equipment that you might only need at holiday times. A storage facility you can drive right up to is recommended if you're storing bikes, or larger/heavier items. If you're planning to store petrol cans or equipment with petrol tanks you'll need to check what is and isn't allowed.
If you've recently transformed your garage with storage and shelving, why not let us know? Maybe we can share your ideas on our Pinterest Boards ?
Image rights:
tonobalaguer / 123RF Stock Photo
/ 123RF Stock Photo