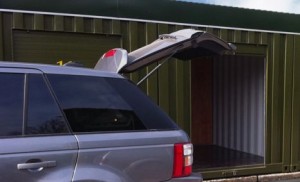 Self storage units are a godsend when you finally run out of storage space at home.
It makes sense. Not only have you found a suitable place to keep and look after your belongings, in the short, medium or long term, but suddenly you have created more space in the house.
However, if you are considering self storage units there are a number of things to think about. Not only do you need to be sure about what you can and can't store, there are other questions you need to ask yourself before you sign on the dotted line.
Here are 10 questions you should ask to help you make the right decision when it comes to renting self storage units.
1. How big a unit do I need?
This is important. You don't want to pay more money than you need to, but you also don't want to damage your goods because you don't have space to store them correctly. If you tell your storage company what you're planning to store they can help and advise you.
2. Is there someone on site you can talk to?
When you first touch base with your local self storage centre, make sure you speak to the on-site manager instead of being routed to a call centre. Call centre staff don't normally have the local knowledge you may need, e.g. how long will take you to get to the centre from your home address at different times of the day.
3. What's the security like?
Not all centres have staff available 7 days a week. You never know when you might need a problem solved or you may just feel more comfortable knowing there is someone else around should you need them. In addition, are there CCTV cameras? Are they on 24 hours a day? Have there been any police reports?
4. What's the access like?
Are the units internal or external? Are they on ground floor level? If you're storing large or heavy items you probably don't want to have to carry them upstairs. Are there units you can drive right up to?
5. What are the public opening hours?
Will you need your access in normal working hours our outside? What if you need access on Sundays?
6. What is the true cost of the unit?
Is the rate you are quoted free of any admin or move-in fees, deposits or other hidden add-ons? Some initial offers can work out quite expensive if you need to make changes later.
7. Is insurance included?
Check whether insurance is included in your rental agreement and if so, exactly what it covers. You may need extra insurance if your items are specialist or of high value.
8. What are other people saying about the self storage units?
Do customers give consistently positive reviews of the company? Are they helpful? Always check this out.
9. Who will have keys to my unit?
How many people will have a key to your self storage units. If I lose my key, what happens?
10. Are the units damp free?
If you are storing antique furniture or items that you might want to sell on, this is vital. Check for water stains on the wall or signs of moisture damage.
Here at Space Centre Self Storage we make every effort to ensure that our customers are comfortable in the knowledge that there are no hidden costs or pit-falls once they have agreed on a rental unit. We're happy to show you our units and answer any questions you may have.
If you are looking to hire any self storage units in the North Bristol or Gloucestershire areas of south west England, or just have some questions to ask, give us a call.