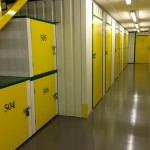 Do you have belongings, goods or files at home or at work that are beginning to make your house, flat or office look untidy? Have you ever considered renting a storage unit to help you de-clutter and create more space? If so, would you know how to go about it?
If the answer is 'No', why not Google your local self storage centre and find out its location?
Once you've established its whereabouts, you will almost certainly make the call, or visit, armed with unanswered questions about size, security, length of contract, maintenance and access.
Don't be afraid to ask. All self storage centres will endeavour to answer your questions to make sure you rent a unit that is most suitable to your requirements.
Before you embark on your great adventure into the world of self storage, take a look at the most frequently asked questions about storage units.
Are the storage units secure and do you have an on-site manager?
Most sites will have an on-site manager, some will even have an apartment on the site which, of course, improves security. You might also want to ask whether your unit will benefit from CCTV surveillance.
I am going away for 12 months, what is the maximum time I can rent a unit for?
Storage centres may vary in terms of this, but like Space Centre Self Storage, many will allow you to rent a unit for as short or long a term as you require. You might be going on holiday or even moving abroad for a year. Just ask. If you are going abroad, leave the contact details of a friend or family member just in case.
What sizes are available and how do I pick my size?
Staff members will be trained to assist you in this process. Just remember, size does matter! There should be all different sizes available, you don't want to pay for a larger sized storage unit than you need.
What is the difference between an indoor and outdoor unit?
An outdoor unit is most often a drive-up unit, located on the groundfloor of a facility, that gives you the ability to load your belongings directly from a vehicle or truck. An inside unit is within the property and will require you to go inside to access your unit which may be on the groundfloor or may require you to use an elevator to go to another floor of the facility.
Will I have access on a 24 hour basis?
Some self storage centres will allow you 24 hours access, but some may not. However, most will ensure that you are the only person to have a key, so providing the centre is accessible, you will be the only person able to get in. You will often have to pay a premium for 24 hour access, if so make sure you choose a storage centre with excellent on site security.
Can I change my storage unit to a different size after I have already moved in?
If the unit size you want is available at your facility, then most self storage centres will allow you to move into another unit – providing there is availability. At Space Centre Self Storage, you can swap storage units without any penalty.
Do you provide shelving and cupboard space inside the unit?
Ordinarily this is not offered, but your store manager or a staff member will help you choose the right storage cupboards or shelving to suit. Anything free standing is fine, but you can not drill or fix shelving to the sides of the units.
Can I store food in the unit?
Most centres will tell you that you are allowed to store non-perishable foodstuffs, stored in a tin, bottle or sealed container that will not attract vermin.
If you are based in the North Bristol or Gloucestershire area of south west England and are thinking about self storage but still have some questions, give us a ring, we'll be happy to help.
If you're already using self storage and have some tips for first timers why not share them below?