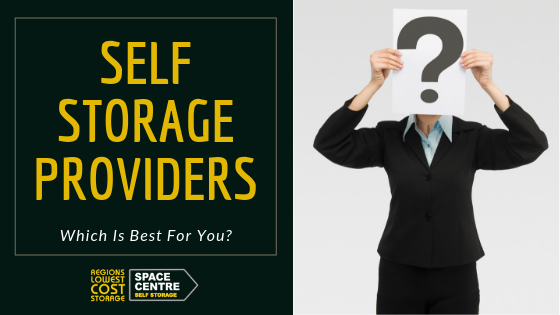 Today, there are so many self storage providers and finding one that best suits your needs can be challenging. With all these available options, there is no room for bad customer service or poor quality self storage units. Avoid the pitfalls and always do extensive online research to check the company's reputation. Don't accept anything less than superb and always consider reputable self storage providers.
Finding The Right Self Storage Provider
The first thing you could do is ask for referrals especially if you know someone who used a facility before. Alternatively, look online for customer reviews, complaints or comments to form a solid basis for your final decision.
Finding a storage facility nearest to your location is as easy as doing a Google Search, "self storage near me". When doing a Google search, you will more than likely notice sites such as Big Yellow storage appear at position one. However, it doesn't necessarily mean that they are the best choice for you. Scroll down a little further and look at the details of what they offer and make a comparison from there.
Major Factors To Consider
The use of self storage is increasing across the UK and other parts of the world. More people and businesses need additional affordable storage space without the risks (and costs) associated with renting additional office space.
Good quality self storage providers offer an affordable and convenient solution for many. It is the ideal alternative for people and businesses wanting to keep their assets and belongings in a secure place. Besides finding out how much space you need, self storage costs are high on the list of important questions. Here are a few major factors to consider when finding a storage facility fit for your purpose.
Location Is Vital
If you need regular access, some places like Big Yellow storage have large individual sites in cities situated near motorways. This is perfect if you're only going to visit once in a while to drop off and collect but for those requiring regular access, being close to busy roads is not ideal. If you need regular access, our recommendation is finding a facility closer to home or work.
Even though storage costs are relatively minimal, you don't want to pay too much for travelling to and from the facility. Why rent a cheap storage unit if you're going pay a small fortune to get there? It really all comes down to how far you are willing to travel and if being stuck in traffic is worth it.
What Amenities Are On Offer?
It's important to check what amenities a storage facility offers including drive-up units, climate control or 24-hour access. If you require something specific, check with the manager before renting a storage unit.
In addition to paying a monthly amount, sometimes you also need to pay insurance and a one-off admin fee. While these are common practices, we suggest you check first to avoid any surprises later on. Here are a few important questions you should keep in mind:
How many storage units do they have and what is the occupancy rate?
When can you access your storage unit?
Are they open on Sundays and during the holidays?
Is there a smoke alarm and sprinkler system in each building?
What kind of security system do they have?
Does the facility have security patrols and how often?
Storage Insurance
Another important question is whether or not self storage insurance is included in the rental price. If it is, ask how much it covers and make sure your normal household policy will be enough. The property in your storage unit may only be covered for up to 10% of the coverage in your household policy. This is also known as the coverage limit.
At Space Centre Self Storage we provide insurance FREE of charge up to the value of £3,000 on every storage unit. If you need additional cover, you can use our self storage insurance provider or arrange your own.
Related: 'Storage Insurance: What You Need To Know'
Security Deposits For Self Storage
Many self storage providers charge an upfront deposit but not at Space Centre Self Storage. Keep in mind that the general rule is that deposits should cost around the same as half a month's rent. Make sure that you verify the amount and the terms for getting your deposit back at the end of your rental period before signing anything.
Cheap Self Storage Offers
Cheap self storage is not always a bad thing but some facilities often omit certain finer details. Don't let low prices fool you as special offers aren't always what they appear. Check the small print and make sure the unit and associated fees are right for you. In many cases, people who use self storage for short periods usually stay a little longer than they initially planned.
Find out what happens if you go over your special offer term and how much it will cost. Some storage facilities offer 50% off for a period of time but those costs can often double. If you signed up for a free or reduced price based a set period of time, some facilities may charge extra if you leave before the agreed term.
What's On Offer At Space Centre Self Storage?
Space Centre Self Storage have been providing affordable, reliable and quality storage units since 1995. Our units are available in a wide range of sizes, internal or external, with short or long-term rental contracts. Some of the amenities and services include:
Clean, dry, well-ventilated and well-lit storage units
Drive-up access
24-hour security (CCTV and alarms)
No deposit required
No long-term commitments
Free insurance
Flexible to change unit size at any time
Our prices are guaranteed to remain the same for at least 12 months if not longer once you move in. When you are ready to rent a storage unit, get in touch with our facilities in Bristol, Gloucester, Stroud and soon, Stonehouse as well.