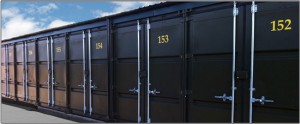 If you visit any extensive self storage facility you are likely to see rows or blocks of converted shipping containers. It's not the first thing that springs to mind when you're thinking about how and where you can store things. After all, the official description of a shipping container is
'a segmental, stackable metal container used to carry luggage or goods by overseas or land transport'
so definitely not top of the list. But shipping containers are so versatile it's not only self storage providers that use them anymore. Cafes, bars, businesses, and even homeowners are finding innovative ways to use shipping containers and here's why:
They are strong. They are built to take the weight of other containers being stacked on top of them and so they are tremendously sturdy.
They are weather proof. There are made from materials that can withstand extreme weather conditions.
They are fire resistant. The steel structures can withstand huge temperatures.
They are cost effective. Compared to constructing a building from bricks and mortar, the cost of buying a shipping container is minimal.
They can be environmentally friendly. Whether you're using an older container or buying a new one, they often cost less to heat or cool than a standard sized home
They are versatile. Designers and builders can turn a container into almost anything. Windows and doors can be cut in; mechanisms can be made to raise and drop whole sides
Here at Space Centre Self Storage we use new shipping containers for our external units for all those reasons above. But of course, we don't just bring in a container and put a lock on the door. Each unit is fully lined and insulated and then the floors are redone and the doors panelled. Finally, we put an additional roof over the top to make sure they are 100% dry.
Put space centre outside unit image here
Here are a few more ways that shipping containers are increasingly being used.
Housing
From luxury homes to small apartment block buildings, containers are being customised and stacked to help solve the housing problem. This post has images of some of the most simple and also the most luxurious, high tech conversions.
Schools
In areas where building is difficult or too expensive, shipping containers are a cost effective way of quickly putting classrooms in place.
Restaurants
Across the world shipping container restaurants are popping up and they range from the very basic to the very elaborate. This article published by marineinsight.com has images and details of the variety that's out there
Garden Buildings
Self contained living, garden office or summer house at the bottom of the garden – a shipping container can be made to fit the bill. With careful conversion your container can be turned into a covered patio with doors and windows that allow you to let the world in or out at your leisure.
Retail developments
Across the world container villages are popping up providing low cost retail outlets, bars, cafes and public leisure areas. This one in London is a large market type with indoor and outdoor space and retail outlets are primarily occupied by local businesses.
Swimming pools
Yes, you are reading correctly – swimming pools! Containers range in size from as little as 10ft up to 50ft, so the scope is big. You can have a small pool to dip in and out of, or if you have the space a good sized pool that will allow you to swim lengths.
We can't provide you with a house or a pool here at Space Centre Self Storage, but we can provide you with clean, dry, secure self storage for your goods. If you're looking to store home or business goods, get in touch.